Success in a Male-Dominated Data Center Industry
Cindy Joos has been successful because she is committed to following through on promises and always learning new skills.
OTHER PARTS OF THIS ARTICLE
Pt. 1:
Steady, Confident Leadership Leads to Data Center Success
Pt. 2: This Page
Pt. 3:
Bringing More Women Into the Data Center FM Field
Pt. 4:
Overcoming the Tension Between Data Centers FMs and IT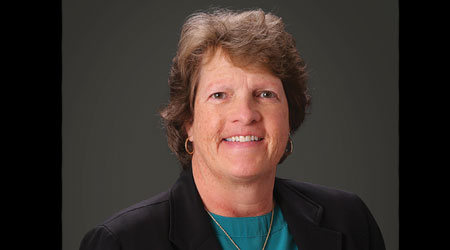 Picture People
In the data center field, women are distinctly in the minority. Joos says she's been able to thrive and advance in a male-dominated industry by following through on her promises. "You're challenged in the beginning," she says. "But as long as you're holding your own and doing what you're supposed to do, it doesn't matter to them," she says.
To get where she is, Joos had to take steps that others might have seen as outside their comfort. That thinking can be an impediment to women, she says.
Joos notes that she's held stints in a range of diverse jobs. "Some were over my head, but I took them on and I learned from the people around me and accomplished what I needed to," she says, adding that most of the time, when a company asks you to step into a management position, it's for your leadership skills. "If you're a good leader, the people around you will help you to be successful."
While Joos has found that she can draw support from others, she also understands that she needs to speak up for herself if she sees an opportunity to advance. One of the most difficult moves for many women in the workforce is gathering the courage to ask if they can move to another area or take on another role. "Women are afraid to ask," Joos says. As a result, they tend to stay in their jobs and do well in what they're doing, when perhaps they could have taken on different roles and been more successful, she adds.
"Moving is how you gain success," Joos points out. "We've got to get to a mindset of saying 'yes, I can do that,'" she adds. Moreover, it's not necessary that women know all aspects of a job before taking it. "You can learn it," Joos says, noting that men do this all the time, and as a result, they get ahead.
The reason women hold themselves back? "I think it's the fear of failure," Joos says. Women often assume they don't know as much as they should to succeed at a new position, nor as much as the men know. So, they stay in their jobs, become comfortable, and feel less of a need to move.
Learning new skills has been a hallmark of Joos' career. One example is working with top management. Many people find it difficult to communicate priorities to senior leadership, especially when it comes to justifying the need for investments. "You have to learn what your management team wants and likes, and usually it's different company to company," she says. For instance, some executives want charts and pictures and others prefer numbers. Some want just the high-level picture, and others like to delve into the details. "It's all about communication," she says. "It's asking, 'Who is my audience?'"
Continue Reading:

Cover Story: Cindy Joos Profile

Steady, Confident Leadership Leads to Data Center Success

Success in a Male-Dominated Data Center Industry

Bringing More Women Into the Data Center FM Field

Overcoming the Tension Between Data Centers FMs and IT
---
---
---
Related Topics:
Comments