You Might Like
On FacilitiesNet
Steady, Confident Leadership Leads to Data Center Success
An appetite for risk and staying cool under pressure are hallmarks of Cindy Joos' leadership.
OTHER PARTS OF THIS ARTICLE
Pt. 1: This Page
Pt. 2:
Success in a Male-Dominated Data Center Industry
Pt. 3:
Bringing More Women Into the Data Center FM Field
Pt. 4:
Overcoming the Tension Between Data Centers FMs and IT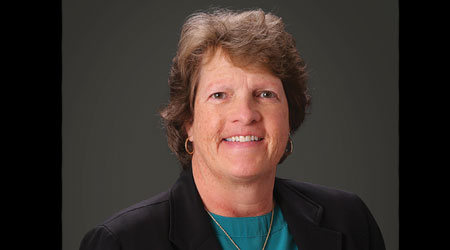 Picture People
Major business transactions, like carve-outs and mergers and acquisitions, come with numerous details to iron out. The formation of Cyxtera Technologies, a secure infrastructure company, was no different. Cyxtera was created in a $2.8 billion transaction that involved the acquisition of CenturyLink's data center footprint and associated co-location business, along with four other companies. "It was one of the biggest transactions I've worked on," says Cindy Joos, Cyxtera's vice president for global shared services. "Everybody worked really hard on that project."
During weekly conference calls, everyone involved covered the transaction step by step. Joos would ask her colleagues, "How are you doing on this? What support do you need? Where are you? Are you running into roadblocks?" Everybody was upfront about their successes and the roadblocks they were facing, she says, adding that "without that honesty, the project could have been sunk."
Joos' leadership made a critical difference in the transition, says Jeff Nord, senior vice president. "No matter how many challenges we threw at them (Joos' team), they'd pivot, meet the challenge, and pivot back," he says.
Joos' work on the project typifies the qualities that have made her a leader at Cyxtera. She is confident in her expertise, pays attention to the details, and combines directness with empathy. She brings a can-do attitude, not only to her job, but to her career. Her story holds lessons for all facility managers, and especially for women who want to move up.
Rising to the top
Cyxtera Technologies encompasses more than 50 data centers spanning 2.6 million square feet, as well as a secure, global platform and cloud- and hybrid-ready security and analytics offerings. Its customer base includes more than 3,500 enterprises, government agencies, and service providers.
Joos has worked on both the facility management and IT sides. Her IT experience in database management and backup and storage management gave her good insight into what a data center is and how it is run. When she became regional director responsible for data center facilities management, her IT background made the transition easier. "I understood their customers and the responsibilities of the facilities management," she says.
Starting out, Joos never imagined that her career would lead her to data centers. She started working full-time straight out of high school before earning a degree in computer information systems from Regis University. The journey wasn't easy. Joos attended night school for four years, while also working full time. "My wife was like, you're going to do what?" Those four years were tough, but worth it, she adds. "I thought a (college) diploma was just a piece of paper, but once I went back I understood what higher education meant," she says. "Learning how to think and learn, that made a huge difference for me."
Because Joos had been working in accounting, she actually started out studying that field, before following her interest and skills and switching to computer science. At the same time, she was part of a team at her work that was implementing an Oracle accounting application. That launched her move to information technology. After getting her degree, Joos worked in database administration and then moved to database management, which brought her to data center management.
Continue Reading:

Cover Story: Cindy Joos Profile

Steady, Confident Leadership Leads to Data Center Success

Success in a Male-Dominated Data Center Industry

Bringing More Women Into the Data Center FM Field

Overcoming the Tension Between Data Centers FMs and IT
---
---
---
Related Topics:
Comments