QTS Chicago: Colocation Data Center Features Low Latency, High Reliablility, and Redundant Infrastructures
Profile of QTS Chicago, a 317,000-square-foot, 24 MW third-generation colocation data center.
OTHER PARTS OF THIS ARTICLE
Pt. 1:
Data Center As A Service (DCaaS), Colocation Offer Data Center Flexibility, Expandability
Pt. 2:
Tips for FMs Who Run Colocation and DCaaS Data Centers
Pt. 3: This Page
Pt. 4:
A Brief History Of Colocation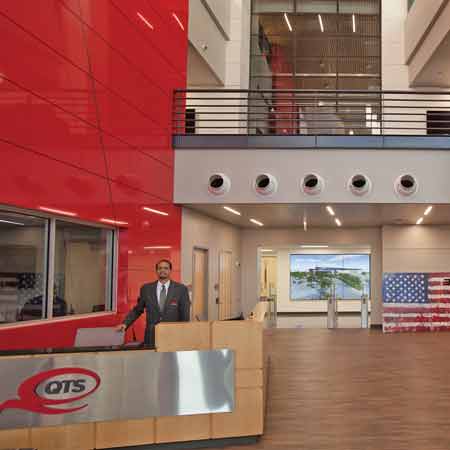 QTS
Stopping the presses at the Chicago Sun Times in 2012 led to the rise of a third generation, 317,000-square-foot, 24 MW colocation data center, featuring low latency, high reliability, and redundant infrastructure. The old Sun Times printing facility already had robust underground communication and fiber, power and electrical service, and thick slabs and floors; the facility needed no major utility upgrades for data center deployment. The goal was to create a backbone infrastructure for QTS Chicago that would enable quick deployment of customized space, power, and security configurations, including N, N+1, 2N, 2N+1 redundancies.

QTS Chicago was built to achieve an annualized PUE of 1.17, while championing flexibility and innovative mechanical cooling solutions, including indirect evaporative system technology that takes advantage of the local climate, bringing outside air in.

The master plan for the 24 MW facility, capable of growing to 100MW, ensures customization with power distribution, rack location, and power to the racks. The facility was designed for 2 MW increment build outs for wholesale data center space customers, with potential configurations in 2, 4, or 6 MW and up to 12 MW in a single site with immediate availability for customers that require hyperscale space. There are provisions for another 138kV to 12kV on-site substation once the initial facility is filled to capacity.

To provide the backbone for this flexibility, the team considered multiple mechanical and UPS systems and layouts, analyzing their efficiencies and first and life cycle costs. Solutions included modular and scalable UPS systems and a unique mechanical system that recirculates the air to ensure less exposure to outside elements.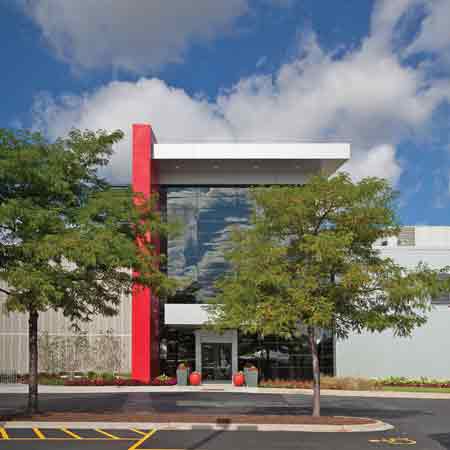 QTS Chicago has the flexibility to deploy customized space, power, and security configurations, including N, N+1, 2N, 2N+1 redundancies. Credit: QTS
Continue Reading:

Critical Facilities

Data Center As A Service (DCaaS), Colocation Offer Data Center Flexibility, Expandability

Tips for FMs Who Run Colocation and DCaaS Data Centers

QTS Chicago: Colocation Data Center Features Low Latency, High Reliablility, and Redundant Infrastructures

A Brief History Of Colocation
---
---
---
Related Topics:
Comments