Four Factors To Consider When Developing A Data Center Containment Strategy
Keep in mind these four factors when evaluating containment options:
Equipment loads. Identify peak cabinet loads and typical densities.
Equipment airflow patterns. Where is the cooling equipment in relation to the cabinet locations? Is there a raised floor and what do the airflow patterns look like?
Flexibility. What is the future expansion plan, including density growth, space expansion, expected reconfigurations of cabinets or cabling, etc.?
Cost versus energy savings. Any containment system will usually cost more than just a hot aisle/cold aisle arrangement, but will reduce operational costs. If the containment system is deployed, are other features such as a raised floor not needed? Also, is the air conditioning and control system configured to allow the facility to take advantage of all the benefits containment provides, such as airflow reduction, increased air and chilled water supply temperatures, etc.? The economic payback of the containment investment needs to be analyzed.
—Travis Steinmetz and Thomas Squillo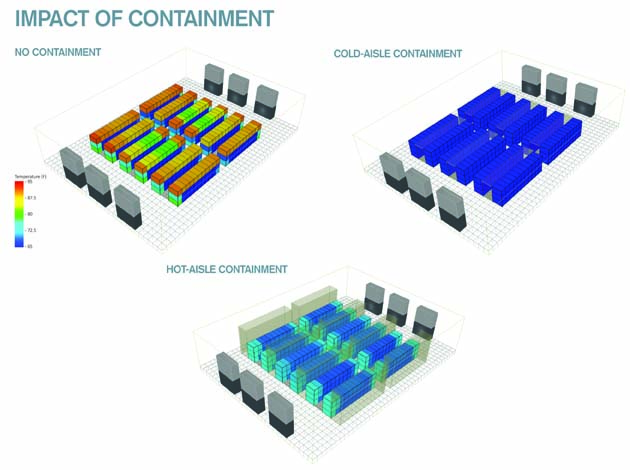 Modeling shows how the top of rack and general temperatures in data centers are affected by containment strategies. Hot-aisle containment maintains a lower general temperature in the overall space with higher temperatures at the servers, while cold-aisle containment keeps temperatures lower at the servers and higher in the overall space.
Continue Reading:

What To Know About Hot-Aisle, Cold-Aisle, And Chimney Data Center Containment Strategies

The Advantages And Disadvantages Of Hot-Aisle, Cold-Aisle Containment Strategies

How Chimney Containment Can Help Manage Temperatures In Data Centers

Four Factors To Consider When Developing A Data Center Containment Strategy
---
---
---
Related Topics:
Comments