Edge Rooms and Data Center Closets: 9 FAQs
Challenges for facilities managers include power and cooling, ownership of the space, and future expansion.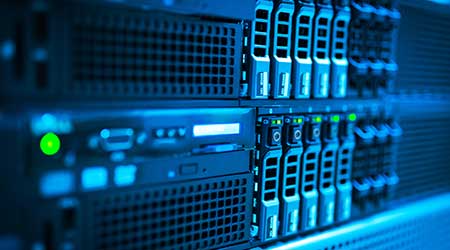 Digital transformation continues to expand enterprise data centers to include private, hosted private, and public cloud environments. At the same time, IoT-enabled devices are pushing computing to the edge — literally — creating miniature data centers all around the enterprise. Thanks to technology advances and cost reduction, the once cost-prohibitive edge computing technology is driving change across many IT environments.
These mini-data centers are moving computing closer to the edge of the network, empowering organizations with the ability to analyze important data in near real-time. With IoT becoming deeply engrained in enterprises both large and small, the trend will only continue to grow. And with space at a premium, many organizations are putting these mini-data centers in spaces that used to function as offices, copier rooms, or even supply or storage closets. Instead of being a catch-all for old equipment, companies are utilizing these "forgotten" spaces to house important IT compute, storage and network equipment.
While the location might be smaller or more remote than a traditional data center room or colocation facility, the functionality within the edge room or data closet is just as critical. Don't let the monikers "room" or "closet" mislead you or your team. What happens inside the edge room or data closet is vital to your organization. A failure in a server within an edge room or data closet can have rippling and profound impact on the company's operation. So, whether they are called edge rooms or data closets, these outcroppings of data processing and storage present both untapped strategic opportunities and hidden risks.
Once a decision is made to transform a storage closet into something more, it is important to quickly get the people, processes, and goals in place for the new space. The ramifications of not doing this could be very costly to a company. Here are nine questions that facility managers should be able to answer about creating and operating an edge room or data closet.
1. What is edge computing? From a data center perspective, industry analyst firm IDC describes edge computing as a "mesh network of micro data centers that process or store critical data locally and push all received data to a central data center or cloud storage repository." In other words, edge is locating data closer to the point of use (user, application, IoT, etc.) to reduce latency, costs and/or risk. In essence, edge computing strategies create miniature data centers used to communicate urgent data. For facility managers, edge computing requires additional infrastructure — from wiring and cabling to HVAC requirements and access control.
2. How do edge rooms and data closets differ from traditional in-house data centers? Edge rooms and data closets differ from a "centralized" repository of data and IT in the sense that the new "edge" locations are typically not pre-programmed spaces, specifically designed for IT equipment. Many times, these inner-building rooms may not have easy access to generator power or UPS power or the ability to reject heat, and it may be expensive to bring those capabilities to the edge room or data closet. Best practices of no-overhead water systems or clean room environments are usually bypassed in these outer-ring environments. Fire protection systems typically fall back into wet-sprinkler systems. But once these rooms become inherited by the IT and enterprise teams, they can balloon into a critical operation rooms for facility managers.
3. What is the strategic advantage of edge rooms and data closets? One major strategic advantage to these edge room is the geographic proximity of collection device (IoT, sensors, etc.) to processing device (IT server, storage, and network). Because data is being collected and decisions on that collected data needs to be processed, it is required for the latency from device to processing equipment to be low (0-10 microseconds). The proximity of the edge room has an advantage because the distance from device to the processing site is shorter, therefore lowering potential latency issues from device to centralized processing.
Often, the edge rooms also have an ideal location specifically in regards to network/fiber/telcom routes within a facility. A lot of times, these rooms already exist as MDFs/IDFs/network distribution rooms, and IT begins populating these rooms with the necessary processing equipment, which turns the room into an edge room. These rooms become inherited by the IT and enterprise teams and can balloon into a critical operation room for facility managers.
4. What processes run in an edge room or data closet? With the hybrid convergence of colo/cloud and on-premise (in some cases, all of these), it's important to communicate that there are actually key processes and applications that end up residing in edge rooms or data closets. The applications that run out of the room determine the reliability (and infrastructure) required for the room. Connecting these applications to a revenue dollar amount will help that edge room or data closet get the attention it will need. For example, suppose a room hosts a critical networking and application system; if that application goes down, it costs the company (for example) $100,000 per hour. In a case like that, most organizations would want to remedy any potential single points of failure.
5. Who owns the edge room or data closet? Company stakeholders must agree as to what the edge room or data closet will house and, ultimately, who will be responsible for it. Should it be the facility manager or someone in IT or a combination? Because this space wasn't originally designed to play an important role in the data center operations, stakeholders must all meet and agree on key points: What is the new use of the space, who has access to it, and who takes ownership of it internally?
As with traditional data centers, there is more to an edge room or data closet than the computer hardware; the infrastructure that supports the hardware is a critical component as well. From a risk perspective, there are a lot of steps to take to ensure reliability when using a small space to house data center technology. From redundant power supplies, to proper environmental control, to access control, these tiny data centers need to be deliberately planned and designed to support the technology and the processes being performed. The level of design should be applicable to the overall revenue stream it is responsible for supporting.
6. What are the considerations for creating an edge room or data closet? The creation and operation of an edge room or data closet needs to be a collaborative process between IT and facility management. There are three steps to take to ensure everyone is on the same page as to the edge room or data closet functionality.
— Step 1: Deliberate communication between IT and facilities: Identify business case for creation of "edge"— are we sure we need create an edge closet? Can this be pushed to cloud, colo, or on-premises data center?
— Step 2: Once it is determined that an edge instance is necessary, IT needs to identify the potential IT load anticipated for that room and reliability level required by facilities for support. This should be accompanied with a risk analysis of what happens if this room is unavailable — what process stops? What does it cost the business?
— Step 3: The facility manager determines modifications necessary and identifies conceptual design, construction budget, and schedule to mitigate and avoid business risks. Areas of discussion for the new edge room should include:
• Telecommunications
• Connectivity
• Power
• HVAC
• Accessibility
• Physical security and access control
• Fire protection/detection
• Monitoring
7. How should equipment needs be determined? Since the function of the space has changed from its original use, so do the requirements and variables that need to be evaluated. Planning begins with a conversation with IT about the potential systems and loads the room will host. Clearly identifying the revenue supported by the edge room or data closet will help determine if this is a single-path supported space, or needs to meet the criteria of a fault-tolerant data center. HVAC systems in these smaller environments can be challenging. From a load standpoint, it is crucial to understand not just the IT systems that are going to be hosted, but how these systems will truly operate. If HVAC equipment is oversized, these rooms can be subject to thermal shock and short-cycle situations. If an edge room or data closet needs generator-supported power due to its reliability requirement, it will be important to identify how to bring such power to the space.
Whoever is assigned to manage the edge room or data closet should also be prepared to keep inventory of the IT equipment coming in and out of the room. It is important to develop a plan that addresses the equipment needs and loads for the room and provides a detailed action plan should the equipment go down.
Additionally, if the edge room or data closet has evolved to play a greater role in operations, it is also important to ensure that the space is no longer used for its original purpose — often storage. It can very easily become a multi-functionality room with some employees still using it as a storage space or dumping ground for old equipment. This is where access control becomes a critical element.
8. How much future expansion should be factored? Planning for the future expansion of edge rooms or data closets can be a challenging task primarily because these spaces were not designed to house critical IT equipment in the first place. A scalable UPS system is key for expandability from a power standpoint. Additional power back-bones should be weighed because the incremental cost is relatively modest.
With HVAC, look for scalability. Build to the load demanded with some ability to grow; do not design the HVAC system with the idea that "if we build it, they will come." When installing new equipment, consider whether additional servers or network equipment may eventually land in the room. For example, consider running two sets of pipe (one for today, one for tomorrow) so that when additional load comes in, the operation becomes more plug-and-play. Keep in mind that all decisions should be based on real-time load.
9. What are the ongoing maintenance requirements? With regard to maintenance, an edge room or data closet is no different than a typical data center. All systems should be under maintenance packages offered by vendors and subcontractors.
A New Age
The age of the "edge" is upon us. And until a company connects that edge data center to the associated revenue stream, the edge room or data closet will fail to get due attention necessary. Although the move to cloud and colo is still on-trend, the need for an on-premises data center facility continues. While organizations want to "get out of the data center business" and outsource data center and IT functions, the growth of IoT in most organizations may not allow such migrations. The demands of low latency for IoT devices unfortunately means that IT processing or storing functions will be "left behind" and unable to be outsourced.
The day of the nomadic and ubiquitous data center is here.
Tim Kittila is director of data center strategy for Parallel Technologies, where he oversees the company's data center consulting and services.
---
---
---
Related Topics:
Comments