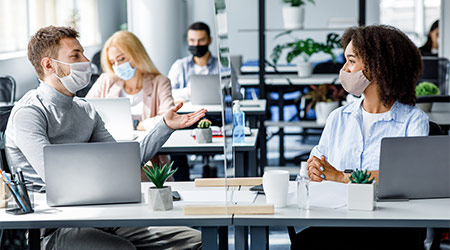 Survey Says? Remote Work Is Here to Stay
A story earlier this week in the NY Times pretty much confirms what we all already know: Remote work in some form or another is here to stay. The story details many large organizations cutting back their office space in Manhattan as a result of changing work models due to the pandemic.
This jibes with a new study by design firm Vocon, the highlights of which are the following: Most occupants won't return to the office until the third or fourth quarter of 2021. Most companies will adopt a hybrid work model. And some companies will eliminate assigned desks.
Overall, 66 percent of employers expect to implement some form of a hybrid work model, and 44 percent of corporate leaders anticipate employees will work in the office for most of the work week, said the survey.
Further findings from the survey: Just 12 percent of businesses expect all of their employees will work at the office full time, five days a week after the pandemic, while 22 percent anticipate employees returning to offices just one or two days a week, 44 percent think workers will come back to the office at least three days a week, and the remainder (21 percent) are undecided.
The new survey included 103 corporate leaders, who employ nearly 1 million workers at 72 companies nationwide. Respondents represented a broad range of industries including real estate, finance, law, insurance, architecture, design and engineering, plus manufacturing among others. The survey shows that flexible work policies are here to stay because they've largely worked, with a full 80 percent of respondents reporting that their teams' performance has either remained consistent or increased during the last year of remote work (only 20 percent say performance has decreased).
This post was submitted by Greg Zimmerman, editor, Building Operating Management and FacilitiesNet.com.
---