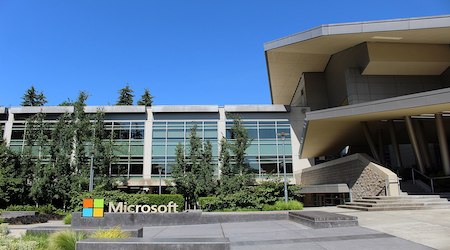 Microsoft Allows Return to the Office, Encourages Hybrid Work Model
Microsoft, one of the first companies to institute mandatory work from home when the pandemic began, is the latest large corporation to begin welcoming workers back to its offices.
Beginning March 29, Microsoft will allow its 57,000 Seattle, Bellevue, and Redmond, Washington employees to work from home, come to the office, or a combination of both. In a blog post announcing the change, Microsoft executive vice president Kurt DelBene explained to employees that the company has progressed from Stage 3 to Stage 4 on its six-stage COVID-19 Hybrid Workplace Dial. Employees are still encouraged to work at home, but do now have the option of returning to the office. Masks and social distancing will still be required, and according to Washington's guidelines, offices can be no more than 50 percent occupied.
Microsoft conducted a survey of 30,000 employees prior to the decision, and while 70 percent said they wanted flexible remote work options to continue, 65 percent are "craving in-person face time with their teams," according to the Seattle Times.
This post was submitted by Greg Zimmerman, editor, Building Operating Management and FacilitiesNet.com.
---