Facility Manager Cost Saving/Best Practice Quick Reads RSS Feed
Commercial Office Vacancy Rates Skyrocket During Pandemic
April 12, 2021 - Contact FacilitiesNet Editorial Staff »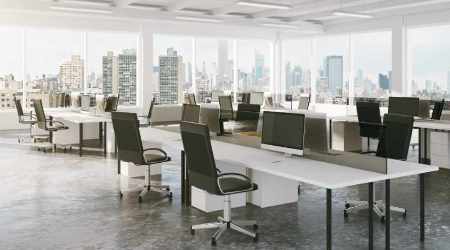 (Want to learn more about space management and the office of the future? Join us for our roundtable this Wednesday, 4/14 at 1 pm EDT. Here's how to register.)
Vacancy rates in commercial office facilities are skyrocketing as a result of the pandemic. A combination of more hybrid models of work, the rough business environment in 2020, and a number of other factors have caused many organizations to take a hard look at their leasing arrangements, and either decline to renew or move out of downtown central business districts altogether.
The Chicago Tribune recently reported that "five Willis Towers worth of office space" is now unoccupied in downtown Chicago - about 21.4 million square feet. The city ended 2020 with a 15.5 percent vacancy rate, up from 12.8 percent at the end of 2019. United Airlines, which has its corporate headquarters in the actual Willis Tower, recently dropped three floors — 150,000 square feet — of its leased space. The airline, which lost $7.1 billion last year, is cutting its real estate footprint at its headquarters from its original 850,000 square feet.
In New York City, 68.4 million square feet of commercial office space stood empty at the end of 2020, according to Bloomberg. The vacancy rate at the end of 2020 stood at 15.1 percent, up from 11.1 percent at the end of 2019. New leases dropped 64 percent in the fourth quarter and asking price for rents dropped 8.6 percent.
Experts predict that vacancy rates will continue to climb. In Chicago, experts suggest that the vacancy rate may climb to 18 percent by the end of 2021, on its way to 20.3 percent next year.
This post was submitted by Greg Zimmerman, editor, Building Operating Management and FacilitiesNet.com.
---
Comments