« Back to Facilities Management Commercial Office Facilities Category Home
Five Ways Occupancy Analytics Can Improve Facility Management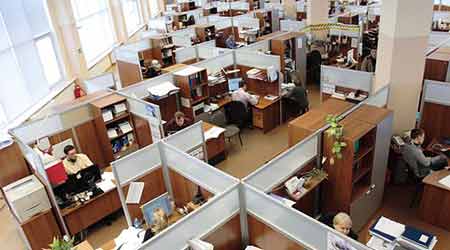 May 25, 2018 - Commercial Office Facilities
By David Rottelman
The ongoing transformation from industrial society to innovation society is accompanied by the increase of workforce mobility as well as the growing trend toward de-centralized and team-based work. Coupled with this change is the increased presence of "millennials" and "Gen Z" employees in the workforce and their expectations for more freedom and flexible work patterns. In view of the continuous pressure to reduce operational costs, these tectonic changes have a profound impact on the workplace and facility management. Unequivocally, the workplace needs to be more flexible and is becoming more human-centric. A key element for addressing the needs of the modern office is having sufficient data about occupants. Occupancy analytics refers to analysis of data related to occupants' location in order to derive information and insights on how to improve building facilities and business performance. Recent technology advancements in sensors, the Building Internet of Things, and cloud systems have resulted in the emergence of smart sensing solutions that are capable of supporting powerful occupancy analytics.
Driven by smart sensors that are capable of capturing accurate, rich, and anonymous data, occupancy analytics are projected to have a profound impact on facility management. Here are the top five reasons why:
1. Operational Expense Savings. Occupancy analytics tools can provide valuable insight into how building spaces are being used. Such insight is essential for optimizing the required space. The real-time detection of presence, location, and number of people in a given space enables ad hoc allocation of office resources such as conference rooms and desks. Data captured by the smart sensors allows flexible and on-demand assignment of workstations to employees (e.g., hot desking). Historical data about how the space is being used is essential for space optimization and planning. By applying these measures, occupancy analytics can reduce total real estate expenditures by 30 percent or more.
2. Increased Productivity. The flexible workplace is a collaborative space that facilitates human connections with others sharing common interests and goals. The new generation of worker seeks and expects workplaces where they can collaborate on projects in a relaxed, resource-rich setting. Occupancy analytics allows for anonymous identification of inter- and intra-team interactions and measures employees' engagement level across the building space. By monitoring formal and informal collaboration patterns and trends, office layout can be optimized to enhance employees' productivity.
3. Improved Employee Wellbeing. In an era where people are used to accessing information at their fingertips, corporations need to provide an equally fast and reliable level of service and visibility to resources within their buildings. To better enable employees to plan and optimize their time, occupancy analytics tools can monitor the queues in the cafeteria, the IT lab, or any other first-come-first-serve service.
Occupancy information can also help employees know when their colleagues are physically present, or whether there's likely to be an available table in the dining area for their lunch break. Moreover, indoor navigation solutions make it easier and faster for employees to reach their destinations inside the building.
4. Energy Savings. Occupancy analytics can be shared with building management systems to automate important facility services. For example, the real-time detection of presence, location, and number of people can drive occupancy-based lighting, cooling, and fresh-air inflows. Intelligent sensor technology is becoming useful for providing better control of building systems like HVAC, which not only reduces energy but provides a more comfortable environment for the workforce. Demand-controlled ventilation is one example, and occupancy-based lighting is another example of energy savings.
5. Enhanced Safety & Security. In case of emergency (e.g., fire), knowing the number and location of people in the building can be critically important. It would be further beneficial not only to notify the occupants but to also direct them to the appropriate exits. In addition, occupancy analytics can prove valuable for enhancing security, for example, identifying a space that is occupied when it should be empty and other situations such as tailgating and loitering.
The challenges that facility managers, building owners, and operators are facing today are not only significant, but can be often considered contradictory. For instance, reducing office space in order to cut operational expenses may be in conflict with promoting productivity and increasing occupants' wellbeing. Addressing these challenges and optimizing possible solutions require rich and accurate data about the occupants' behavior in a building. Driven by smart sensors and sophisticated cloud systems, occupancy analytics is becoming a mandatory tool for today's modern workplace.
David Rottelman is the vice president of global sales for PointGrab, a leader in facility management sensing solutions.
posted on 5/25/2018