Tech Companies Set The Pace For Office Design
It's not just about the headline-grabbing amenities. Tech companies are creating work spaces that foster creativity and productivity.
OTHER PARTS OF THIS ARTICLE
Pt. 1: This Page
Pt. 2:
How Technology is Shifting Space Needs in Commercial Offices
Pt. 3:
Why Office Design Should Reflect Corporate Culture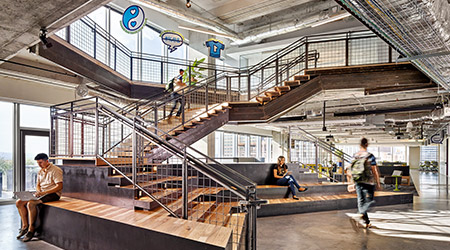 Photo Courtesy of lauckgroup
No matter who you ask, the tech industry has a reputation for its progressive approach to the workplace. Whether it's the casual dress code, flexible hours, or free meals, other industries are looking at the tech sector for ideas about the office of the future. Tech offices seem to have the most extravagant features tucked inside their workplaces, whether it's a fully-stocked game room to lodge-style lounge areas with barista and beer-tap-lined bars. It's no surprise that facility managers are drawn to these amenities; however, it can be difficult to decide which ones are worth the investment versus which simply do not align with a company's culture, mission, and goals.
When it comes to choosing what's right for a space, it's important to first understand what's really behind those striking design strategies. The design solution should directly represent the company's culture and embody that as an experience, whether it's creating a sense of community, whimsical sceneries, or more refined hospitality lounges — each is an extension of the company's brand. It's essential to recognize that amenity spaces, at their core, are a tool for both employee retention and recruitment. The facilities role takes on more than just a management responsibility; with the changing office landscape, it now takes on an experience management role.
During work on Atlassian's Austin office, the project team worked closely with the company at early stages of the project to identify an architectural feature that would serve as a vehicle for the corporate culture. Set at the entry of the office, the monumental stair serves as a hub of collaboration and interaction for the office. Beyond its basic functionality and defining architecture, it encourages people to socialize and congregate on a tiered platform auditorium with bar-height seating, thus creating a stage for chance conversations and a communal hub of activity. All amenity spaces surround the stair and encourage employees to stray from their own floors and cross pollinate with other teams. That key feature has since become an integral part of Atlassian's culture and talent acquisition — with no giant slides in sight. What made the project such a success was the company's strong sense of its own culture and the goals it wanted to achieve with its new space.
What do you need to accomplish?
It is essential that at project kick off, all the stakeholder teams meet to identify a common vision for their future space. This includes executive leadership, human resources, facilities, and a committee comprised of end-user groups, when needed. Each brings a unique filter that cumulatively create an opportunity for innovation in creating a space that supports the company's growth into the future. Part of that task is identifying shortcomings of the current office, as well as defining how leadership envisions a new office environment supporting employees. Having a strong concept and goals in place provides a solid foundation upon which the interior architecture and design can be built. The workplace is transcending the old idea of an office; it's now a self-sustaining environment with built-in coffee shops, food courts, gyms, lounges, and in some cases, masseurs and dry cleaners.
Across the board, there is a maturing of the "tech office." Organizations across all sectors have taken the best of the initial tech boom and transformed those design ideas to fit their own cultures, communicating a level of professionalism through their work environments. This is where facility managers have a great opportunity to learn from what others have done. The space needs to reflect both the workflow of their teams and the caliber of the work being produced. With clear goals for growth in mind, facility managers must survey the day-to-day landscape of the office to learn what amenities will best support that programming.
Buzzwords such as "tech-forward" or "collaboration" mean different things for different company styles and internal cultures. For instance, for engineers, collaboration means ease of connectivity to technology to allow teams to easily share information between one another, whereas for sales it means an active space to generate energy and excitement. Understanding what those buzzwords look like for your company will ensure that money is not wasted on features that will not satisfy the needs of the end user.
Continue Reading:

Office Design

Tech Companies Set The Pace For Office Design

How Technology is Shifting Space Needs in Commercial Offices

Why Office Design Should Reflect Corporate Culture
---
---
---
Related Topics:
Comments