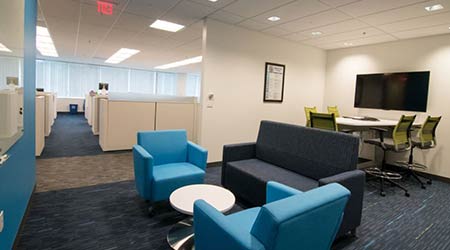 Photo Credit: Duncan Lake of Cresa Boston
Specific Strategies to Right-Size Real Estate
From shifting dedicated conference rooms to "multi-purpose space" to making use of video-conferencing technology, facility managers should consider several strategies to ensure office space is the right size for their organization.
Conference spaces are one of the biggest considerations when trying to reduce a company's real estate footprint. Many companies are eliminating formal, dedicated conference rooms, opting instead for multi-purpose spaces, hosting virtual meetings, or utilizing public conference spaces in buildings or hotels. Identify a mix of meeting and collaborative spaces based on the company's typical meeting and work styles. An assortment of spaces and sizes is key, from phone booths and huddle rooms to larger spaces for team building and training sessions.
Technology can impact the square footage needed in an office space. A reliable infrastructure with fast and easy connectivity is a must, and video conferencing systems allow employees to meet virtually and eliminate the need for large conference rooms that are used infrequently. Mobile devices, cloud computing, and other software and technological advances allow employees to work from almost any location. Furthermore, replacing traditional file storage rooms with secure digital storage offers a sustainable solution and greatly reduces needed space.
The adoption of universal office sizes and acceptance of remote work is another factor that has impacted the trend toward a right-sized workplace. Assigned space is now widely recognized as an unnecessary financial burden, with many companies finding an 80/20 split of open seating versus assigned work settings offering a significant space reduction without sacrificing work quality. Collaborative space requires less square footage than individual offices and also fosters creativity and team work. Support services such as paralegal and secretarial positions can be consolidated to allow resources to be shared and further reduce square footage.
Flexible, adaptable furniture enables companies to easily reconfigure a space to meet different needs, while a variety of seating choices provides comfort. Options include soft casual seating and a range of desk styles, from traditional and benching to standing, treadmill, and bicycle.
The use of enhanced common areas can support the effort to right-size office space. Break room amenities such as upscale coffee machines, game rooms, and grab-and-go kiosks are becoming more popular. Similar to a cruise ship with a tiny cabin but a wide array of social options, providing a variety of amenities helps boost office productivity despite shrinking work space. Amenities can reinforce a company's culture and help with employee recruitment and retention. A building with a broad range of amenities such as fitness facilities, food vendors, and concierge services, also attracts tenants in competition for talent.
Continue Reading:

Office Planning

How to Right-Size Your Office Space

Specific Strategies to Right-Size Real Estate

Two Case Studies Show Benefits of Right-Sizing Office Space
---
---
---
Related Topics: