You Might Like
On FacilitiesNet
New Concepts in Office Design Gain Momentum
Wellness, lower cubicle partitions, and benching models are becoming en vogue as space adjusts to culture and employee wants and needs.
OTHER PARTS OF THIS ARTICLE
Pt. 1:
How Corporate Culture Influences Workplace Design
Pt. 2: This Page
Pt. 3:
People, Purpose, Principles: How Workplace Design Responds To Corporate Culture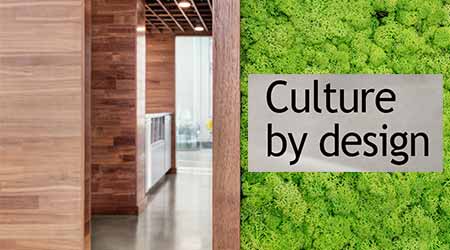 Darris Lee Harris
WELL buildings embody a holistic approach that includes a wide array of factors including light, water, air, comfort, nourishment, fitness, and mind.
Material choices such as reclaimed wood send a message of sustainability and connection to the Earth. For one organization, a living wall of moss serves as a 60-square-foot invitation to well-being that greets everyone who comes through the door.
Companies are changing their cafeteria programs, taking their fitness offerings to a new level. WELL buildings not only are more sustainable, they create a fundamental sense that the employer is interested in the well-being of its employees.
It's one more area in which an organization can design physical space to support a culture that tells employees they are valued.
Cubes versus benching?
For some workplaces, cubicles remain the most effective workplace tool for housing employees. Many companies still ask for cubes. Some kinds of work need heads-down concentration that might not be available in an open floor plan design.
In these cases, a lower cube height can bring a greater sense of openness and collaborative opportunity while retaining a degree of privacy.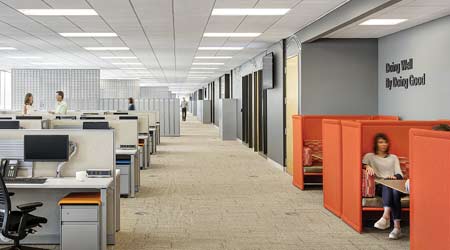 (When cubicles are the most effective way of housing employees and providing heads-down concentration, lower partition heights bring a greater openness and collaborative opportunity while retaining a degree of privacy. Photo credit: Darris Lee Harris)
Companies such as accounting and law firms require a heightened level of confidentiality for their client work; these companies are less likely to adopt a more open design.
There is a great interest in the benching system for maximizing space. Benching occupies a smaller footprint, reducing real estate cost, and helps businesses maintain their competitive edge. The openness, flexibility, and versatility of benching works well for tech companies whose businesses rely heavily on employee collaboration to generate new ideas and foster innovation.
Some longtime cube-dwellers have difficulty making the adjustment. In such cases, organizations turn to change management efforts to help their employees transition to a new culture. Change management sessions emphasize the importance of empathy and listening. Employees who are worried about losing their privacy with benching solutions and lower workstations are usually more accepting of change when they are encouraged to think beyond the "me" space to anticipate the coolness of the "we" space in the new design.
Letting employees talk about their fears and concerns and engaging them in the design process is extremely important in helping them be more accepting of impending changes. Not every employee ask can be accommodated, yet just the very act of asking and listening goes a long way in bridging the gap between employer and employee in this change process.
Designing for "we"
New concepts in design can be very cost-efficient. Recently, a national organization had a call-center business that was exploding. Their 70,000-square-foot floor plate needed to be reconfigured to accommodate 200 more employees.
They converted to a benching model with varied gathering, touchdown, and meeting spaces. The "I" space became much less, but the "we" space became much greater. That builds culture. And if an organization is using the same space while getting 200 more people into it, that's a great business decision.
If space is designed for "we," employees use the whole campus, not just their own corner. They quickly discover that their workspace goes beyond that five-foot stretch of bench with their name on it. They can sit in the café, or a break room, or an inviting phone room. Boundaries break down; ideas and camaraderie flow.
These spaces are functional and multi-purpose, yet bring an undeniable air of cool. They're sexy. They attract people, and that generates collaboration and innovation.
One organization realized that employees were leaving the building and driving a half-mile to a Starbucks for coffee breaks. It was a simple solution to include a coffee bar in their newly reconfigured space, a change that will easily pay for itself over time while sending a message that the company cares about its employees' comfort.
At the same time, many organizations are willing to pay for dramatic, signature features that will bring an unforgettable impact to their workplace. These organizations want memorable spaces, and that opens up a host of unique design options that can bring home the company's values in a visual, visceral way.
Continue Reading:

Cover Story: Office Design

How Corporate Culture Influences Workplace Design

New Concepts in Office Design Gain Momentum

People, Purpose, Principles: How Workplace Design Responds To Corporate Culture
---
---
---
Related Topics:
Comments