You Might Like
On FacilitiesNet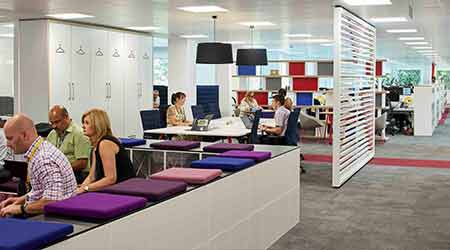 Hufton + Crow
5 Steps To Apply College Lessons To Office Space
Transitioning office space to more closely mirror college space requires some research and observations. Here are some tips.
There is an important "prerequisite" for adopting collegiate design in the workplace: Corporations must learn from the available research, visit college campuses from which they will recruit, and understand the influences and drivers of collegiate design.
With that in mind, here are five recommendations from the research — a path for the successful integration of collegiate design concepts into corporate workplace environments.
1. Visit higher education campuses. Schedule multiple, structured campus visits to make observations that can help the company understand the similarities between students learning and employees working. Target schools from which the company hires, as well as schools that stretch and challenge the company's perspectives on talent, growth, vision, and culture. Select two or three schools that meet these criteria and schedule a half day for visiting each. Bring a cross-section of facilities, real estate, human resources, design, and department leaders. Use recruitment visits to survey students about what they seek in a physical workplace environment.
2. Observe students while schools are in session to capture typical learning activities. Compare and contrast college work styles and environments, including non-traditional environments, with those of the organization. With permission from the college, record anomalies and scenarios using photographs or video.
3. Create a plan that incorporates the right observations. Start by identifying the observations that are most compatible with the company's culture, goals, and vision, and migrate them toward a plan. Also test new observations and divergent ideas.
4. Implement the plan. Try pilot-testing design ideas that are supported by research, including campus visits, observations, and surveys of new graduates and recruits. Address the convergence of employees' personal digital devices and embedded workplace technology, and be prepared to support a range of work styles.
5. Track productivity, collaboration, and other metrics resulting from implementation of the plan to measure the return on investment (ROI). Just as campus facilities contribute to a college's ROI as measured in admission rates, student retention rates, graduation rates, and grade-point averages, the corporate ROI can be measured in recruitment rates and cost effectiveness, employee retention rates, job performance and satisfaction, and promotion rates.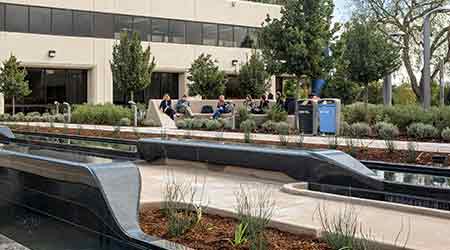 (The Intuit Mountain View Campus has created flexible spaces suitable for diverse uses — with technology connectivity — outside as well as inside. Photo credit: David Lloyd)
To do and not to do
Based on everything that has been learned to date about collegiate environments, it is fundamentally important to remove the silos in the workplace. Student group work knows no boundaries. In turn, corporate leaders must challenge their organizations to break barriers in departments and segments, and cross-integrate for more dynamic exchanges and environments. Allow — better yet, encourage — employees with different jobs to interact. For example, providing a variety of space types within a department, while assuring both acoustical and visual privacy, can help to support employee engagement and interaction.
At the same time, plan holistically and authentically. Consider all aspects of the corporate environment and culture — including existing employees' work styles — when testing new ideas. Recognizing a variety of work styles — for example, including enclosed workspaces, open workspaces, and variations — enables employees to do their best work and be most productive in the personal environment where they feel the most comfortable.
Consider central core concepts. The central core is a guiding principle in most campus spaces. Much of what has been observed in these environments emphasizes a central core layout or hub — a high-energy gathering place for an entire building.
Be sure to maximize use of external space on the corporate campus. As researchers have observed, external spaces on college campuses are maximized at every opportunity and capitalized for their use in accommodating student groups of all sizes. For example, create flexible spaces that can be utilized for working, presenting, socializing, physical fitness, or eating. Provide technology connectivity within various types of spaces. Consider applying similar design strategies both in exterior and interior spaces.
Because learning environments have played an important role in shaping and supporting the work styles of the newest workforce, collegiate design may influence the next step in the evolution of workplace design. Corporations competing in the race for talent should borrow design and workspace planning concepts from institutions of higher education.
Brett Shwery, IIDA, AAIA, LEED AP BD+C, is senior vice president of design, and delivery director for Buildings + Places in the Americas for AECOM, a global design and engineering firm. Over the past 30 years, he has led design and delivery of workplace environments for Fortune 500 clients around the world.
Email comments and questions to edward.sullivan@tradepress.com.
Continue Reading:

Commercial Office Space

What Workplaces Can Learn From College Campuses

5 Steps To Apply College Lessons To Office Space

INFOGRAPHIC: Corporations Missing Opportunities To Leverage Campus Style
---
---
---
Related Topics: