3 High-Rise Building Strategies to Improve Resilience
As extreme weather grows worse, high-rise property owners should consider these three strategies to mitigate the worst effects of climate change.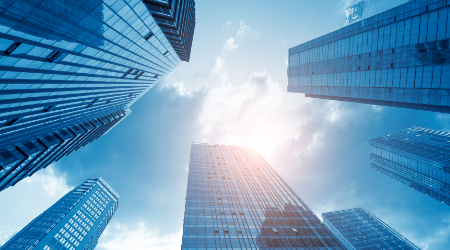 For decades, multi-story building layouts have become identical across the United States. The typical structure features an underground basement with mechanical and electrical equipment, a lobby at the ground floor, and commercial space or residential units on the upper floors. This formula has shaped the urban environment around us. Due to climate change, however, architects and engineers are altering the way buildings are designed and constructed. Professionals in the AEC industry are navigating new and upcoming building codes and are becoming aware of buildings' adaptation strategies to climate change. New York City, as a coastal community, is particularly vulnerable to rising sea-levels and precipitation-driven floods linked to climate change.
One of the most effective tactics to combat climate change-driven floods is by altering multi-story structures by building up. This process is a way to keep buildings operational year-round, even when extreme climate events occur. In 2012, Hurricane Sandy wreaked havoc on New York City, heavily damaging infrastructure and buildings. As a result, city officials added Appendix G to New York City's Building Codes. This Flood-Resistant Construction code addition helps regulate construction and substantial building improvements in flood hazard zones. In May 2021, after a series of emergency provisional zoning enacted after Hurricane Sandy, New York City made flood resiliency zoning rules permanent by approving the Zoning for Coastal Flood Resiliency. These regulations ensure that properties in New York City can withstand and quickly recover from flooding. While these new regulations feature many new guidelines and procedures, three approaches that are currently changing the way we construct buildings are most important to understand.
1. Building Up to Operate in a Flood Zone
Since the implementation of Appendix G, building up has changed the way multi-story buildings are designed and operated across New York City. One of the regulations of Appendix G calls for MEP systems to be installed above "flood elevation" according to the building's proximity to mapped flood zones — three feet higher than the highest expected flooding event. What seems like a minor adjustment will have major implications for residential and commercial buildings. In existing buildings, space needs to be created on higher floors for the relocation of MEP equipment. Relocating MEP equipment does present challenges because the floors were not designed and built to accommodate heavy loads and sometimes, they don't have the required structural strength to support such equipment. If that is the case, other options would be to relocate the equipment on watertight enclosures located outside of the building, but within the same site.
2. Taking Advantage of Roof Space
To ensure buildings maintain power during flooding, buildings must take advantage of the space on the roof. In new buildings, basements will no longer house mechanical systems. Utilizing underground floors for mechanical purposes was an ideal strategy for developers and tenants because the noise of the machines and equipment would not be audible by tenants. By moving the mechanical equipment on the roof, developers will be able to comply with zoning regulations and not sacrifice useful square footage that they could charge rent for elsewhere in the building.
Following Hurricane Sandy, roofs have been better utilized by building managers of all types to keep their properties running smoothly. During the 2012 hurricane in New York City, hospitals and other large structures lost power because emergency generators were positioned in building basements. To avoid future power outages, hospitals have installed emergency generators on their roofs in weather-protected, fire-rated steel housing, guaranteeing power during extreme weather conditions. We have already seen residential towers in New York City mimic this idea by installing emergency generators on floors normally reserved for penthouses.
3. Building Water Management Systems
For buildings to perform optimally during floods, not only does critical equipment need to be moved to higher floors, but the infrastructure of the building must actively work to disperse and absorb excess water. Building infrastructure must include pipes and capacious stormwater retention and detention tanks that will slow down the water flow being pumped into the city's storm sewer system when the rain subsides. Without these systems, a building might experience water leaks and excess standing water, leading to corrosion, structural and equipment damage and related repairs. Subsequently, parts of these buildings may need to be closed off to tenants because of safety concerns.
Other water management strategies include using green infrastructure and absorptive paving materials. The need for structural stability in sidewalks, roadways, and parking areas have promoted the use of high compaction and low porosity materials which lead to low-water absorption and high-volume runoffs. On the other hand, suspended pavement systems can create a strong substrate in these areas, while allowing for bioretention and high-water absorption through its matrix of uncompacted soil. Additionally, green infrastructure elements in landscaped areas such as wet swales, sponge parks and green roofs can greatly improve a site's capacity to absorb water.
As FEMA Flood projection maps show us, routine flooding will become more frequent and extensive in New York City. Moving forward, architects, engineers, construction managers, and facility managers need to adopt new government codes and regulations to reconfigure the way buildings are designed to ensure occupants' safety and the upkeep of their structures.
Filomena Nigro, LEED AP BD+C, WELL AP, CPHC, is project manager and sustainability manager at CNY Group.
---
---
---
Related Topics:
Comments