Sound Isolation and Sound Absorption Strategies for Open Offices
Part 2 of a 2-part article examining best practices for acoustics.
OTHER PARTS OF THIS ARTICLE
Pt. 1:
9 Acoustical Considerations For Open Offices
Pt. 2: This Page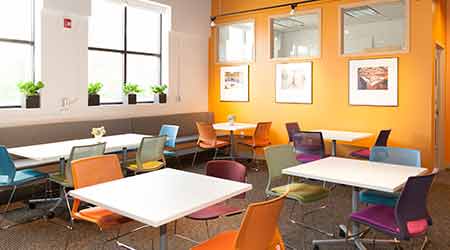 6. Provide Sound Isolation Around Conference Spaces
Conference spaces that workers use for meetings and conference calls need to be well isolated from one another and from the open office areas so that activity noise does not bother others nearby. One approach is to use double or staggered-stud walls with batt-insulation in the stud cavity for partitions between conference rooms. In addition, conference room doors can be fully gasketed.

7. Use The Right Sound-Absorbing Products
Different ceiling tiles should be used for different purposes: highly absorptive fiberglass ceiling tiles above areas where groups congregate, and less absorbing but denser mineral fiber ceiling tiles above spaces that have mechanical equipment above. Glass fiber absorbs more sound than mineral fiber, but mineral fiber blocks more sound from passing through it than does glass fiber.

Some conference rooms are modest in size with flat parallel walls. This is a recipe for a phenomenon called flutter echo, where sound quickly reflects between the two walls, leaving an unpleasant pinging sound if you speak in the direction of one of the walls. This can be addressed by installing fabric wrapped panels on one of the parallel walls so that sound reflections in the horizontal plane are absorbed.

8. Address Sound Isolation In Private Offices
Consider giving employees who prefer a high-degree of acoustical privacy the option of working in a private office. Those offices should have a high degree of sound isolation as well — for example, drop bottom seals on the doors, and demising walls that extend to the deck with batt-insulation in the cavity.

9. To Have An Open Office, Have An Open Mind
When an organization has had the same office layout for many years, there can be trepidation by some people to change the office environment from both a workspace and acoustical standpoint. Acknowledging that acoustics do sound different in an open plan office, the key point that should be communicated to employees is that there is much to be gained with the new layout and it can still be acoustically successful with the right design. n

Nicole Cuff, PE, LEED AP BD+C, is a consultant in acoustics at Acentech.

Email comments and questions to edward.sullivan@tradepress.com.
Continue Reading:

Acoustics

9 Acoustical Considerations For Open Offices

Sound Isolation and Sound Absorption Strategies for Open Offices
---
---
---
Related Topics:
Comments