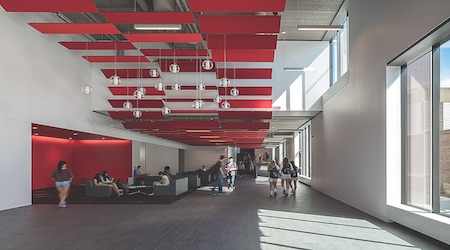 Open Plenums Gain Popularity, But Be Careful
Part 2 of a 2-part article exploring trends in ceiling design.
While open plenum spaces have gained popularity, they're not a panacea, nor can they be used everywhere. For instance, they can't be used in many healthcare settings, Barnes says, noting that open ceilings "would have lots of places for dust and microbes to hide."

Acoustics is another concern. In a traditional closed ceiling, the acoustical ceiling panel typically does a decent job of absorbing sound. With an open plenum, that acoustical line of defense is lost.

For instance, designing an open plenum in a reception area that already has a hard-surface floor could make it difficult for employees at the front desk to hear people phoning the company. When deciding on a ceiling design and materials, it's critical to first understand how the space will be used.

In addition, clear, ongoing coordination and communication between all the professionals working on a project is critical with an open plenum design, Madson says. In most buildings, the mechanical, electrical, plumbing, security, and lighting systems are located in the ceiling area. When this equipment is exposed, it becomes part of the design. Along with its functionality, it will need to be arrayed so it enhances, rather than detracts from, the overall building design and aesthetic. Ensuring this requires discussions starting early in the design process.

When an open plenum incorporates clouds or baffles, most building owners will want to minimize their placement in front of any systems that require more frequent access, Bailey says.

Although it may seem like open plenum designs should be less expensive than closed ones, the opposite tends to be true. The myriad considerations necessary with open plenum designs affect their costs. "In most cases, it's more expensive to do open ceilings," Madson says. "Acoustical ceiling tile goes up quickly and cheaply, and allows everything above to be messy." With open ceilings, the cabling and ductwork is exposed. Ensuring that it adds to the design tends to add time and money to the budget.

While the infinite number of ways in which ceilings can be designed makes it difficult to identify typical cost differences between traditional ceilings and open plenum designs, Madson says he's seen premiums ranging from 10 to 50 percent.

The cost differences can be especially pronounced when renovating an existing building to incorporate an open plenum design. "It can be costly to clean up everything," says Colciaghi.

For instance, in a typical ducted system, the main duct is made of metal, but the final connection to the diffuser may be made of a flexible material that makes installation easier. However, this material can have a propensity to droop or kink. That can give an open plenum an untidy look, Barnes says.

Similarly, internally insulated ductwork often offers a cleaner look than ductwork that's wrapped in membrane, Goggin says. Making the switch may mean a great deal of cleanup in some facilities.

When open plenum designs incorporate clouds, sprinklers typically are required both above and below them, Madson says. The reason? Hypothetically, the space above the cloud could be occupied. Again, that adds to costs, as the space above a closed ceiling typically isn't considered occupiable, and thus isn't subject to the same requirement.

Another potential expense is paint. In some facilities, an open ceiling may need to be painted in order to provide adequate light reflectance, Barnes says.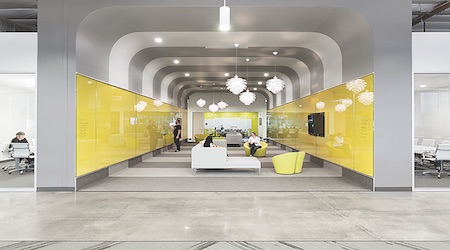 Photo caption: Painted, radius-edge gypsum board ceiling with a striped pattern that continues from the ceiling to the floor creates a collaboration tunnel that acts as a central gathering space for employees of Ooyala in Santa Clara, Calif. Credit: Gregory Cortez/Courtesy of HGA.

Even as open ceilings receive plenty of buzz, closed ceilings still play a vital role in commercial spaces. What's more, architects and designers increasingly are finding ways to incorporate new designs and materials within them.

To start, acoustical ceiling tile designs are changing. "The tried and true materials have been revamped," Colciaghi says.

For instance, rather than standard two-by-two tiles, some designers are choosing two-by-six tiles, which add a linear feel to the ceiling design. Bailey has used two-by-six foot panels installed in a staggered layout. "We incorporated design in the pattern of the ceiling tile," he says.

Larger four-by-four tiles are another way to add interest and a sense of newness. One note: Larger tiles can be more unwieldy for a maintenance person to maneuver, if he or she needs to remove one to access the building systems, Goggin notes. That can mean they're more quickly damaged.

Some designers are shifting to "low-fissure" or smoother tile for a cleaner look, Barnes says.

Another option for closed ceilings is a stretched membrane. The material, which can come in hundreds of colors, provides a "unique aesthetic," Goggin says, with some looking like glass. When lighting systems are installed above the membranes, the result can be "a luminous ceiling," he adds.

Wood and metal also have become popular options for partially or completely closed commercial ceilings. They can bring a fresh, often industrial look. To aid in noise reduction, the panels often are perforated to allow some sound to travel through the wood or metal, instead of bouncing off it.

Designers working on closed ceilings also are incorporating more seamless ceiling-to-wall transitions, using wood, felt, and other materials, Barnes says. "We're carrying what we're doing on the wall plane to the ceiling plane. It can be a really unique design element."

Indeed, while the functional capabilities of ceilings remain critical, their design potential has achieved greater recognition. A properly designed ceiling can add interest, delineate different areas within a space, and help moderate noise. As Bailey says, "the ceiling doesn't have to be just functional."

Karen Kroll, a contributing editor for Building Operating Management, is a freelance writer who has written extensively about real estate and facility issues.
Email comments and questions to edward.sullivan@tradepress.com.
Continue Reading:

Ceilings

Ceilings Are Crucial Elements In The Design and Acoustics of Commercial Spaces

Open Plenums Gain Popularity, But Be Careful
---
---
---
Related Topics: