« Facilities Technology Briefs Home
/
HVAC
DOAS for VRF - Nortek Global HVAC - Facility Management Product Release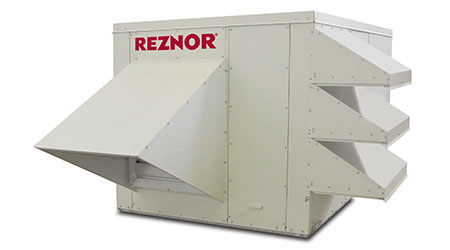 Nortek Global HVAC
website | Company information
The Reznor ZQYRA Series dedicated outdoor air system (DOAS) combines control design with modulating heat pump and enthalpy wheel technology. The ZQYRA–8 (500 to 1,100-CFM) and ZQYRA–12 (900 to 1,500-CFM) units boast one of the HVAC industry's smallest DOAS footprints and are ideal for adding outdoor air ventilation in smaller spaces for new and retrofit VRF or conventional DX air conditioning projects.
Reznor's Z-Series Selection software expedites specification as simply as selecting an off-the-shelf system, because inputs require only basic project parameter data. The ZQYRA Series incorporates several control functions and components in its design:
– Supplemental electric heat control uses an SCR time-proportioned modulation controller (zero to 100-percent control) for optimizing efficiency and pinpoint temperature control;
– Extended heat pump operational time during extremely low ambient temperatures to eliminate coil freezing and subsequent energy-intensive defrost modes;
– Z-Series Selection software calculates unit performance expectations as per inputted CFMs and the facility's geographical temperature/humidity ranges;
– A refrigerant charge compensator that allows minimized and optimized refrigerant usage for both heating and cooling modes.
The ZQYRA Series surpasses AHRI Standard 920's dehumidification efficiency minimum 5.2 ISMRE rating. Although both models are 3.5-tons, their silica gel enthalpy wheels' dehumidification benefit effectively equals that of a 7-ton air conditioner. The Series also surpasses minimum requirements for ASHRAE Standards 62.1, 90.1, 189.1 and LEED project mandates for 30-percent more ventilation air while using 30-percent less building energy.
Unlike large capacity DOAS systems with a myriad of options that complicate the specification process, the ZQYRA design offers a simplified approach with only basic options. Options include MERV 8 or MERV 13 filtration; corrosion-resistant coil coatings for salt water locations; and activation control options ranging from CO2, occupancy, and VOC sensors, or a manual on/off override switch; power requirements of 208/230 or 460V power. The ZQYRA Series also offers greater than 9.0 COP and greater than 17.0 EER.
Other features of the ZQYRA Series are:
– Functions as a stand-alone, self-contained DOAS or can be combined with packaged air conditioning systems for outdoor air supply and/or recover up to 80-percent exhaust air energy;
– Pre-painted gloss-90 steel cabinets with double-wall insulation in the wet areas to minimize moisture harboring biological growth;
– Compatibility with all Building Management Systems (BMS);
– EC motor/direct drive fans;
– Heat pump's heating mode offers a 56 percent energy savings versus similar sized gas-fired DOAS;
– Z-Series Selection software's data sheet is printable for client specification presentations.
RELATED CONTENT
FEATURES:
QUICK READS:
posted: 6/11/2018