« Facilities Technology Briefs Home
/
HVAC
Air Duct for Data Centers Offers Large Volume, Low Velocity - DuctSox Corp. - Facility Management Product Release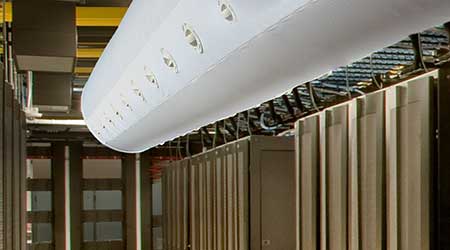 DuctSox Corp.
website | Company information
DataSox is a customizable air displacement ventilation ductwork system with onsite directional-adjustability for effectively and energy-efficiently cooling commercial data center equipment.
DataSox is a round, overhead and porous fabric HVAC duct system that distributes a large volume of air down into data center cold aisles, but with low 400-FPM velocities that don't upset critical equipment intake and exhaust or room return air containment balances. It also offers the flexibility of directional spot cooling capabilities with adjustable nozzles for high wattage servers. The nozzles allow for onsite testing and air balancing for optimum performance not previously available to the data center industry. 
DataSox outperforms conventional air distribution methods with its factory-engineered, energy-efficient &frac14 to &frac12-inch w.g. of static pressure and results in cold aisle temperatures 3 F to 5 F lower than traditional distribution, but with up to 40 percent less computer room air conditioning (CRAC) flow rates, especially when complemented with variable frequency drive (VFD) equipment. Using DataSox helps data centers achieve lower power usage effectiveness (PUE) levels, which makes it a perfect sustainability product for green construction projects.
DataSox is a custom engineered product constructed of the following multiple air dispersion technologies:
·Stat-X — White permeable specialty fabric has built-in anti-static qualities from its electro static dissipative (ESD) yarn that is specifically designed for electric-sensitive environments such as data centers. It also disperses a small 2.5-CFM/ft2 of airflow which makes up about 1-percent of the DataSox's total porosity.
·Custom Porosity Fabric — Occupies the bottom third of the round duct to evenly disperse a large, volume of air downward toward equipment rack facades, without drafts. The white micro-perforated fabric delivers up to 400-CFM/ft2 of airflow at &frac12-inch of static pressure. Originally designed to distribute air in commercial kitchens and laboratories with velocities that don't disrupt fume hood exhaust, this material reduces cleaning maintenance versus conventional fabric porosities.
·Adjustable Nozzles — Strategically positioned in rows along the duct's length at the optimum angles. The 360-degree rotatable hemispherical diffusers secured inside a two-inch-diameter (33-CFM, &frac12-inch w.g.) or three-inch-diameter (83-CFM, &frac12-inch w.g.) grommet are designed to snap into the laser-cut orifices. The matching white hemispheres can rotate into 10 different notched airflow angle settings including up, down, right or left, as well as completely open or closed. The nozzles also have an anti-condensation design to eliminate concerns of moisture formation on the material.
More traditional data center air distribution methods, such as overhead metal duct/register systems or under floor air chase plenums fall short of DataSox in overall efficacy and PUE. Large air velocities common among overhead metal duct/register systems typically cause turbulence and return air containment disruptions, resulting in equipment heat build-ups in underserved parts of the rack. Under floor chases are either too crowded with communication and electrical cabling or can't efficiently force upward the increased volume of air required for higher capacity servers.
DataSox offers the potential of operating CRACs at lower, more efficient temperatures because fabric has a lower dew point temperature than metal. Standard diameters range from 14 to 48 inches, and custom sizing is available. Positioning is over the cold aisle at cabinet level heights for easy access to nozzles. The air displacement methodology separates supply and return air without the use of containment curtains or barriers. One and two-row suspension system options dependent on duct diameter offer a clean, aesthetic appearance.
RELATED CONTENT
FEATURES:
QUICK READS:
posted: 2/2/2017