« Back to Facilities Management Building Automation Category Home
Building Automation: Propagating our People Power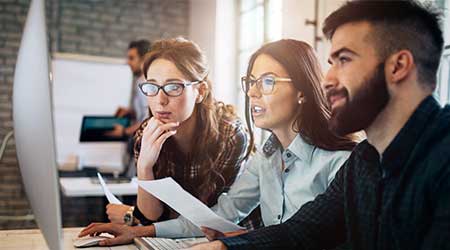 June 19, 2019 - Building Automation
By Ken Sinclair
Propagating our people power is our ongoing challenge. To grow our industry younger, we need to get our message out that we are an exciting industry in which young folks can make a difference and offer them job crafting and promote "job flexibility as a game changer" to attract them. As first adopters, we tend to bear the brunt of the cost/education curve, but we are the ones that eventually make the new technology affordable and accessible to all. We need to tell the world why they want to be part of our passion.
Please read this review: Job Crafting Our Industry Ambassadors.
What is job crafting? It captures the active changes employees make to their own job designs in ways that can bring about numerous positive outcomes, including engagement, job satisfaction, resilience, and thriving. This briefing introduces the core ideas of job crafting theory for management students by defining it, describing why it is important, summarizing key research findings, and exploring what it means for employees, managers, and organizations.
This amazing metamorphosis has us all closely coupled with the internet and IT ways. To achieve, we need to grow younger very quickly and become more Building IoT-ish. In our reinvention we need to attract the talent that is driving the Internet of Things.
Here is a great example: The New Kidd on the Block.
Lucy Kidd is a data scientist and she is helping our industry grow younger and smarter with machine learning.
Sinclair: How did you start working within the Smart Buildings industry?
Kidd: I was a fresh graduate who was mainly interested in robotics and AI when I came across an online ad for a data scientist at BUENO. It seemed like a great application of programmatic knowledge to the real world, while also being socially conscious.
Sinclair: What does BUENO do and why are you passionate about it?
Kidd: BUENO designs and builds leading edge technology that enables data-driven engineering services within the built environment. We believe in the best possible performance and efficiency of our built environment. By continuously developing the highest quality analytics platform for building systems, we reduce costs and environmental impact, streamline workflows, and increase transparency, visibility, and potential of a building's performance and efficiency. We apply data science over operational technology dataset to automate diagnostic tasks and fuel optimization of a variety of building systems. https://www.linkedin.com/company/buenosystems/
Sinclair: How did you come across the haystack project?
Kidd: I was introduced to the Haystack community when I started working at BUENO. I had no background in HVAC, and so I learned about Project Haystack the same time as I was learning about building systems. Building my knowledge in the context of the Haystack project helped me immensely when trying to make sense of the systems we work with. I've found the Haystack project super useful when we're building out new areas of our analytics coverage, but we've also created our own models for a number of areas yet to be covered by Haystack."
We need to celebrate our success and tell the world with articles like this: Women in Controls: Inspirational, Innovational, Indispensable by Skip Freeman.
The article tells of eight remarkable women in building automation and HVAC controls. A common thread permeating all eight conversations is the unbridled enthusiasm each has for our industry along with their confidence, futuristic outlook, and tenacity. These eight professionals are truly inspirational.
In speaking with the eight women highlighted below, it's practically a consensus that continued (and even increased) emphasis needs to be placed on the importance of STEM (science, technology, engineering, math) careers in grades K-12. Equally important will be the realization by our politicians and educators that not all STEM careers require a college education. Ours, for example, is one of them. A renewed respect for the trades presents a world of opportunities for those not wishing to pursue the traditional 4-year degree, and not just for men but equally for women.
We need to ask their input and let them help us solve our newfound concerns like this: "You don't know what you don't know. Does IoT serve us or take from us?" by Sabrina Venish of Nube iO.
Admittedly, a little over a year ago, I barely knew what IoT meant. As I started working at Nube iO, a smart building tech startup, I began to learn more about this buzzword and the opportunities it has created for the building automation industry. However, among the benefits, a growing awareness of this powerful, virtual world made me question the consequences for society it claims to serve.
With a background in marketing, I am well aware of existing privacy concerns among internet users, which are warranted given unauthorized breaches of hundreds of millions of users' data in 2018 alone. Cookies, virtual profiles, data mining, and data brokering are just some of the legal activities that have developed over the last two decades that give companies the ability to access and share sensitive, personal data. This isn't black market stuff either; legitimate personal data exchanges now retails at $200 billion annually.
This article helps to explain why our industry is becoming exciting. We are creating buildings that have never been created, and we all need to be part of that. Give this a read: The Best Talent Will Demand the Smartest Buildings.
Supporting current employees is on one side of the productivity coin while attracting better employees is on the other, and the building can do both. By creating a healthy, comfortable, collaborative, and functional workplace, employers become more attractive when trying to attract the best talent. Once again, when one company has begun to benefit from the building its competitors will soon feel the pressure. In this case, that means losing the recruitment battle to those with smarter workplaces, an increasingly common situation with younger recruits.
Millennials will make up 75 percent of the workforce by 2025, whilst Generation Z will begin to enter the workforce from 2018. These are generations that have grown up with digital and connected technology, and they will prioritize smartly designed and technology-rich workplaces when choosing between employment options,' our Future Workplace report states. 'They will place great importance on companies and workplaces that promote health through lighting and environmental control systems, for example, as well as those who offer them the time and facilities to engage in healthier living.
I am the moderator of the following session in Nashville @ https://www.realcomm.com: Autonomous Interactions - Integrating the Occupant Experience into Smart Buildings.
We have the dream team panel of industry experts to discuss this very important topic but only 30 minutes at the end of the day to do it. Take a look at the qualifications of my panelists. I have included some links so you can see a bit of what they are doing integrating the occupant experience.
I am also a speaker at this session: Connecting to the Enterprise – The Fast-Changing World of HVAC.
Joseph Aamidor, managing director, Aamidor Consulting, and I are the speakers for this session in Nashville. It's a large topic to cover in 30 minutes. We will both speak for 10 minutes and then invite questions from the floor. We have included some speaking notes and links for those that wish to do a deeper dive. We will be pleased to discuss any of these concepts after the session.
Nashville is poised to be a kaleidoscope of industry change.
Here is a video interview with Eric and Kenneth of Control Trends.
Recently returned from the 2019 Haystack Connect, Ken Sinclair shares more insight into our digital journey, a journey with transformational potential… 'in the time-warped age of information that we now live in, when a new URL or a new app, or YouTube can create a new direction with new prospects, while teaching us something we do not know.
Ken Sinclair is the founder, owner, and publisher of an online resource called AutomatedBuildings.com. He writes a monthly column for FacilitiesNet.com about what is new in the Internet of Things (IOT) for building automation.
posted on 6/19/2019