Weighing Pneumatics vs. Direct Digital Controls in Existing Buildings
DDCs may not be right for every installation. Pneumatics are a tried and true solution, and are reliable and durable.
OTHER PARTS OF THIS ARTICLE
Pt. 1:
5 Advantages of Direct Digital Controls (DDC) for Tenant Buildouts
Pt. 2: This Page
Pt. 3:
Two Case Studies: Evaluating Pneumatics vs. Direct Digital Controls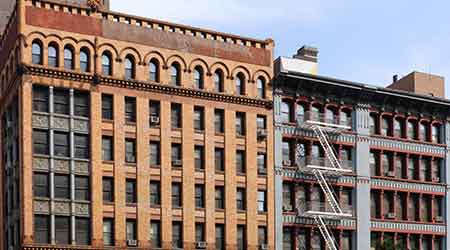 While digital controls provide numerous advantages over pneumatic controls, in an existing building, the decision to reuse or upgrade controls at a terminal unit level is often left solely to a building tenant. Buildings that were originally constructed with pneumatic controls typically upgrade the base building systems to DDC and provide the BAS backbone but do not pay for the entire DDC retrofit at a floor level. High-tech tenants running a lot of equipment with a dense floor plan will realize the benefits associated with digital controls more so than a typical tenant in a lightly occupied floor plan.
Facilities can help offset the initial cost of upgrading to DDC by providing a future tenant with a tenant interiors budget. This allows the tenant to have better control of their space while the facility gets the advantage of slowly retrofitting their building to DDC tenant by tenant.
Pneumatics: The Tried and True Solution
In a pneumatic system, compressed air travels in pneumatic tubing throughout a building's main compressed air loop. Sensing devices and the HVAC equipment they are intended to control are connected to this pneumatic loop. Depending on the set point of the sensor and the ambient condition, air will either remain in the tubing or be released. It is this difference in air pressure that ultimately controls the equipment. While pneumatic controls are reliable, they do not provide the tightest tolerances for tenant-level thermal comfort.
Once the sensor set points have been calibrated in the field, all future adjustments must be made locally. Facility personnel are unable to identify any tenant thermal comfort issues without complaints from the tenants themselves. While pneumatic controls do not provide the best control, pneumatic actuators cost much less than electronic actuators. For some buildings and tenants, the lower first cost is all that matters.
What's more, pneumatic controls are a tried and true technology. Pneumatic actuators are reliable and durable, as well as economical. Contractors and building engineers may be more familiar with the pneumatic controls they've used for decades. Upgrading to DDC could require additional training for facilities personnel. Additionally, without an upgrade of base building systems to DDC, the required BAS infrastructure may not yet be in place.
Continue Reading:

Controls

5 Advantages of Direct Digital Controls (DDC) for Tenant Buildouts

Weighing Pneumatics vs. Direct Digital Controls in Existing Buildings

Two Case Studies: Evaluating Pneumatics vs. Direct Digital Controls
---
---
---
Related Topics:
Comments