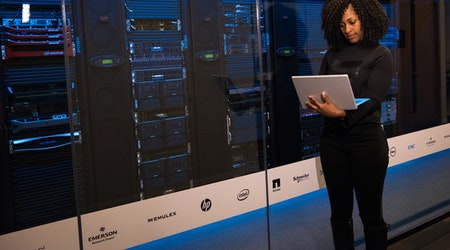 Data Products
SOFTWARE PLUS EXPERTISE
BuildingIQ: The BuildingIQ 5i combines a software platform with expertise from the company's operators, engineers, and data scientists plus input from facilities staff. Capabilities range from energy reports with recommendations to Predictive Energy Optimization, which automatically tunes the building every four hours to optimize set points based on real-time variables, such as weather, occupancy and comfort, energy pricing, and utility signals. Other functions include work ticketing, retro- and continuous commissioning, outsourced hot/cold calls, automated utility-grade M&V, and demand response. Subscription-based, and requires little to no infrastructure changes.

CONVERGED BUILDING SYSTEMS
Cisco: The Digital Ceiling is a Power over Ethernet (PoE) network that enables the convergence of building systems including lighting, heating, cooling, sensors, and other actuators. The Building Internet of Things solution is based on an optimized company IP network that includes enhanced switches that enable lighting and building automation to run on a converged IP network. A new Information Exchange provides the solution with open and secure communication, according to the company. The partner community supporting the solution currently includes Cree, Eaton, Emerson, Johnson Controls, Legrand, Philips, Siemon, and others.

BIM + IWMS
Planon: Facility managers have a great opportunity to leverage the technology and data associated with a building information modeling (BIM) project. Connect for BIM provides a bidirectional data exchange between a BIM and the Planon Universe integrated workplace management system (IWMS) platform to ensure consistent and relevant re-use of information for building operations, including processes like maintenance, space, portfolio, and contract management. Data exchange between Connect for BIM and Universe is based on the industry standard COBieLite, a structured XML-based file format. A Revit add-in supports preparation and structuring of floors, spaces, and assets, as well as visualization aspects.

ANALYTICS PLATFORM
SkyFoundry: From building automation systems to electric meters, thermostats, appliances and even individual sensors — smart devices of all types are now capable of communicating information about their environment and operation. The new challenge is how to manage and derive value from the exploding amount of data. SkySpark analytics platform is designed to automatically analyze building, energy, and equipment data to identify issues, faults, and opportunities for improved performance and operational savings. The platform allows domain experts to capture their knowledge in "rules" that automatically run against collected data. The platform present results to operators in intuitive views and reports.

CRITICAL ENERGY EQUIPMENT
Blue Pillar: Aurora is an "energy network of things" platform that connects, controls, and collects data from facility equipment that generates, switches, consumes or measures energy. It is designed specifically for critical and complex facilities. The vendor-agnostic connectivity and data management platform using templates that automatically connect "energy things" behind-the-meter without requiring replacement of legacy infrastructure. Version 5.0 includes enhanced cyber security measures, enables integration with public and private cloud-based service with distributed data storage and support for multiple time zones, and improves data management.

APP PULLS, REPORTS DATA
BuildPulse: BuildPulse is software for commercial buildings that automates reporting and data collection, providing detailed information to facility managers. The plug-n-play app works directly into a building automation system. Rapid-setup system pulls data from existing building automation systems and standardizes it using automated processes. Compatible with both new and legacy systems, including non-Web enabled systems, the company says. New release includes automatic audits to ensure buildings are running within expectations, fault detection and diagnostics, and comfort diagnostics reports that identify issues before a customer calls and show the impact of changes on tenant comfort.

KPI DASHBOARD
AwareManager: AwareManagerIQ is an analytics platform that provides a dashboard of key performance indicators — staff response times, vendor performance against agreed upon service levels, and several other metrics. Users can then easily drill down into specific subsets of the data, timeframes, or regions of a real estate portfolio. Designed to surface exceptions and performance patterns, it can automatically email specific reports on a scheduled basis.

MULTISITE SERVICES PLATFORM
SMS Assist: "One" is an integrative, cloud-based platform connecting multisite owners with a growing network of more than 20,000 subcontractor affiliates serving more than 130,000 client locations across the United States. The adaptive web-based platform is accessible by any device. The platform emphasizes real-time service visibility and actionable big-data analytics with a suite of facility maintenance functions, including work order performance, service response times, landlord and warranty management, asset tagging, route optimization, live maps, vendor dispatching and scoring, and streamlined communications — all with 24/7 support from SMS Assist's operations team of more than 565.

DESIGN TO MANAGEMENT
Skysite: InfoLink is a cloud application designed to store, manage, access, and distribute construction and building management documents and information from design to construction, closeout, and handoff to facilities managers. The app includes operational and logistical information, asset location information, and archived documentation necessary for efficient day-to-day facilities management. It also meets requirements for document retention policies and information governance procedures. InfoLink includes features to manage document retention and document purging, automate information governance policies, and otherwise address risks associated with outdated or irrelevant documentation.

OWNER, TENANT COMMUNICATION
BuildingVibe: The BuildingVibe cloud-based software platform for property owners provides a single place where tenants and the owner can communicate. It functions as a private virtual building community. Tenants can communicate, chat with each other, or post comments. The owner or management firm may post announcements, events, documents for tenants to easily access, and links to local restaurants, etc. A user-customizable application module is designed to collect real-time data from tenants on key building features and amenities, with tenant feedback tabulated into actionable reports.

SOFTWARE-BASED SUPERVISOR
Optergy: Aurora is a software-based supervisor that combines energy and building management features, using a web interface. This software installs on simple hardware or a virtual machine and requires no operating system or any other software dependencies. The scalable software can replace a small building supervisor or be used as an enterprise system. It manages BACnet or Modbus devices, and has built-in web-based programming and tools. Aurora allows live monitoring, control, reporting, and analysis from any web-based device. It provides 24/7 automatic detection and alert of energy waste. Other functionality includes tenant billing, after-hours logging, and public displays.

EYEWEAR CAPTURES INFO
XOEye Technologies: The company equips facility technicians with wearable technology systems that capture and share information. Technicians are equipped with smart, safety-certified eyewear devices that run XOEye Technologies' applications to capture video and photos of site and equipment conditions on arrival; live stream to others for expert analysis and record information to share with others; and record actions taken and make recommendations for future action. Communication is exchanged and information is delivered and accessed through Vision, XOEye Technologies' integrated cloud-hosted software platform. Crews use wearable technology instead of phones, cameras, and tablets to avoid interrupting work.

TENANT REQUEST APP
CrowdComfort: CrowdComfort is an app that enables occupants to submit hot/cold reports or maintenance requests from smartphones with location down to the nearest foot. Indoor geo-positioning places these reports on a virtual map. Facility managers use the app to assign work and update occupants on status. App provides analytics based on occupant reports. New CrowdSense shows details of maintenance or thermal reports including time submitted, photo included, and location. Also offers floor views, filtered report data, and views of general report categories as well as outlier issues.

WORKPLACE OCCUPANCY SENSOR
Condeco: Sense is a small wireless sensor that can be installed throughout the workplace to measure which areas are being used and which ones are not. It operates on a wireless mesh network that is connected straight to the cloud, totally separate from the organization's IT network. Sensors are rented not purchased. Condeco manages, monitors and services the installations. The reporting portal enables you to see occupancy data for locations, departments and even single desks or rooms. Reports are available by time, location, or specific groups and departments.

MARK UP, COLLABORATE ON PDFS
Bluebeam: Revu provides PDF creation, editing, markup, and collaboration technology to Windows desktop and tablet users. Revu turns Microsoft Office documents and CAD drawings into PDFs with one mouse click. Batch convert unlimited Windows files to PDF, or 10 other file formats. Export scanned PDFs as editable Office documents. Assemble PDF packages for easy access to multiple PDFs, and transform scanned images into text-searchable documents. Annotate drawings with customizable markup and measurement tools. Mac version also available. Bluebeam Studio Platform helps teams and organizations work on the same 2D and 3D PDFs with project partners anywhere.

SMART RESTROOM SYSTEM
Tork: The EasyCube Intelligent System has smart dispensers with optical sensors that measure supply levels and wirelessly transmit their status. The data is then uploaded to a web application for analysis. The system can be accessed through any connected device such as smartphone, laptop or tablet. The system enables facility managers to get continual updates of general washroom status, see alerts from specific dispenser fill levels, and know the number of washroom visitors. It is designed to help facility managers see trends and improve planning, and to move from static cleaning schedules to cleaning when needed — or a mix of both.

PORTFOLIO ENERGY ANALYSIS
Lucid: BuildingOS is a cloud-based data and analytics platform that centralizes commercial building data into a single, comprehensive data set, to make it easier for facility managers to use data to benchmark, monitor, and improve building performance. Specific solutions include resource efficiency, compliance, occupant engagement, finance and planning, and tenant or portfolio management. BuildingOS is completely vendor-agnostic and natively connects to more than 175 building technologies. Data processing engines that scrub, organize, and translate building data are designed to ensure that data is high quality and easy to understand.
Continue Reading:

Data

Rapidly Growing Number of High-Tech Products Can Generate, Report, and Analyze Facility Data

Data Products
---
---
---
Related Topics: