New Products: September 2008
OTHER PARTS OF THIS ARTICLE
Pt. 1: This Page
Product Gallery | Case Studies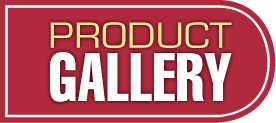 OPTICAL TURNSTILE enhancements allow multiple card readers to be installed and to fit into tighter spaces. The Fastlane Plus line of turnstiles features a deeper tray beneath the top to accommodate both proximity card and bar code readers. The Glass Wing line is available in a compact version to allow for a lane that is 21.7 inches wide. SMARTER SECURITY SYSTEMS
LINEAR FLUORESCENT LIGHTING FIXTURE contains a lamp, ballast and fixture combination system to replace traditional metal halide high bay systems. The ecoVations line of fixtures is designed to use T5 or T8 lamps. All offer 95 percent lumen maintenance, multilevel switching, instant on and dimming. They are recommended for mounting heights from 15 to 40 feet. ECOVATIONS
ROOM AIR PURIFIER uses a three-stage process to clean the air in rooms up to 1,000 square feet. The portable Steril-Zone air purifier uses the company's UVC Emitter to clean the air of bacteria, mold and viruses. The UVC lamp combines with a high efficiency air filter and long-life carbon filter to remove particulates, VOCs and microorganisms. STERIL-AIRE

HIGH-BAY OCCUPANCY SENSOR comes with three interchangeable lenses for use in either a 360-degree high-bay or 360-degree low-bay general area, or an aisle-way to provide coverage up to 40-foot mounting heights. The OSFHU fixture-mounted sensor is also available in a model for cold storage applications with temperatures as low as -40F. LEVITON
PORTABLE AERIAL LIFT has a 14-foot working height and an enclosed platform to provide stability while workers move hands-free within a basket. Liftpod is comprised of three modules weighing 50 pounds each. The modules can be carried and moved by one person and assembled in less than 30 seconds. Elevation is controlled by a battery-powered drill, or an optional battery pack. JLG

ELEVATOR CONTROL MODERNIZATION PACKAGE analyzes hydraulic elevator traffic patterns and car positions to improve elevator dispatching. Standard features on the Miconic HXpress package include soft-start electronic motor starting, infrared light curtains for doors and a hush kit for quiet operation. The system integrates with a remote monitoring system to monitor malfunctions and to transmit information to service personnel. SCHINDLER ELEVATOR CORP.
MASS NOTIFICATION PRODUCTS integrate communication technologies to deliver emergency messages to building interiors, exteriors, cell phones and PDAs. Sygnal allows different messages to be delivered to different buildings, rooms and common areas. Messages can be distributed in different formats, including text-to-text, live voice and live video. The device connects to a variety of systems, including fire voice systems, phone systems and network PCs. SIEMENS BUILDING TECHNOLOGIES

UPS has an adaptable, multi-position, hot-swappable power distribution unit that allows receptacles to be added to the back, side or top of the on-line double-conversion UPS. The Pulsar M 2200 and 3000 VA models feature multiple form factors, scalable runtimes and can accommodate up to 12 external battery banks. Units measure at 3.5-inches (2U) high for deep racks along with a 5.25-inch (3U) short depth unit. EATON CORP.
VENTILATION GUIDE describes the company's various ventilation components available for office, school, warehouse and restaurant facilities. The 12-page brochure discusses the benefits of single-source integrated ventilation equipment and whole-building ventilation design. Also includes information on the company's Computer Aided Product Selection program and Quick Build shipping program. GREENHECK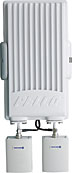 WIRELESS SECURITY SYSTEM combines encoding and wireless transmission into a single unit for outdoor video surveillance applications. Endura Wireless System is comprised of a wireless encoder, single radio transceiver, which can be programmed as an access point or bridge, and a dual-radio transceiver, which can be programmed as a dual-access point, dual-bridge or repeater. PELCO

HINGE for electrical door operation fully conceals the wiring between the frame and the door. The SL57 full surface geared continuous hinge is designed for retrofit applications on high-traffic doors. Wires pass through holes and machined channels in the hinge leaves and through a modified thrust bearing and can then be connected to any door-mounted electrical device. SELECT PRODUCTS LIMITED
ROOFING is composed of selected SBS modified bitumen on fiberglass reinforcement with a reflective white top surface. The smoothness of the SopraStar's tri-laminate surface permits occasional cleaning. System applications include heat weldable, self-adhered and also hot and cold applications. Energy Star compliant. SOPREMA

CARPET comes in two patterns. Batik is a patterned cut and loop construction carpet that contrasts tip-sheared, cut loop rectangles with alternating textured loop rectangles of color. The block of rectangles pattern repeat is 8 inches by 6 inches. Fresco is a patterned, all loop construction carpet. The pattern alternates high loop with low loop rectangles of color. Both patterns use EPP-certified Antron nylon fiber with StainRESIST technology. PACIFICREST CARPET

VINYL TILE available in 54 options designed after natural materials, including a variety of wood species, stone, marble and granite. I.D. Premier tiles are patterned and textured with a PUR-reinforced wear layer. The tile is FloorScore certified, meaning it meets indoor air quality requirements. JOHNSONITE
SIDE CHAIR line includes wood back, polymer seat, silver finish and four-legged stool options. The Relate side chair can be specified with a wood back in any of three of the manufacturer's standard veneer finishes. The four-legged stool with a wood back is designed for standing-height collaborative areas and cafes. ALLSTEEL
STEEL DOOR FRAME includes a factory-installed door seal to reduce light, sound and smoke transmission as well as installation time. The fixed-throat kerf prefinished frames

are available in six stock and 29 custom colors. Door seals available in beige, black, bronze and white. Frames have a 90-minute positive pressure fire rating. TIMELY
REINFORCED GRANITE-CLADDING SYSTEM absorbs and dissipates energy to provide blast protection. Hardwire ArmorStone combines high-tensile steel with granite. The system uses proprietary coupling systems and chemistries matched to specific

threats. It is available in a variety of colors and thicknesses. HARDWIRE ARMORSTONE

LUMINAIRE has a concealed lamp center panel with efficiency in excess of 95 percent and total luminaire efficacy as high as 87 lumens per watt. SofTrace can be used to achieve recommended lighting levels using energy densities as low as 0.5 W per square foot. An array of enclosure options can be used across all lamp types, including T8, T5, T5HO or CF. DAY-BRITE LIGHTING
RESTROOM DOOR OPENER installs with existing swinging door exit setups. The closer is connected to the motorized opening device that is activated at the wave of a hand in front of an electronic eye. Sanidoor only operates at the point of exit and disengages automatically in any situation where a hand scan is not used. SANIDOOR
CORELESS BATHROOM TISSUE features two-ply tissues. Angel Soft ps Compact fits into existing stainless steel compact dispensers. Softer textured, requires 63 percent less storage space and has a lower cost per roll compared to standard roll bath tissue, according to the company. GEORGIA-PACIFIC

OCCUPANCY SENSORS meet the European Union's directive governing the restriction of hazardous substances in electrical equipment. The RoHS directive addresses the use of four heavy metals, including lead, and two flame retardants used in plastics. The sensors use passive infrared, ultrasonic and dual technology to turn lights on and off based on occupancy. WATT STOPPER/LEGRAND

FOLDED TOWEL SYSTEM allows two people to take towels at the same time. The Dual Folded Hand Towel Dispenser delivers towels from two separate openings. The dispenser holds twice as many towels as existing folded towel and recessed dispensers, according to the company. Touchless dispensing options are available. KIMBERLY-CLARK PROFESSIONAL
STRUCTURAL INSULATED PANELS are custom-fabricated to design specifications and allow free spans of up to 16 feet in roofs and floors. The SRF panels can be installed to reduce the number of trusses, purlins, rafters, floor joints and other structural elements required in buildings. The panels combine metal studs and polystyrene to eliminate thermal bridges between building exteriors and interiors. KAMA ENERGY EFFICIENT BUILDING SYSTEM
UPS SOFTWARE for management and monitoring is offered as both a CD to provide real-time monitoring, as well as a series of Ethernet adapters to provide remote monitoring via a Web browser. The NetMinder software suite is compatible with the company's UPS products and its centralized emergency lighting inverters. CONTROLLED POWER COMPANY
CHILLER CONTROL PANEL offers visibility into the operating patterns, energy

use and performance of chiller plants. Tracer AdaptiView offers open protocol flexibility including BACnet, Modbus RTU or LonTalk with no gateways. An ergonomic arm allows operators to view the panel from virtually any height or angle. The panel is standard on all new CenTraVac Simplex chillers and can also be used on existing chiller systems. TRANE

CASSETTE FAN COIL fits into standard 2-by-2-foot architectural ceiling grids and has cooling capacities rated up to 18,000 Btu/h and heating capacities up to 20,000 Btu/h. A vertical auto-swing function moves the discharge flaps up and down. Five air flow patterns can be selected between zero and 40 degrees. Air can be discharged in any of four directions. DAIKIN AC

ACCESS CONTROL SYSTEM supports FIPS 201, TWIC and CAC Interim regulations. The CardAccess 3000 software and hardware create modular systems for an unlimited number of doors. Supports all reader technologies. Features an enhanced dynamic map, cross time zone support, web client feature, security archiving options, threat level and visitor management. CONTINENTAL ACCESS
Alternative Refrigeration Technology Makes the Cut at Wal-mart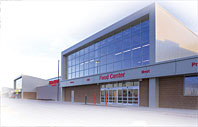 As part of an internal green initiative to reduce greenhouse gas emissions by 20 percent in seven years while trimming energy use by 30 percent, Wal-Mart Stores, Inc. decided to take a closer look at its refrigeration technology.
An experimental Supercenter store, opened in 2005 in Aurora, Colo., serves as one of two working laboratories to evaluate new technologies. One of the technologies being tested in the facility involves the central refrigeration system that provides cooling to chilled food display cases across the store.
Traditional direct expansion (DX) refrigeration systems can be a significant source of refrigerant emissions due to the amount of refrigerant circulating under high pressure from a store's mechanical center to refrigerated display cases through thousands of feet of copper piping. Vibration, thermal expansion, and the hundreds of valves and fittings within a typical DX system all contribute to a refrigerant leakage rate of 10 to 30 percent across the system.
In the Aurora store, Wal-Mart installed a secondary loop refrigeration system containing Dowfrost inhibited propylene glycol-based heat-transfer fluid. The system substitutes an abbreviated expansion loop and a larger low-pressure, secondary loop filled with the heat-transfer fluid for the single, high-pressure direct expansion loop found in traditional DX systems. The primary refrigerant charge volume requirement is 65 to 85 percent lower, and the shorter direct expansion loop eliminates many valves, fittings and connections that are potential sources of refrigerant leakage.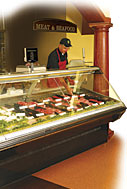 The secondary loop system also provides even, constant refrigeration to chilled food display cases throughout the store at an operating energy expense equivalent to or lower than a traditional DX refrigeration system, which is prone to fluctuations in temperature.
The secondary coolant fluid is a mixture of 35 percent heat-transfer fluid and 65 percent deionized water. This mixture has no known impact on the ozone layer nor contribution to global warming, according to the manufacturer, which reports that the ingredients in the heat-transfer fluid are recognized as safe food additives by the U.S. Food and Drug Administration (FDA). DOW CHEMICAL COMPANY
Proven Results Make for Good Medicine
Past experience helped Cooley Dickinson Hospital, founded in 1886 in Northampton, Mass., narrow down the choices for its fire alarm system when it came time to do a 126,000-square-foot expansion in 2006.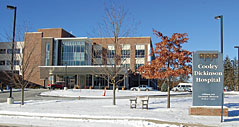 A 1997 addition of a 100,000-square-foot childbirth center which could not be accommodated by the original fire alarm system. So the hospital to installed the AM2020 intelligent fire alarm system from Notifier and upgraded all of the existing ancillary devices, including smoke detectors, strobes, control relay modules and speakers. The ease of use and expandability of the system worked well for the in-house staff, which does most of the maintenance.
So when it came time to add a new building to house a surgery center, joint center, state-of-the-art laboratory, and an additional patient floor in 2006, the hospital wanted to stick with Notifier. One set of challenges posed by the addition was the new fire department requirements, the most critical being that the fire safety system include a graphical representation of all fire alarm devices, exits, and the like.
The NFS2-3030, an intelligent fire alarm control panel designed for medium-to-large-scale facilities along with ONYX FirstVision, a graphical touchscreen interface for firefighters, were selected to provide a campus-based graphical system.
ONYX FirstVision connects to the fire alarm system and graphically displays the location of all fire alarm devices, water supplies, evacuation routes, access routes, fire barriers, gas, power and HVAC shutoffs, and chemical and structural hazards in the building.

The fire alarm system upgrade called for one NFS2-3030 panel to protect the entire hospital except for the new wing, which has a panel of its own. A total of about 400 ancillary devices complement the system in the new wing. All patient rooms in the new wing are equipped with smoke detectors as well as strobes to anticipate upcoming code changes. In fact, the hospital added smoke detectors in all of the patient rooms throughout the entire facility.
In addition to bringing the hospital under one system and providing additional expandability, the new system also makes it easier to test individual devices. It provides a printout of each device's performance to simplify troubleshooting. For example, the system can pinpoint which smoke detectors need to be cleaned by reading their sensitivity level.
Greening Student Union Restrooms Delivers Significant Savings
Located in Southern California, California State University Northridge strives to conserve all the resources it can. One step towards this goal was revamping the Student Union's restrooms to be as green as they could be.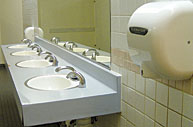 To begin with, zero water consumption urinals were installed. These work by draining fluid and trapping odors beneath a special sealant below the drain. The urinals alone accounted for a 35 percent water reduction, around a million gallons per year, in domestic water use. The savings average between $10,000 to $15,000 a year.
Hands-free faucets, automatic soap dispensers and automatic flush toilets followed to create a touch-free environment and limit the amount of water and soap product used.
Finally, XLERATOR hand dryers replaced the paper towels in the restrooms. The dryers dry hands in about 15 seconds and use 80 percent less energy than other dryers, according to the company. Previously the school spent $21,000 annually on paper towels, installation labor and trash hauling fees.
Savings from the water and paper conservation were evident within the first year and now average more than $30,000 per year. In addition, the university no longer generates six tons of paper towel waste per year.
---
---
Comments