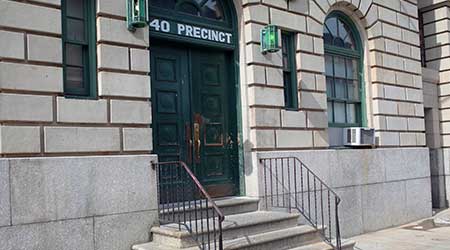 NYPD Facilities Violate ADA, Judge Rules
The New York Police Department is in violation of the Americans with Disabilities Act, according to the United States District Court for the Southern District of New York.
As part of the litigation, 25 of the NYPD's 77 stations were surveyed, and all were found to have at least one element which violates ADA. Mobility-impaired individuals cannot access the services at the stations because some can only be entered by stairs or accessible entrances are locked, improperly signed, or have improper access to them. Once inside the stations, doorways and gates are often too narrow, require too much force to open, or have thresholds which are too high, among other violations, according to Judge Valerie Caproni's Opinion and Order, filed February 4, 2020.
The case goes back to October 2016, when the original complaint was filed. NYPD did not argue that the physical barrier issues exist, but said that its efforts to provide services in a "meaningful alternative manner outside of the precinct station" solved the situation. In addition, in January 2019, NYPD created the Accessible NYPD strategic plan to survey all 77 stations and remedy ADA violations.
"Although that plan is a start, it is not evidence that creates a dispute of material fact regarding current accessibility of the programs and services at stations; it is a statement of aspiration," writes Judge Caproni. In addition, the efforts to provide access to services remotely were judged insufficient as certain services can only be provided within the precinct facility itself.
In a different case regarding equitable access and accommodations, a group of female NYPD officers filed a federal class-action suit against the department on December 29, 2019, saying it failed to provide appropriate lactation spaces, among other violations. The suit listed unsanitary conditions and insufficient break time to pump among the violations to two New York City laws passed in 2018 which require appropriate lactation areas and a written lactation policy, according to Supermajority News.
Naomi Millán is senior editor of Building Operating Management.
---