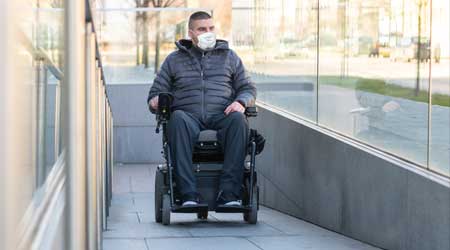 Keep ADA Top of Mind as Buildings Are Adjusted for COVID-19
Changes to entrances, restrooms, and office areas will need to be done equitably.
We will look back to this time in awe at how quickly we have changed our lives, habits, and facilities. Now facility and property managers, building owners, and tenants are preparing to reopen their buildings. Where do their plans for physical changes to facilities work in harmony with, or potentially collide with, the needs of people with disabilities and, specifically the Americans with Disabilities Act (ADA) standards for accessible design?
ADA lawsuits have slowed a little as our businesses and facilities have been adjusting to life with COVID-19 but they have not stopped. Cases have continued to be filed since the outbreak began. In the effort to reopen, it's important to act swiftly, but facility managers may find themselves having to backtrack if they respond with a knee-jerk reaction focused on the singular goal of halting the spread of the virus. The way forward must not unintentionally discriminate against people with disabilities while we focus on hygiene, physical distancing, and awareness.
Accessible hygiene
Hygiene is in the DNA of the way we design buildings to codes, from the requirements of plumbing fixtures to easily cleaned finishes and outdoor air in buildings.
Now, in the management of buildings, both hygiene and aiding people with disabilities can be accomplished with touchless architectural elements such as entrances. Automatic sensor-operated doors can address not only hygiene, but maneuvering and operation of doors. Other entry options can present challenges to people with disabilities. For example, wheelchairs must maneuver around swinging doors. Door hardware can present another challenge for people who have trouble grasping; ADA requires hardware that can be operated easily without requiring grasping or twisting.
Faucets, restroom dispensers, toilets, urinals, and trash cans can all benefit similarly from a touchless sensor operation, again relieving people with disabilities from potentially difficult grasping and twisting operation of the items.
The increased emphasis on hygiene is the reason for the spike in demand for hand sanitizer and wipes. When dispensed at entrances or lobbies, these dispensers must be accessible to people with disabilities while not creating an obstruction. To be accessible, the dispensers must be in an area that can easily be approached by someone in a wheelchair and also be within a reach range of 15 to 44 inches above the floor. If dispensers are wall-mounted, they must not project more than 4 inches from the wall. This allows the visually impaired to navigate the perimeter of a space with less risk of a collision with the dispenser.
Makeshift sneeze and cough guards are being installed at service and sales counters to protect both employees and customers. As tenants and facility managers plan for permanent solutions for service counters, they must maintain the required 36-inch minimum length and height for people with disabilities.
Physical distancing
Limiting the number of occupants in buildings has also been in the roots of building design codes, specifically stemming from fire safety needs. The future thresholds for occupant volume in some cases may decrease due to our interest in distancing from each other. It is possible that new buildings may feel generously spacious, and this would harmonize with the additional space required for wheelchair users to maneuver through them.
ADA standards require a 36-inch wide path of travel and a 60-inch turning radius. Reopening with fewer occupants may offer the added benefit of enabling people with disabilities to move more freely in facilities.
Open and shared office space may become less popular as partitioned and individual offices provide more distance between work areas and a barrier to contain facility occupants. While modifying work spaces, keep in mind the need for a 36-inch wide path of travel and a 60-inch turning radius to allow access for people with disabilities.
Equitable awareness
As soon as COVID-19 began to affect businesses and places of commerce, temporary signage began appearing with messages like, "We are open," "No mask, no service," "Limit 10 customers at a time," "Enter only," etc. All made the public aware that things had changed overnight at the facility in order to both protect visitors and aid in keeping businesses open.
Although most of these signs are short term, it's essential to plan for the long term. With the goal to have proper signage made only once, facility managers should aim to assist the visually impaired and follow the ADA standards for signage. Details such as text character finish, contrast, case, style, proportions, height, signage height above the ground, and the use of pictograms, symbols, and braille are included in the standards. Furthermore, the standards advise that "information about interior spaces and facilities includes rules of conduct, occupant load, and similar signs," and these signs should comply. The standards define "short term" or temporary as 7 days or less.
Facility managers have made changes to gain awareness of occupants' status upon entry and, in some cases, in real time. At entries, temporary structures and gateways have been retrofitted to check workers' and guests' temperature prior to entering. Facility managers should know that temporary structures are not exempt from ADA standards. Their approach width and surface slopes, doors, and gates are just a few of the aspects regulated by the standards and these, of course, must be considered if such screening areas become permanent spaces. In the case of real time monitoring of occupant status, location, and proximity, there are often personal device applications that are conduits for the flow of information. Property managers use this information in managing building systems, climate control, access, location, and general feedback. While these systems have a strong link to the building management, their requirement to be accessible still exists. The details are for other experts to discuss since their accessibility for users lies in the digital interface and not the architectural environment.
At this time of change, facility managers may be bombarded with guidance and protocols from a seemingly endless number of sources, such as the U.S. Centers for Disease Control and Prevention, the Environmental Protection Agency, the Occupational Safety and Health Administration, the Equal Employment Opportunity Commission, and the American Society of Heating, Refrigerating and Air-Conditioning Engineers. Facility managers must not forget the needs of people with disabilities and the facility's responsibilities to ADA.
John N. Garra, AIA, NCARB, LEED AP, is an architect, general contractor, and owner of Square One Architecture, which offers full service general contracting with expertise in larger scale commercial build outs in the corporate office, hospitality, restaurant, and retail markets.
---
---
---
Related Topics: