How to Stay Off the Radar for ADA Lawsuits
Here's where to start a phased approach to full compliance.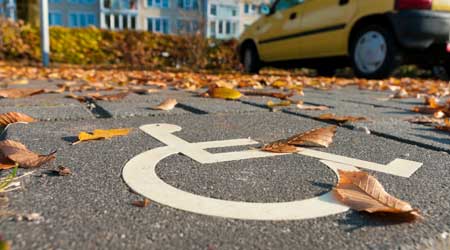 Americans with Disabilities Act (ADA) lawsuits filed against properties that offer public access have continued to increase since 1992, the year enforcement began. Full compliance is a requirement, and as the work to become compliant is planned, a strategic approach can be adopted to address the most visible violations first. This may keep your property off the radar of potential plaintiffs and save thousands of dollars in legal fees.
For the last six years, the number of cases have increased annually by an average of 27 percent year after year, according to data from a leading law firm, Seyfarth Shaw. In 2019 there were more than 11,000 cases. Over the last three decades, various U.S. district courts and the United States Congress have made efforts to limit the lawyers who have taken advantage of the law, all with nominal outcomes.
It is worth repeating: All facilities open to the public must be compliant with ADA if they are not already. So if your organization adopts a phased approach to compliance, what would a strategic phase one look like to keep your property off the radar of these lawyers?
Those who have studied ADA standards can identify areas of a facility that are violations of the law and could be grounds for an ADA lawsuit. These areas can be categorized based on the distance from which they are visible (from far to near) and whether they require measuring aids such as a tape measure, digital level, or door pressure gauge. Any area that can be noted from afar and with no measurement required will clearly be low hanging fruit for anyone looking to make a claim and should be addressed first.
Sighting ADA violations from afar has taken on a new meaning since Feb. 8, 2005, with the advent of Google maps and the further development of street views in the application. A property can be tagged from someone's laptop or phone anywhere they have access to the web. In terms of violations to address, these should be considered category I, from the web, and no tools required. Category II includes areas sighted from mid-range and requiring driving on to or being on the property to have a clear view of the elements being evaluated. Category III violations require entering the buildings. Once inside the building, the number of requirements in the ADA standards increases dramatically. The following is a list of the most common items that plaintiffs identified in lawsuits in each category. Category I should be the property manager, engineer, or building owner's highest priority, with categories II and III on in the middle and on the low end respectively.
Category I: Identified from the web and no tools required
1. Accessible parking spaces. While this low hanging fruit may seem obvious, it is often overlooked. In most cases, accessible parking is the primary point of arrival at a facility and is clearly visible when executed correctly with paint markings and proper signage. The ADA standards contain a chart listing the required number of accessible parking spaces in stepped tiers based on the total number of parking spaces at the facility. In addition to the markings and signage, parking spaces have required widths, access aisles, and surface slopes. The full requirements are described in depth in the standards. In many cases, the small cost of proper parking striping and signage show your level of attention to the requirements. These can be cues to potential plaintiffs that accessibility is taken seriously on the property.
2. Swimming pool lifts. A clear satellite view of your property's swimming pool can confirm if you have the accessible swimming pool means of entry. There are several methods but the most common and cost effective is a lift. These are required at each swimming pool, wading pool, and spa that exist. Location, clear deck space, seat height and width, foot and arm rests, operation, submerged depth, and lift capacity are all additional considerations that are covered in detail in the ADA standards. Again, the obvious existence or non-existence of the lift will inform a potential plaintiff if the managers of the property are aware of and proactive toward accessibility.
Category II: Identified from being on the property and no tools required.
1. Curb ramps. Once on the property, simple visual inspection will reveal if wheelchairs are able to maneuver from parking or vehicular ways up to raised sidewalks. If ramps exist, their width, height, and slopes can be measured for their compliance.
2. Heaving sidewalks. Wheelchairs may have trouble maneuvering across surfaces if they have abrupt vertical changes. It is common for concrete sidewalks to move, over time, due to tree roots or settlement. ADA standards allow for only 1⁄4 inch maximum vertical change before it must slope at a 1:2 ratio up to a total of 3⁄4 inch. There is little tolerance allowed in these surfaces and severely heaving sidewalks can be seen with ease.
Category III: Identified upon entering a building.
1. Door hardware. When lever-style door hardware is observed on all of the doors, it is a signal that accessibility details and upgrades have been a goal. Door knobs will be a thing of the past as they are difficult for people who cannot tightly grasp or twist to operate. Beyond the lever, some common door locking mechanisms require fine motor skills of pinching and twisting to manipulate as opposed to push button locks that self-release when the door lever is operated.
2. Service and sales counters. Most people are now familiar with the lower counter tops that are often seen at banks, retail stores, and hotel desks. These countertops cannot be more than 36 inches high. This is approximately a typical kitchen countertop height. Anything higher is a clue that a violation may exist. These requirements apply to all areas with sales and service counters.
3. Restroom signage. While restroom signage sounds simple, the trained eye can pick up any one of the five general details required for proper compliance: having raised text, having Braille, showing the international symbol of accessibility, being mounted at the proper height above the floor, and being located on the latch side of the door. Missing any one of these requirements is grounds for a legitimate case.
4. Dining and work surfaces. The most common example of places required to have accessible seating locations are restaurants but any work surface, such as a check writing surface, must comply as well. Dining tables must accommodate the clear area for a wheelchair user's knees under the table. The most prevalent restaurant table bases are the single pedestal type with four feet. They are typically non-compliant and can be discovered with ease.
When it comes to ADA, full compliance must be the goal for all public facilities. In the meantime, the elements cataloged here are the glaring examples that can be remedied first, in an effort to keep prowling eyes away. This value proposition includes not only avoiding a costly lawsuit but also provides accessibility that is appreciated by a growing number of our building users, whether they have disabilities or not.
John N. Garra, AIA, NCARB, LEED AP, is an architect, general contractor, and owner of Square One Architecture, which offers full service general contracting with expertise in larger scale commercial build outs in the hospitality, restaurant, and retail markets. This article is based on his professional experience addressing cases filed in U.S. district courts.
---
---
---
Related Topics:
Comments