Sustainability: Leading Strategies

Log In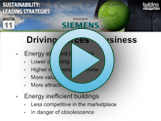 To review the white paper that is discussed in this webcast, please visit http://www.facilitiesnet.com/Webcasts/20121009_BOM_Sustainability/SustainabilityWhitePaper92112.pdf

Recently, Building Operating Management magazine surveyed 1,400 facility professionals to determine which approaches to efficient, sustainable facility management were the most widely used. From that survey emerged an in-depth look at current best practices and major opportunities for improvement.

One somewhat surprising fact revealed by the survey: Implementing many of these best practices doesnít require a huge capital outlay. In fact, most are straightforward, easy to execute and fairly low cost.

In this Webcast you'll learn about:
The use of LEED and Energy Star as planning tools
Best practices for training and staff development
Optimizing occupant engagement/education programs
Green product purchasing strategies
Get a review of the top five sustainable best practices identified in the survey, and learn how tapping into the tactics of leading FM departments can bring about major benefits for your facility, your staff and your organization as a whole.