4

FM quick reads on CMMS

---
1. CMMS: Smooth Road to Specification and Upgrade
It is not supposed to be this easy. Replacing a computerized maintenance management system (CMMS) rarely goes so smoothly. Typically, as maintenance and engineering managers know all too well, the process is fraught with peril, from financing battles and technology troubles to resistant technicians and hardware issues.

For the University of Richmond, none of those potential roadblocks materialized to slow down or complicate the process. Two years after replacing its previous CMMS with a new system that enabled technicians to take it out into the field on mobile devices, the department is assessing the positive impact the upgrade has had on its operations.

"We have not figured out how to quantify that to prove we're more productive," says Susie Reid, the university's director of operations and maintenance. "But we're early. We're just completing our second year. But the goodwill and the attitude adjustment and the people just loving the system — you can't necessarily quantify all that. But you know you're getting more out of people when they're happy."

The 212-person department responsible for maintaining the 350-acre campus in Richmond, Va., knew it needed a new CMMS. "We were on a different CMMS, and we had to change," Reid says. "There were just no other updates to it, so we had to go buy another work-order system. When we did that, (the developer) got us thinking about putting iPads and iPhones and tablets in the hands of our workers."

Ease of use was a high priority for the new CMMS.

"We were looking for something that was very user-friendly so that requesters could start submitting their work requests online versus phone calls, which is what a majority of them were doing," says Paul Lozo, assistant director of operations and maintenance, adding that the new CMMS "seemed like the most user friendly one out there."
2

. How to Catalog and Analyze Motors and Drives

Managers can use computerized maintenance management systems (CMMS) to catalog and analyze motors and drives by treating them as parts of a three-component system: the equipment the system drives, the drive itself, and the motor. One example would be a specific air supply or exhaust blower connected to a motor by a V-belt drive that transfers power and adjusts speed. It would consist of a sheave mounted on the motor shaft and a sheave mounted on the blower shaft.

Managers can use these steps to more efficiently catalog and analyze motors and drives:

Fill in all the fields in the CMMS equipment-record template at the time of installation or replacement.


Create reason codes — such as broken part, corrosion, or operator error — and action codes — which can include cleaned part, replaced part, and adjusted part — in the work-order set-up for further root-cause analysis.


Use written work orders for emergencies, routine repairs, and preventive maintenance and predictive maintenance activities. Record completed work, labor and materials included in the job, and reason and action codes, where applicable. Most CMMS automatically transfer work-order data to the equipment history when the technician closes the work order.


Analyze the collected data, including mean time between failures, mean time to repair, and root-cause analysis, to determine the cause of the failure. Was it corrosion, wear, heat, operator error, or another cause? The data, along with energy costs, form the basis for decisions on continuous improvement, repair or replacement, and comparison of alternatives to motors and drives.
3

. Asset Data Management: Four Software Solutions

This is Chris Matt, Managing Editor — Print & E-Media with Maintenance Solutions magazine. Today's tip is the functionality of four asset data management systems, or ADM systems.

Four of the most common ADM systems include: computerized maintenance management systems, or CMMS; enterprise asset management systems, or EAM; computer-aided facility management, CAFM, systems; and integrated workplace management systems, or IWMS.

Maintenance and engineering managers tend to be most familiar with two types of ADM technologies:

First is CMMS. Departments that provide asset management and customer services should consider a CMMS, which supports core maintenance activities necessary to keep assets performing optimally and cost-effectively. Modules associated with CMMS technologies include: asset and equipment management; inventory parts management; work management for vendor and staff time; work-order management; a help desk; and inspections management.

Second is CAFM. This technology benefits departments that manage leases, space, building operations and maintenance. Increasingly, managers also require project controls to effectively plan, coordinate, and execute large projects. While most CAFM tools support asset management and maintenance operations, many do not provide the depth of functionality in this area of a CMMS.

Beyond CMMS and CAFM, managers can consider two additional ADM options:

The first is EAM. These applications provide more functionality to support large-scale project management, energy monitoring, reliability maintenance, planning, scheduling, and integration with building-automation systems. EAM technologies also can integrate with platforms for enterprise resource planning and human resources.

And, finally, IWMS. This application provides a comprehensive platform to manage complex relationships involving properties, buildings, equipment, space, resources, contracts, and schedules.
4

. Tracking Sustainability with a CMMS

This is Chris Matt, Managing Editor — Print & E-Media with Maintenance Solutions magazine. Today's tip is using a computerized maintenance management system, or CMMS, to improve sustainability.

One critical factor on the path to sustainability is maximizing the many benefits of a computerized maintenance management system (CMMS). When fully utilized, a CMMS can help guide departments toward the path to greater energy efficiency and sustainability.

Aside from proactively managing energy use, a fully functional CMMS can shed more light on an organization's energy situation, help organize data more effectively and give managers a useful tool to help develop energy-saving strategies. Key features required when specifying a new or upgraded CMMS to improve sustainability include an equipment module to track all assets, including facilities, in an organization.

In addition to standard modules for PM, work orders, inventory, and purchasing, the system should be able to set priorities and levels of criticality for each piece of equipment.

The CMMS also should give managers and system users the ability to:
• schedule inspections of energy-using equipment and pollution-control monitors to make sure they work efficiently
• track assets for proper disposal
• collect and store historical energy-use data so managers can identify problem areas related to energy waste, such as leaks
• establish an effective energy-reduction plan
• provide tracking of energy use with user-defined criteria
• correlate those criteria to the amount of energy used
• provide details of the amount of energy each asset, location, and building uses
• integrate with hand-held devices, such as smart phones and PDAs, to eliminate paper flow.
RELATED CONTENT: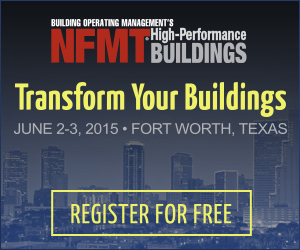 ---
QUICK Sign-up - Membership Includes:
New Content and Magazine Article Updates
Educational Webcast Alerts
Building Products/Technology Notices
Complete Library of Reports, Webcasts, Salary and Exclusive Member Content


All fields are required.


click here for more member info.

---
---
---