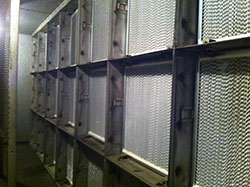 Air Filters Increase Hospital's Air Flow, Reduce Bottom Line
American Air Filter
The air-handling unit (AHU) at the University of Louisville (Ky.) Hospital was originally installed to provide airflow to the oncology area of the hospital. Over the years, additional ducts were incorporated, and now the AHU provides airflow to five areas of the 404-bed hospital, which serves as the leading academic and research facility in the area.
Looking for an alternative to replacing its costly motor, John Gildehaus, the hospital's director of engineering, asked American Air Filter (AAF) Solutions to assess the hospital's filtration system and recommend viable solutions.
The AHU uses variable inlet guide vanes to control the flow of the supply fan. The variable inlet vanes, in their fully open state, could not supply enough airflow capacity, due to the high static pressure in the system. The work output of the fan and its motor contribute directly to the airflow exiting the AHU.
With the additional load, the AHU was deprived of the necessary air for proper ventilation. In order to pull more air into the system, the 100 horsepower fan motor would need to speed up or be replaced — an extremely expensive purchase for the hospital.
AAF saw an opportunity to remove a stage of filtration to evaluate if there would be improved airflow and reduced energy consumption. A life-cycle valuation analysis was generated to illustrate the potential energy-saving benefits, based on moving to a two-stage filtration system with the parameters provided by the hospital.
The AmerSeal Cube filters were removed from the system, eliminating the pre-filter stage. VariCel II filters were replaced with VariCel VXL filters, eight-panel high efficiency filters designed for use in difficult operating conditions. The high capacity AstroCel I HEPA filters were upgraded to MEGAcel™ I HEPA filters with Helior® filtration technology, providing higher efficiency and lower energy consumption. The hospital then allowed AAF to monitor the changes in pressure drop across the filter section over the next 12 months. With reduced resistance came increased airflow, eliminating the need for a costly upgrade to the motor.
"After our 12-month study, the filters have proven to be efficient and cost-effective," Gildehaus says. The hospital increased airflow, decreased energy consumption, and realized labor savings from the reduction in filter changeouts. The original system configuration had an annual cost of $16,730. The new configuration produced an annual cost of $9,277. The result was savings of $7,259.
posted: 10/14/2013