A Phased Approach to Energy Savings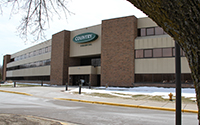 August 12, 2013 - HVAC

Country Financial, a financial products and services firm, needed to undertake systems and services upgrades at its five-story, suburban St. Paul, Minn., office to reduce energy costs and increase energy and operational efficiency. The multi-tenant building, which houses more than 500 occupants, includes office spaces, a cafeteria, an exercise room, and a critical 24/7 data center.
Taking a phased-in approach allowed the company to optimize building performance, including functions at the data center, even while reducing facilities staff. Improvements in earlier phases delivered some savings, while providing tools and data to drive later initiatives.
Initial improvements included a Tracer building automation system, designed to capture key building operating parameters. The new web-based system replaces an outdated BAS and allows the facility team to manage the facility, track energy use, and provide remote access and real-time reporting to a central location. The control system has become a communications hub used to implement intelligent building services that allow maintenance staff to optimize building performance by obtaining automated real-time reporting on systems performance. The system enables alarm monitoring for Country Financial's 24/7 data center. Data generated enables staff to more easily maintain building performance and address any minor challenges before they become larger issues.
HVAC upgrades included updated controls installed on the chiller to more precisely monitor temperature and to increase chiller efficiency. The controller also provides easier access for faster issues analysis and resolution, and has extended the useful life of the existing system. In addition, variable speed drives were installed on pump motors for optimized energy efficiency.
Country Financial also signed up for Trane Intelligent Services, which include alarm notification and active monitoring to optimize building performance. The service
continuously collects, interprets and acts on data from building equipment and controls to optimize performance.
A reduction in service calls has already provided a significant return on investment, says Randy Hagerty, manager of property and facilities for Country Financial. The company expects the upgrades completed so far to save more than 8 percent in annual energy costs.
---
Comments