4

FM quick reads on Energy Efficiency

---
1. How Dashboards Can Promote Energy Efficiency
Today's tip is about how to use an energy dashboard to help understand how your facility uses energy. As facility managers are being held more accountable for quantitative and very specific data on how their facilities are performing, dashboard offerings have become more available. Indeed, now there are products that truly run the gamut from simple to incredibly sophisticated.

Most dashboards can be configured to pull energy, water or other data directly from a BAS. Facility managers can then program the dashboard to display that data in any form they prefer, as well as run reports on historical data. Facility managers, therefore, can benchmark against their own facilities or against previous years in the same facilities. What's more, many dashboards have tools to allow them to benchmark against data in the Energy Star or other databases.

In addition to analysis and reporting tools for energy use, one of the biggest benefits to a web-based dashboard is to show upper managers and occupants alike how certain decisions affect energy performance. If the people in the building can see and easily understand the building's energy use, you're a long way along the path of efficiency, since we know occupant behavior dramatically affects energy use. Seeing is believing, in this case. In regards to upper managers, showing them simply and quickly how decisions — especially funding decisions — are affecting energy use is a great way for facility managers to raise their clout and credibility.
2

. Demand Control Ventilation Can Reduce Energy Costs

Today's tip from Building Operating Management comes from Angela Cremeans and R. Stephen Spinazzola of RTKL: In spaces that have widely varying levels of occupancy, demand control ventilation can reduce energy use and costs.

Many spaces are unoccupied for significant stretches of time, including churches, auditoriums, offices and retail spaces. Despite that fact, most HVAC systems are designed to bring in the same level of outside air continuously. But if a space is unoccupied, heating, cooling and moving outside air to that space can waste a significant amount of energy and money.

Demand control ventilation is a sophisticated strategy that supplies outside air to a space only when it is needed. Demand control ventilation relies on the fact that people in a space produce carbon dioxide. Sensors measure carbon dioxide levels. As those levels rise, more outside air is brought into that space. If levels fall, the amount of outside air is reduced, cutting the cost of conditioning and moving outside air. The amount of air is tailored to the specific needs of a given zone.

In a demand control ventilation strategy, the level of carbon dioxide is taken as a general indicator of the level of other contaminants. By increasing the amount of outdoor air brought into a space when carbon dioxide levels rise, the concentration of those other contaminants is reduced, improving indoor air quality.

Demand control ventilation can save energy costs in three ways:
1. Less outdoor air has to be conditioned by the HVAC system, so heating or cooling system energy is saved.
2. Less air has to be moved, so fan energy is saved.
3. If a building has a heat recovery system using building exhaust, that can further reduce the amount of energy consumed.
3

. Making Demand Response Work

I'm Dan Hounsell, editor of Maintenance Solutions magazine. Today's topic is, making demand response work.

To successfully participate in what they hoped would be a lucrative demand-response program, facility professionals with Allegheny County, Pa., understood involvement went far beyond simply shedding energy load.

A successful program meant Philip La May, the county's deputy director of public works, and Jeaneen Zappa, its sustainability manager, would have to overcome resistance from facilities personnel and building occupants, who are slowly learning the tenets of sustainability and their impact on county facilities. Communication is essential for a successful demand-response program. Of course, communication with utilities and third-party aggregators is critical during the days and hours leading up to an event. But managers also must communicate to occupants and staff the program's goals early on, long before an event is called.

"If you think you can take for granted that you can just tell people a day or two before the event and actually have a successful event, you're kidding yourself," La May says. The collaboration between Zappa and La May was crucial in building support for the program and educating building occupants.

"It really boils down to well-thought-out communication and understanding who all the players are and what areas of the facility will be affected by this," La May says. "You have to include the people that are most familiar with your equipment and facilities in the planning process to make sure that they're the ones that are coming up with the plan."

La May was the quarterback in the communications portion of the program's implementation, and Zappa was the self-proclaimed cheerleader. Both individuals worked with Comverge and Duquesne Light, the county's utility, to build a strong communications platform.

"We had a number of planning calls," Zappa says. "Phil pulled together all the right people. Some of our facilities are mission-critical places. We have four nursing homes, a jail, and a juvenile-detention center. Those are places where operational capability is integral to the functioning and ability to carry out what they need to in their day-to-day jobs. So if we're going to reduce power, they darn well better know what's happening, how they can participate, and what their expectations are."
4

. Tips For Exterior Shading to Save Energy

Today's tip is about some strategies for shading windows and roofing from the sun. If done correctly, shading provided by landscaping or other exterior shading elements can result in significant energy savings.

Use exteriors overhangs and solar shading devices to control heat gain into buildings.

It's important to properly size overhangs, especially for south-facing windows, so that when the sun is directly overhead during summer, the shading devices should shade windows completely to minimize heat gain. In the winter, when the sun is at a lower angle, the solar shading devices or overhangs should allow the sun to enter, to help warm the interior. It's a careful balancing act; one best mapped out with modeling software, if possible.

Other forms of solar shading devices include cover panels over skylights, insulated shutters, awnings and landscaping. There are even new solar shading products with photovoltaic cells on top, so they not only shade windows, but also produce energy.

Another strategy is to use creative landscaping to act as natural solar shading.

According to the Department of Energy, shading and evapotranspiration (the process by which a plant actively moves and releases water vapor) from trees can reduce surrounding air temperatures as much as 9° F (5°C).

Deciduous trees with high, spreading crowns can be used to be block heat in the summer but let it in during the winter. If you hope to block heat year-round, use dense evergreen trees or shrubs.

Additionally, use ground cover plants around the facility - instead of dark asphalt surfaces - can lower the ambient temperature, requiring less energy for cooling in the summer.
RELATED CONTENT: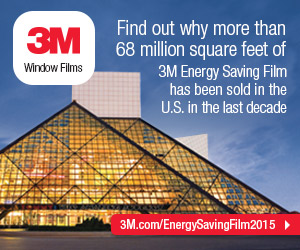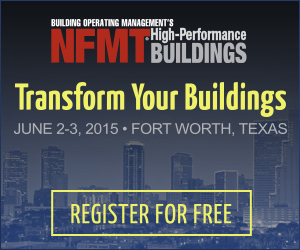 ---
QUICK Sign-up - Membership Includes:
New Content and Magazine Article Updates
Educational Webcast Alerts
Building Products/Technology Notices
Complete Library of Reports, Webcasts, Salary and Exclusive Member Content


All fields are required.


click here for more member info.

---
---
---