4

FM quick reads on

---
1. Match Ceilings To The Characteristics Of A Space
This is Casey Laughman, managing editor of Building Operating Management magazine. Today's tip is to consider what a space will be used for before deciding on a ceiling.

The ceiling is a perfect example of form meeting function. As the largest visible plane of any interior space, the ceiling helps define that space's image. But that's only the start. A ceiling has to meet demanding performance requirements, from acoustics to durability. And another consideration is increasingly coming into play: sustainability.

Facility managers have a vested interest in both form and function. But while architects and interior designers will share the enthusiasm for aesthetics, the facility manager may be the lone voice for performance issues. That's why they should be well-versed on those concerns before the ceiling spec is developed.

Although occupants may never know it, the ceiling plays a major role in the acoustical performance of a space. When sounds from an interior space strike the ceiling, the make up of the ceiling largely determines what happens next.

The ceiling system should be matched to the characteristics of the space, whether it's a private office, an open office, a health care setting or a classroom. Mike Poellinger, owner of Poellinger, Inc., and a board member of the Association of the Wall and Ceiling Industry (AWCI), says that the type of occupancy, intended use, and the interior finishes should be considered when choosing ceilings.

Different types of spaces not only have different types of noise to contend with, but also have different concerns about acoustical privacy. In a health care environment, for example, privacy issues arising from HIPAA should be considered. In an enclosed office, a private conversation being overheard — whether inadvertently or by deliberate eavesdropping — could result in the loss of trade secrets.

Even when there are no secrets or confidential information at risk, overheard conversations can pose problems. In an open office, for example, nearby voices can be distracting and reduce productivity.
2

. High Performance Computing Requires Careful Heat Management

This is Casey Laughman, managing editor of Building Operating Management magazine. Today's tip is to consider the amount of heat produced by a high-performance computing system.

High-performance computing generates massive amounts of heat in a small area. These systems will require an upgrade of the conventional HVAC system in the form of package chillers and chilled-water piping. Although chillers are an expensive first-cost element, they are more cost-efficient to operate over the life-cycle of the facility compared with competing cooling technologies. Converting an entire facility to chilled-water cooling will save money over the long term.

With a packaged chilled-water system removing the heat of the high-performance computing system, the net result will be a very small heat load on the air-side system. This may enable a data center to turn off some air conditioning equipment, while maintaining enough running units to manage humidity. Using chilled water also makes available an option of installing a fluid cooler that would allow free cooling in the cooler seasons, depending on location. The Jaguar HPC is the fastest computer in the world. According to Cray, the Jaguar's manufacturer, the room housing it required 100 fewer computer room air conditioners than before because of the pumped refrigerant system.

Manufacturers are experimenting with high-temperature HPC products, which will reduce cooling requirements.

An HPC is unlikely to require qualitative changes to the data center's existing uninterruptible power supply topology or emergency power generation model; rather, what will be required is a relative increase in UPS power that is brought to a small area of the data center. The availability of chilled water, UPS power, and generator power will vary by facility, and all of these facets will need to be researched before installing an HPC.

Given the multiple forces that could drive adoption of HPC in commercial and institutional data centers, now is the time to start researching and planning.
3

. Outsourced Service Providers Want to Be on the Team

In my previous life, I worked in facilities management as a facilities coordinator for a national third-party facilities management firm. One of the things that sticks with me the most about that experience is how much I and my team were invested in our client's company. We were so invested, in fact, that our actual company started having meetings to remind us which company was listed on our paychecks.

Our identity as a team was 100 percent linked to the client company. With just one or two team members housed in a facility, it was natural to be absorbed into the larger client's culture and ethos. This was good. Our buildings were our buildings, our clients were our people and we did everything in our power to serve and provide to the maximum of our ability. It was a visceral shock when, after many many years, we ultimately lost the contract to a larger competitor who underbid us. It's the name of the game, of course, which did nothing to lessen the sting, in the face of all our effort.

I say this because I often think about the outsourced service providers under contract at your facilities. They too probably don't see themselves as expendable at the drop of a hat, or if they do, it probably creates the same level of concern my team experienced once that reality hit home. I'd say they probably see themselves as part of your team and want to be given every opportunity to show just how far they'll go to do an excellent job. All it takes is clear and open communication and a fair shot.
4

. Don't Turn a Blind Eye to IAQ

All too often, managers give the impression that they don't want to know about any problems in a facility because there shouldn't be any problems. But in many cases, and definitely in terms of indoor air quality, what you don't know can hurt you.

Lack of knowledge about an IAQ situation may temporarily relieve the owner or facilities manager of hassle but not liability from a dissatisfied tenant or sick occupant.

Encourage communication from your staff. Make sure your staff understands the need to inform you about IAQ-related complaints so that you can respond in a timely and appropriate manner.

Search Out Problem Spots
Remember, your facilities staff is on the front lines and they see potential problems every day. You should conduct your own periodic walk-through inspections of your buildings focusing on IAQ problem spots — these walk-throughs are a facility manager's early detection system, helping to pinpoint problem areas and prioritize available resources.

Know the warning signs of IAQ problems. IAQ problems don't happen overnight. Standing water, moisture-damaged materials, visible microbial growth, mold, mildew and chemical odors can indicate a potential IAQ problem.

Obviously, occupant complaints, health problems and high rates of worker absenteeism also point to a potential problem.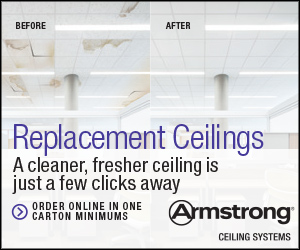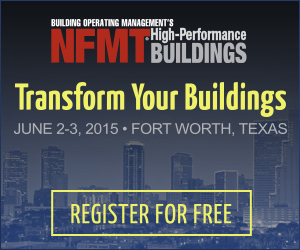 ---
QUICK Sign-up - Membership Includes:
New Content and Magazine Article Updates
Educational Webcast Alerts
Building Products/Technology Notices
Complete Library of Reports, Webcasts, Salary and Exclusive Member Content


All fields are required.


click here for more member info.

---
---
---