Window Film Reduces Energy Use, Improves Aesthetics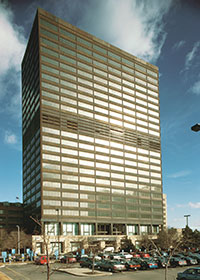 May 10, 2011 - Windows & Exterior Walls
Behind the aesthetic appeal of its glass façade, the Edison Plaza in Detroit created a host of challenges for property manager Jessica Sims.
"During the summer, we'd have to start our two 820-ton chillers at 4 a.m. to have the building cool enough by 9 a.m., and then we'd have to run at capacity for most of the day," Sims says. "But the fact that one side of the building would be freezing while the other was hot told us that the sun was preventing us from maintaining a consistent temperature throughout the building, and that the factory tint in the glass was not sufficient to do the job."
The building also had an issue with aesthetics because tenants would draw blinds to stay cool or maintain privacy, which created an unappealing checkerboard effect from the street. To combat this problem, Sims looked at solar control film as a possible solution. After conducting research, Sims chose LLumar Low-E 1220 window film for all 80,000 square feet of window space.
"You could feel the difference when you stepped in front of one of the test panels and then back into an untreated area," Sims says. "Since the LLumar Film was installed, the improvement in our ability to control and maintain temperature has been dramatic."
Edison Plaza expects to reduce its annual energy use by at least 5 percent, partly due to an 82 percent reduction in summer solar heat gain and a 20 percent reduction in its chiller capacity – from 100 percent to 80 percent.
The window film also has helped the facility achieve consistent climate control. With the reduced energy use and a $24,000 energy rebate, the installation has less than a three-year payback.
---
Comments