How to Stretch Natural Light Deep Into a Building
A recent project shows the value of designing to maximize daylighting in a space.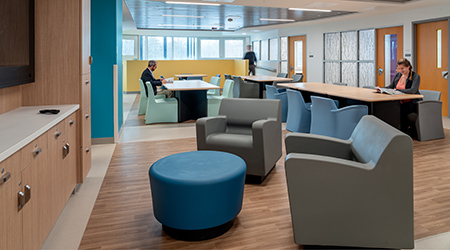 Southern Maine Health Care, in partnership with Maine Behavioral Healthcare, engaged Margulies Perruzzi and Array Architects to renovate a 24,000-square-foot-unit, creating 40 new beds across two floors, and to design a five-bed Emergency Department Acute Psychiatric (EDAP) unit. This project triples the number of short stay behavioral healthcare beds available in York County, Maine.
The design team focused on incorporating as much access to daylight and nature as possible to leverage its clinical benefits. The team collaborated to situate activity rooms and common areas along the exterior walls of the building to bring in natural light and views of the Maine landscape for both patient and staff areas. Windows were maintained at patient areas while safety glass and borrowed light concepts were used to bring daylight deeper into the building. Art highlighting nature is incorporated at various seating areas throughout the unit to bring nature inside the building.
Healing benefits: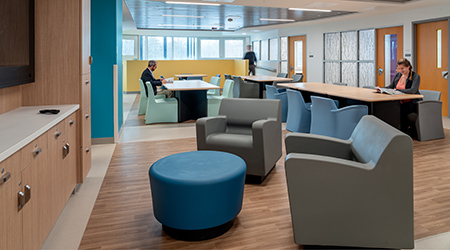 The project opened up an existing wall to allow new windows to provide daylighting to the first floor dining area, activity and TV room. Patients' access to daylighting and views have been shown to reduce their overall length of stay. Warren Patterson Photography


Staff need windows, too:
The centralized nurse station was located within the core of the building with limited access to daylight. The design relocated the large open common area to provide daylighting and access to views from the staff station. Warren Patterson Photography


Skylights reach internal areas: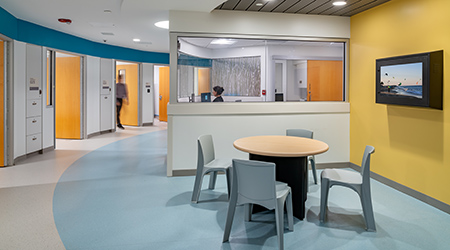 The first floor Emergency Department Acute Psychiatric holding area did not have access to windows due to its internal location within the building, but the team was able to use existing skylights to bring daylight into the patient common area and the corridor within the secured unit. Warren Patterson Photography


Stretching daylighting: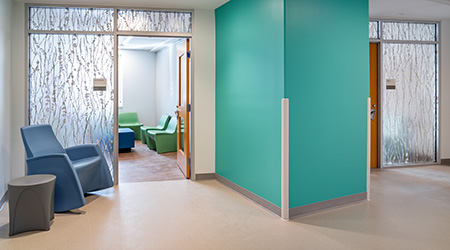 In areas such as corridors that did not have direct access to windows and daylighting, the design incorporated large art glass sidelights that maintained visual privacy for patients and staff during individual and group therapy but provided natural light into the core of the building. Warren Patterson Photography
---
---
---
Related Topics:
Comments