Electrochromic Glass, Smart Controls Bring Windows Into the Future
Individual control and smart controls based on sophisticated algorithms can control tinting on windows, keeping interior space glare-free, energy efficient, and comfortable.
OTHER PARTS OF THIS ARTICLE
Pt. 1:
6 Next-Level Windows Technologies
Pt. 2:
Better R-Value, Thermal Performance Highlight Window Advances
Pt. 3: This Page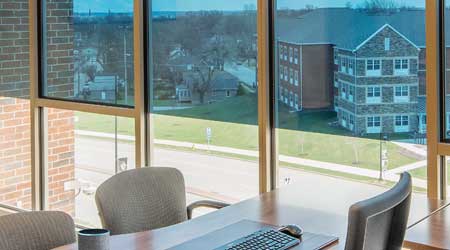 SageGlass
5. Electrochromic windows get even more space age. Windows that can tint to provide solar control while preserving the view by running an electric current through crystals on the glass is not a new technology, but electrochromic windows are still pretty cutting edge for the average facility. And now there are even more edgy advancements in this category of windows.
Today, Amazon Echo's voice interface can be used for window tinting control, says Ryan Park, global head of marketing and product management with SageGlass. "The use of voice is the next natural step for us." Already the company provided individual user control over the dynamic glass through manual controls, but voice command brings an even greater sense of control to the user, he says. With simple commands configured by the local integrator when the windows are first installed, users can ask their virtual assistant to tint the windows as desired.
This level of personal control can be highly desirable. One space where Park sees voice control playing especially well is in healthcare, in patient rooms. The use of voice could help patients feel more in control in a situation where they often have little power. Access to daylight has been shown to be beneficial to healing, so "to put the dynamism of the glass into the patient's control is a powerful thing," says Park.
6. Smart controls. On the opposite end of the spectrum from individual controls is machine intelligence. At View they've been using data from over 400 installations to create an algorithm that will better serve the needs of the occupants. "Tintable glass is only half of the equation," says Erich Klawuhn, vice president of product management at View. Using a predictive algorithm that takes into account the position of the sun and the current cloud cover (measured with an infrared sensor), the window system decides on the best tinting per zone. There could be thousands of zones in a large installation, says Klawuhn, and each could have a slightly different use case requiring a different strategy in tinting control. The system can also take into account the glare and shadowing caused by nearby buildings and other structures, and adjust the tinting accordingly.
The goal is that no building occupant should ever have to go to the wall control or the app to have to tweak the setting. However, people don't have a good psychological response to having no control over their environment, so Klawuhn says the company encourages facility managers to distribute the control app to their tenants. "It just gives the tenants the power to do it (change the tint) if they wish. In reality, they don't end up using it very much."
When evaluating options for their next window retrofit project, facility managers should keep in mind that building codes are just going to get tougher, says Simkins. Getting the best window assemblies possible for a facility is a means to future proof the envelope. "You're adding value to the building," he says. "You're increasing the thermal comfort and visual comfort of the people inside." And as young workers are more and more evaluating their future workplace on its energy efficiency and sustainability practices, and on the comfort of the work environment, facility managers would do well to position their facilities with all the best tools at hand.
Email comments and questions to naomi.millan@tradepress.com.
Continue Reading:

Windows

6 Next-Level Windows Technologies

Better R-Value, Thermal Performance Highlight Window Advances

Electrochromic Glass, Smart Controls Bring Windows Into the Future
---
---
---
Related Topics:
Comments