Tips for Selecting the Right CMMS
CMMS selection requires matching specific project and facility goals with the capabilities and functionality of the system. Here's what you should know.
OTHER PARTS OF THIS ARTICLE
Pt. 1:
How to Maximize Maintenance Software
Pt. 2:
What Is CMMS's Role in Commissioning and Beyond?
Pt. 3: This Page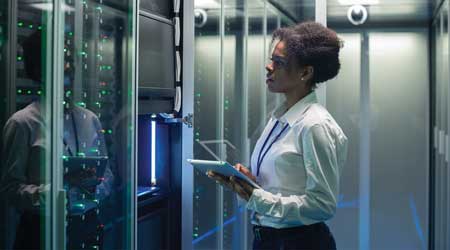 Specifying the most appropriate computerized maintenance management system (CMMS) for an institutional or commercial facility depends on many factors that are specific to a maintenance and engineering department. Among the factors managers need to consider in making a selection are these:
• A cloud-based system generally provides greater scalability, disaster recovery, and data security.
• The software provider should be able to provide a test program so managers and technicians can see what the platform looks like, as well as the functions it offers
• The purchase should include training. Most CMMS are robust and, as a result, potentially confusing. Training is an essential feature of the system, and should be thoroughly completed prior to implementation. Errors that occur during set up can linger and haunt users for months or even years until they master the system.
Ideally, the owner would purchase the software, have all assets commissioned or retrocommissioned and have a CMMS representative on site to take part in system setup – a good time to train technicians who will use the software.
Finally, the CMMS developer should continue to offer customer service consults until end users master the CMMS and can operate it seamlessly.
Chris Duranceau is an engineering manager with Horizon Engineering Associates. He has more than 20 years of experience designing, operating, maintaining and troubleshooting mechanical systems. His professional history includes managing the construction process, formulating and executing testing procedures for small and large unitary equipment, as well as overseeing commissioning for various projects.
Continue Reading:

CMMS

How to Maximize Maintenance Software

What Is CMMS's Role in Commissioning and Beyond?

Tips for Selecting the Right CMMS
---
---
---
Related Topics:
Comments