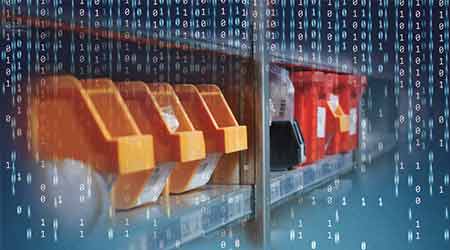 Involve Inventory Management Team in CMMS Process
Part 1 of a 3-part article on CMMS
After getting a firm grip on the budget and inventory use, managers should reach out to several key members of the inventory management team to begin rebuilding the process.
First is the logistics or warehouse manager. If logistics is part of the maintenance organization, this will be easier, but if logistics services multiple departments, this will be more difficult.
If boundaries exist, managers can try to break them down by setting up regular communications meetings. Once a relationship develops, managers can take several important steps:
• Ask to tour the warehouse and storerooms to determine the amount of material being stored.
• Develop a list of any material that has been in the warehouse longer than three months.
• Follow up with supervisors and planners to determine the reason technicians have not used the material.
• Ask the logistics manager to send an updated list out monthly to planners.
To make things simpler, maintenance and engineering managers can ask the warehouse manager to label each piece of material to clearly identify the item, its date of receipt, and the person who ordered it. Having this information helps the warehouse manager avoid having to look through boxes with dates over the last two weeks.
Managers also need to ensure that maintenance planners, schedulers and supervisors are coordinated in their efforts to streamline inventory management.
If planners are not in lock step with the scheduler and shop foreman, material can begin to stack up in the warehouse for a variety of reasons. Daily reactive work orders can prevent technicians from getting to routine repair work for which material was ordered. An unexpected illness or vacancy can reduce available hours. All of these factors affect the amount of work crews can perform.
Next, managers need to educate front-line technicians on the impact of excess, leftover and demolished equipment. Use individual conversations and group meetings to educate craftsmen on the value of these materials. Materials that go unused become waste if they are thrown out. In some cases, technicians store these materials in shops or on trucks. But if planners do not know that material is available, they might continue to reorder the material.
Leftover materials also can create problems. Rubber components, including O-rings, seals and couplings, can be exposed to excessive temperature and sunlight. When eventually used, they can fail prematurely or catastrophically, causing downtime for critical systems.
Managers can stress to technicians to return unused materials to the warehouse so they can be restocked or returned to vendors. If materials are not returned to the storeroom, they will end up in trucks or toolboxes, where they can not be accounted for.
By putting incentives in place for returning material to the warehouse — a gift certificate or a few hours vacation for the craftsmen who returns the most material during a certain period — managers can encourage this behavior.
Finally, demolition also can yield reusable materials, including toilets, water fountains, disconnect switches, breakers, and air conditioning equipment. Reusing these materials can save dollars without jeopardizing reliability.
Continue Reading:

CMMS

CMMS and Material Management: Partners in Efficiency

Involve Inventory Management Team in CMMS Process

Parts and Equipment Warranty Information Belongs in CMMS
---
---
---
Related Topics: