« Back to Facilities Management News Home
New Pig's PIG Storm Drain Filter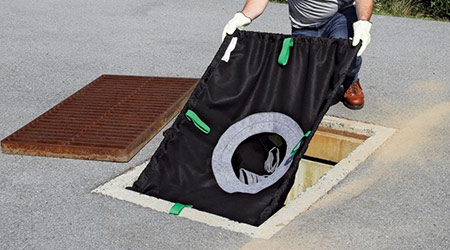 For years there was very little innovation around affordable products that filter common stormwater pollutants, but we made it our mission to change that. In December 2018, New Pig introduced the Storm Drain Filter – a leap forward in affordable stormwater management. The Storm Drain Filter was designed hand in hand with customers and product experts to create the perfect blend of performance and affordability.
Dirty stormwater runoff is the leading source of pollution to our nation's waterways and threatens our drinking water supply, aquatic ecosystems, and outdoor recreation. Due to this, pressure from both government and the general public has made stormwater discharge compliance a top priority for many industries.
New Pig's filter is designed to do something no other drain insert does - treat every drop of water. Using a unique 4-stage filtration process and patent-pending filter ring, the filter ensures every ounce of water that enters is clarified, removing both oils and sediment.
Another massive benefit of the PIG™ Storm Drain Filter is the overall cost savings and ease of installation/maintenance. Voice of the Customer investigations found that it took two to three people to install most drain inserts. Using an adjustable stainless-steel frame, we got that down to one person and ensured the product doesn't fall into the drain, another problem with most drain inserts. The cost savings and efficiency of turning a multi-person job into one has been incredibly beneficial to customers as well. And that is backed up by reviews, follow-up interviews, and sales growth.
More From 8/29/2019 on FacilitiesNet