You Might Like
On FacilitiesNet
« Back to Facilities Management News Home
Carpet Tiles Aim To Enhance Versatility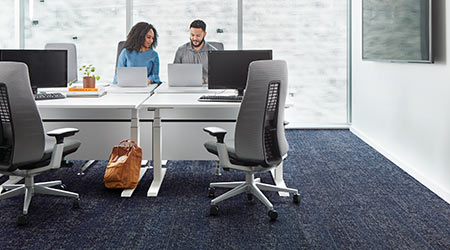 Global modular flooring manufacturer Interface has launched the Simple Abstraction collection. With both simple and elegant patterns as well as dynamic and colorful designs, the collection translates art onto the floor.

Interface's Simple Abstraction is a collection of carpet tiles creating artistic canvases across the floor as defined by the designer. Each design becomes its own artistic expression when textures are combined, colors are chosen and marks are made in a painterly fashion.

Designed by Interface Lead Product Designer Kari Pei, the five products in the collection are inspired by the effect of painting with yarn to sculpt patterns and textures into a rich palette of designs and colors. This technique provides the appearance of a handcrafted product and results in a nurturing element within the space.

Digitized Tuft explores the most primary mark-making, while Veiled Brushwork mimics the sweep of colored pigments blended in a brushstroke. Shaded Pigment layers color on color to create depth, and Video SpectrumTM activates each color by setting them close, side by side. Finally, Painted Gesture captures all the impact of the great abstract expressionism movement with its dynamic scale and use of color.

Simple Abstraction, as with all Interface products, is part of the company's Carbon Neutral Floors program, which zeroes out the carbon emissions associated with the life-cycle of its products.
More From 7/12/2019 on FacilitiesNet