You Might Like
On FacilitiesNet
« Back to Facilities Management News Home
Motorized Window Shades and Occupant Comfort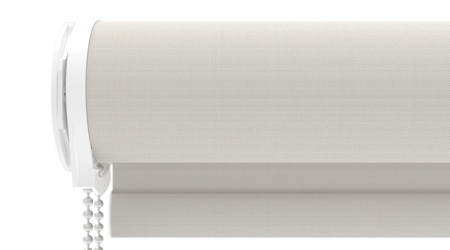 QMotion is altering the landscape in shading technology with its new Qbasic+ system. Qbasic+ offers a unique and premium manual shade solution that is easily field upgradable to motorized power without the need for a fabric change or major bracket reinstallation. In addition, the company introduced the QdR2 style remote control, a new take on Legrand's current remotes with a focus on accessibility, functionality, and aesthetics.

"It's never been simpler to add or update a shading system with solutions like Qbasic+ to help homeowners achieve their goals whether that is to make the most of natural daylight, gain energy savings, provide privacy, or simply compliment a space," says Amy Hahne, President and General Manager of Shading Systems at Legrand.

Qbasic+ Manual
The manual Qbasic+ system is a counterbalanced manual shading system that offers a smooth lift experience and low required pull force. The Qbasic+ gives end users multiple options when installing the system, including mounting the lift chain on either the left or right side and installing the shades in either standard roll – where shades travel close to the glass or reverse roll where shades are further out for easy bypass of obstructions. The shades may be raised or lowered with an easy pull on the lift chain.

Qbasic+ Motorized
The Qbasic+ manual system can be easily upgraded to a motorized, battery, or QIS hardwired system, which can work independently or with a Vantage or other compatible home control systems such as Control4, Crestron, Elan, RTI, and Savant platforms. Qbasic+ enables for either a battery or QIS hardwired solution to be installed in minutes onsite using an adjustable bracket and the same base brackets, tube, and fabric roll.

The motorized Qbasic+ shades can be configured for time-based and sensor-based events when integrated with a Vantage or Control4 system. An astronomical clock provides unlimited timers that adjust shade position based on time of day, calendar, season, and sunrise or sunset. Manual override gives homeowners the ability to control the shades through a sequence of pulls on the shade hembar without damaging the system's motor.

The Qbasic+ manual and motorized shades system features include:


Individual shades up to 120"x120"
Coupling multiple hembar system shades up to seven panels to span up to 24 feet
Standard and reverse roll versions
Adjusting leveling features up to .25" on one side
Five-year warranty
Several fabric collections and different finishes to fit any design or aesthetic

QdR2
The QdR2 remote control has been redesigned for improved visual design and usability. Features including raised preset position buttons on the right side of the remote provide greater accessibility and control of shading systems.

In addition, the new remote control matches the modern convenience and industrial design aesthetic from Legrand's radiant® collection. This means greater options for homeowners to coordinate their remote with switches, outlets, dimmers throughout their home with Legrand residential products.

QdR2 remotes can work with any QMotion radio protocol, including Qbasic+ when motorized using either Zigbee HA1.2 or the Gen3 system.
More From 3/19/2019 on FacilitiesNet