SPONSORED
Kwikset - Branded Feature
What to Consider Before Upgrading Your Lock System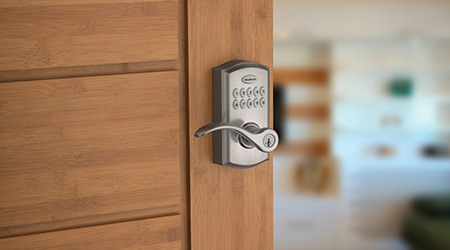 How many keys have you made so far this year? If it's too many to count or if you consider it a hassle to do each time, you might be considering a more advanced system due to tenant or maintenance team turnover – looking for a long-term solution that will give you peace of mind and will stop the painful cycle of rekeying.
Property and facility managers often find themselves rekeying or replacing keys and locks due to loaned/unreturned keys, recently moved or tenant turnover or the simple mistake of losing keys. Or maybe you or your business have fallen victim to bumping and picking, and you're looking for a smarter solution that will shield you from such security issues. Here are six things to look for in a code-based entry lock system that you want protecting your valuables.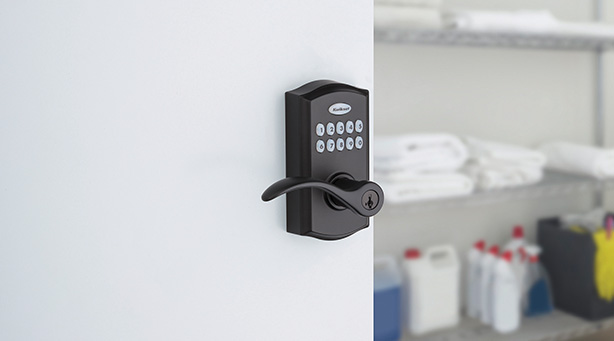 Trust and Security
When looking to secure your property and valuables, whether it be in an office, utility/storage closet, restaurant, garage, public restroom – or even your rental properties/short-term rentals – you're looking for a name you can trust. Kwikset has been a household name, making families feel safe and keeping homes secure, since 1946. Kwikset has unlocked a new part of its innovative portfolio, delivering a commercial-grade lever that is not only as convenient as it is safe but also well-designed with small business owners' needs in mind. The newly designed SmartCode 955 touchpad electronic lever is a robust commercial-grade lever that is ideal for both commercial and residential use. Most importantly, it features Kwikset's SmartKey Security™, protecting you against common break-in methods such as picking and bumping. SmartKey Security also allows you to rekey the lock yourself in seconds, leaving lost or unreturned keys obsolete.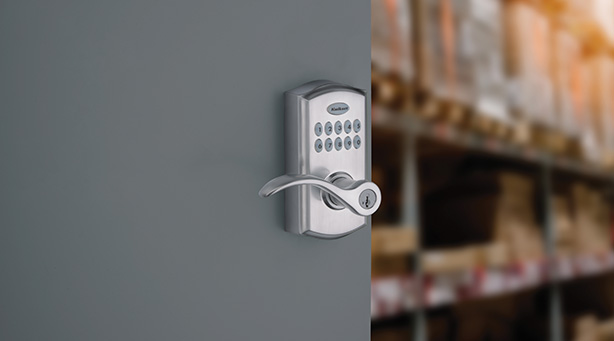 Strength and Durability
Finding a lever that provides you strength and durability is important – it allows you to worry less, giving you effortless security. SmartCode 955 has that, with a three-year battery life, a three-year electronics warranty, and a lifetime mechanical and finishes warranty, and it has been tested to 500,000 cycles. The SmartCode 955 comes with a SmartKey Security cylinder, which includes Kwikset-patented technology not found in other pin & tumbler locks that helps protect against two of the more common and undetectable entry methods, lock picking and lock bumping. Spend your time handling the more meaningful things rather than worrying about the maintenance.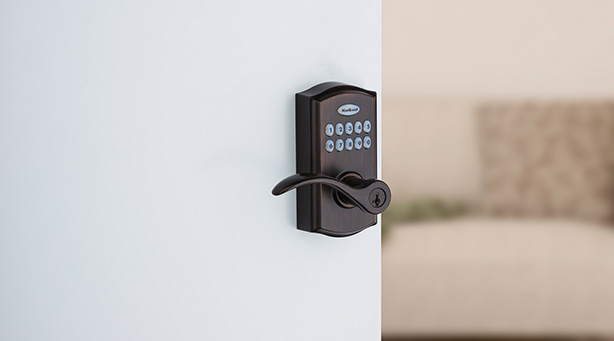 Convenience and Flexibility
With up to 30 personalized codes and multiple access modes, users can access with the convenience of keyless entry – an added bonus of a back-lit keypad that provides increased visibility. SmartCode 955 is easy to install, program and use, available in four stylish finishes and reversible for left- or right-hand door operations.
As a property manager (rental properties/short-term rentals, etc.) utilizing SmartCode 955, you have the ability to program from the exterior without needing access to the interior program button. More importantly, you have temporary user codes so you can access the property should an emergency arise. With the ability to create customizable user codes – codes for tenants, service professionals, guests, etc. – property managers can save time and resources ensuring that the right people can get in at the right time – because the person who has your key today may not be the same person you want to have your key tomorrow.
As a facility manager (small business, doctor offices, restaurants, etc.), you will appreciate features such as the auto-lock timing feature, with the ability to set the equipment to auto-lock after 1-99 seconds. With customers or employees coming and going, know that your office, files and valuables are kept safe if you forget to lock the door behind you – and also know that you have the option to quickly switch between passage mode and auto-lock mode. The flexibility to easily change the locking features on SmartCode 955 is convenient for busy, hardworking facility managers.
With little effort to install and maintain, SmartCode 955 is the smart choice to protect your valued goods and areas of your business and home. Experience the convenience and best-in-class security by installing SmartCode 955 – visit https://www.kwikset.com/smartcode955 to learn more.