SPONSORED
ABM - Branded Feature
Welcoming Back, Then Getting Back on Track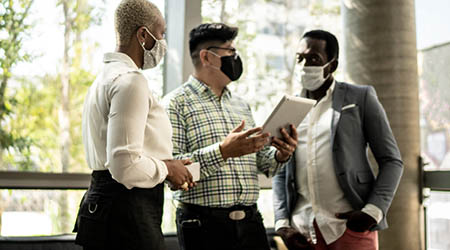 How to balance reopening priorities with moving strategically forward for facility and building health
By Mark Hawkinson, President, Technical Solutions Group, ABM
The first signs of office reopening are here. In May alone:
"The percentage of fully vaccinated adults in the U.S. surpassed 50%
The CDC released guidance that fully vaccinated people no longer need to wear masks indoors, with some restrictions
States continued to ease mask guidelines
The state of New York permitted an increase in office capacity from 50% to 75% and resumed 24-hour subway operations
Major League Baseball teams have been increasing capacity levels since the start of the season and the NFL expects teams to operate at full capacity in the fall.
Office occupancies in cities such as Houston, Dallas and Atlanta are on the leading edge of reopening; however, the national office vacancy rate remains high. While some corporations have moved up plans to enable the first waves of employees to return, most employers are holding to summer and fall reentry plans as they monitor vaccination and infection rates.
Factoring in Vaccination Rates
With the CDC reporting a decline in COVID-19 cases and increases in the number of people vaccinated, the country is starting to see positive signals.
One ongoing concern is the willingness of people to get vaccinated. According to the May 2021 KFF COVID-19 Vaccine Monitor, more than 30% of adults remain skeptical of the vaccine. Thirteen percent of adults said they would "definitely not get" the vaccine; 7% said they would if required by their employer, their school or another group; and 12% said they would "wait and see" how the vaccines affected others.
Well, you're certainly not new to the concept of doing more with less. Stretched budgets, resources, staff and equipment are all things that you deal with daily.
Balancing Now with What's Next
Facility leaders are approaching the remainder of 2021 with two interrelated sets of priorities:
Maintaining high levels of building health as people return
Transitioning to a strategic focus to move forward for building health and efficient facility management
As we collectively transition to the next phase, here is some perspective on balancing near-term health and safety concerns with your long-term strategy.
Best Practices as More People Return
Priority one is ensuring that your facility is safe as more and more people start to fill lobbies, restrooms, elevators, dining areas, conference rooms and offices. This will be a test of your protocols, teams and the overall resilience of your building to help prevent viral spread from high-touch surfaces to indoor air quality. It will also be a test of your tenants and their employees and visitors to maintain social distancing and personal hygiene.
Visual reinforcement: Make sure building signage for social distancing, mask policies and disinfection practices are prominent and clear. Demonstrate your commitment to personal safety throughout your building.
Cleaning and disinfection: The majority of facilities leaders ABM surveyed said they plan to maintain or increase their cleaning and disinfection practices. When people see teams cleaning regularly you are also reinforcing your commitment to health and safety.
Critical access to resources: Frontline teams are essential in following the correct protocol to keep high-touch surfaces and your entire facility clean. The job market is incredibly tight for janitorial talent. It will be important to ensure you have access to trained people so you are adequately staffed with people who understand the importance of health cleaning protocols.
Accredited training: Throughout the pandemic, our emphasis has been on rigorous training for both cleaning and disinfection. As facilities fill back up, this will remain critical in our view. We are proud of the fact that ABM EnhancedClean™ training was recently accredited by National Accreditation Board (ANAB), a wholly-owned subsidiary of the American National Standards Institute (ANSI). The accreditation is in accordance with the American National Standard, ANSI/ASTM E2659-18, Standard Practice for Certificate Programs. The training supports infection control programs and infection control solutions amid the COVID-19 global health crisis.
Moving Forward with Long-Term Strategies
Post-pandemic work life will be decidedly different than before. The popularity, flexibility and productivity of hybrid working models is likely to become the norm at many companies, reducing the total number of people in the office.
In discussions with our clients, we are working with them to ensure that healthy building practices are maintained or increased as employees will see a healthy workplace as mandatory. At the same time, decision-makers are also getting back to their long-term strategies to create optimal experiences for tenants and occupants, while working to streamline operations, optimize sustainability and gain cost efficiencies.
Buildings as healthy ecosystems: Our work with some of the largest employers in a wide cross section of industries is focusing on developing a unified approach to facility management to achieve total building health. Instead of sourcing janitorial, engineering, HVAC electrical and others as discrete services, we are working on unified approaches to create healthier, more comfortable spaces; greater energy efficiency; and higher tenant confidence and satisfaction across buildings, grounds and parking.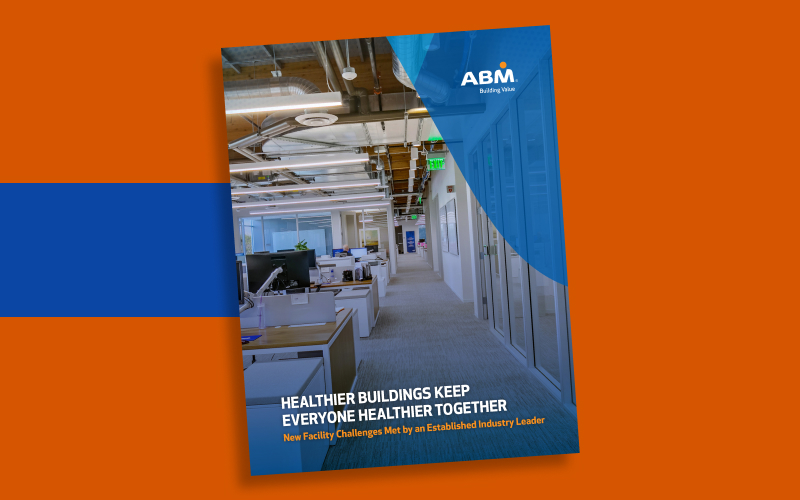 Understanding building risks and priorities: Because of the panic and uncertainty of the pandemic, ABM focused its efforts in 2020 on creating data- and fact-based approaches to site audits and understanding building risks. The ABM Healthy Building Risk Assessment gives building leaders the data to create benchmarks and identify priorities for cleaning and disinfection, along with needed improvements to HVAC systems. Combined with our diagnostics for energy efficiency, this data helps you make decisions holistically to deploy more efficient integrated solutions.
Managing for Today, Innovating for What's Next
We are at the start of a new phase of how people and facility leaders approach health and safety in our buildings. We can all see the signals of the long-awaited return to normal. However, our clients and team members are approaching re-entry with a sense of caution. Our collective goal is to both move forward and get it right, so everyone can be confident and safe wherever they work, shop, go to school or fly.
Our clients and teams are also approaching the next months with a sense of optimism because we recognize that our roles in managing facilities are, and will remain, more important than ever. There is so much more to get back to creating healthy, sustainable environments in spaces people want to be in.
Mark Hawkinson is President of the Technical Solutions Group at ABM.