SPONSORED
ABM - Branded Feature
The Business Strategy for Healthier Buildings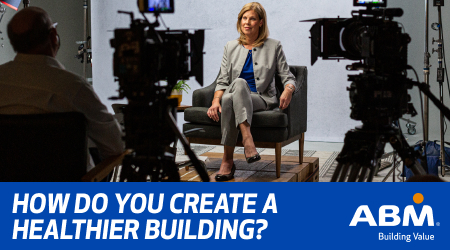 As the country moves into the next phase of the pandemic and more people return to work, facility leaders are rethinking building health to enhance occupant safety, retention and productivity.
Deb Hetrick, Senior Vice President in the Business and Industry Group at ABM, recently sat down for a video interview to share insights from 18 months of discussions with clients and industry leaders. Here are some of her observations.
WHAT IS THE IMPACT OF THE PANDEMIC ON BUILDING HEALTH?
Deb Hetrick: Just as you look at 9/11 and how it changed building security forever, we look at the pandemic and how it will change what is considered a healthy building in our new normal. We are having discussions with our clients around ways to help employees feel more comfortable and safe by maintaining elevated cleaning levels and improving air quality.
HOW DO YOU MAKE PEOPLE FEEL COMFORTABLE RETURNING?
DH: As employees return, they have concerns and questions around what's been done to make the building safe. More progressive property managers are talking about showing empathy for their occupants. They are communicating the investments in technologies and raising cleaning levels to help people feel comfortable as they return.
WHAT LEVEL OF CLEANING IS EXPECTED?
DH: Property managers say tenants are now asking about the cleaning scope in their lease. They want to re-look at that as they're bringing employees back. CDC guidelines are discussed and where the conversation has always led is that people are expecting to see a higher level of cleaning. It gives people comfort to know that they're taking extra care of the environment, using processes and products that are closer to a hospital grade level of cleaning.
HOW IMPORTANT IS INDOOR AIR QUALITY?
DH: Air quality is not a new topic. We've known for years that it has benefits in employee health, wellness and productivity. Now it's about business continuity. This isn't the first or last pandemic. If anything, it's been increasing in intensity. We're very committed to helping our clients with business continuity plans so that they don't have the disruption of COVID-19.
WHAT STRATEGIC APPROACHES ARE FACILITY LEADERS TAKING?
DH: Those who have made the investments, continue to make the investments, and communicate to employees are getting strong return to work numbers. We see that facility leaders and engineers have a bigger seat at the table, working with HR and business leadership to decide what needs to happen to make buildings healthier and safer.
DO HEALTHIER BUILDINGS HELP WITH EMPLOYEE RETENTION?
DH: Property managers are talking about the state of their building as part of their employee retention strategy. They want employees to come back to collaborate and to protect their business culture. A healthy building is now seen as an amenity that is welcoming and feels safe.
WHAT IS THE ROI FOR A HEALTHIER BUILDING?
DH: The ROI conversation starts with the initial capital investment and the impact on energy. As critical, but more difficult to measure, are employee productivity, return to work, and protecting company culture in ways that provide business continuity which wasn't a threat in the pre-pandemic world.
ARE HEALTHY BUILDINGS NOW ESSENTIAL?
DH: Facility leaders and employees see a healthy building as an essential part of going back to work. When employees have a choice of working from home or going into the office, there's more on their minds for building safety and their own health. Leaders must show how they've invested in employee's health with their infrastructure and with healthy air. Employees need to see that leaders are going above and beyond for their well-being.
Deb Hetrick is Senior Vice President in the Business and Industry Group at ABM.