SPONSORED
Master Lock - Branded Feature
The Balancing Act Of Convenience And Security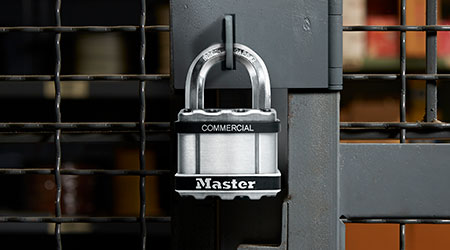 Determining how to properly secure a business, facility or commercial space involves a range of complexities, oftentimes requiring myriad solutions, both mechanical and electronic, to ensure all areas of vulnerability are covered. It's crucial for facilities managers to recognize that no facility is the same, and no security solution is "one-size-fits-all." For instance, the security needs of a university will vary greatly from those of a manufacturing plant. When assessing security options, facilities managers must identify solutions that not only stay within budget, but also balance security and convenience to ensure security risks are mitigated, while also maintaining operational efficiency. To meet their facility's distinct needs, facilities managers should first consider how various access types will influence operations.
CONSIDERING HOW ACCESS TYPE AFFECTS FACILITY OPERATIONS
Access type is one of the defining features of a facility's security operations, and its impacts extend beyond just physical protection. A single facility may require a range of locks and access types – whether it be for secure gates, equipment, storage areas or the entire perimeter of the facility. The lock and access type implemented can greatly influence operations, making it important for facility managers to consider the following factors:
Facility and Operational Access Needs – Appropriate security should be the first and foremost priority. A facility's areas or equipment in need of security may vary and may require different levels of protection based on sensitivity, scarcity and cost-value. Facilities managers should then consider how the facility wants to manage access (via combination, key or mobile credentials) and how that access method affects operational efficiency.
Team Size & Preference – When working with a smaller, core team, keyed or combination locks may be suitable and relatively easy to manage. If facilities managers need to grant access across a range of facilities or for various types of workers, however, a trackable electronic solution may be more effective and convenient if budget allows. Other elements like availability and work style are also beneficial for facilities managers to consider in the long run because these aspects directly affect how a security solution or procedure are implemented. If it's too complicated or inconvenient, teams may begin to cut corners, potentially putting a facility's operations and employees at risk.
Budget – As with anything, facilities will need to consider which mix of solutions falls within their budget range. Traditionally, mechanical locks are a lower cost option with no-frills security, while electronic locks typically require higher investment but offer more modern, convenient capabilities and benefits.
BALANCING CONVENIENCE AND SECURITY WITH VARIOUS LOCK OPTIONS
As facilities managers look to augment or upgrade their operational security without unnecessary complexity, The Master Lock Company offers a variety of mechanical and electronic solutions to meet their needs. These convenient, reliable options include:
Keyed Padlocks – A tried-and-true solution for facilities managers that appreciate the simplicity of having a key for each lock. Especially in facilities with smaller teams and fewer access points, keyed padlocks are cost-effective and offer simplicity, as facilities managers only need to manage and distribute a few keys, and only to a small group of authorized employees. While great for securing less expensive equipment in toolboxes or storage areas, challenges can arise in large teams or in wide territories, where not having the right key or too many keys can disrupt operations. For facilities managers that prefer keyed padlocks, Master Lock's Commercial Laminated and Commercial Magnum product families offer a range of highly durable keyed lock options with top resistance against prying and hammering, making them ideal for harsh environments.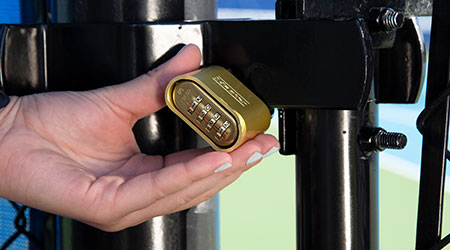 Combination Padlocks – While keyed padlocks can reduce costs and provide peace of mind for facilities managers that prefer physically managing the distribution of keys, combination padlocks can simplify access management as it just requires authorized personnel to remember a code. Facilities managers can experience additional operational benefits with resettable padlocks like Master Lock's No. 175 Resettable Combination Padlock. Because this combination lock is resettable, facilities managers can easily update access codes when an employee leaves or if the lock is repurposed – plus, it eliminates the cost of replacement keys. With an easy to remember 4-digit combination and up to 10,000 available combinations per lock, the No. 175 padlock allows facilities managers to change the code at any time for any reason making it an ideal solution for securing tool boxes, utility meters and other outdoor areas containing owned or sensitive equipment.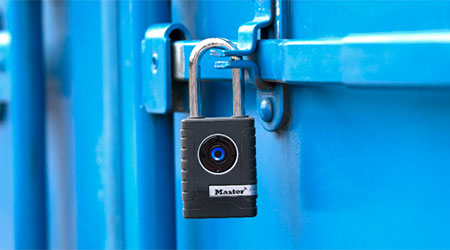 Electronic Padlocks – While mechanical solutions like keyed or combination padlocks offer cost-effectiveness and varying levels of simplicity, electronic locks can offer even more enhanced security and convenience. This is especially true for facilities managers overseeing multiple areas of operation who need to manage employee access, as well as keep an accurate record of who accessed the locks and when. For example, Master Lock's most integrated solution, Master Lock Vault Enterprise, combines Bluetooth locks with an intuitive web interface and smartphone app, making employee's smartphones the key and allowing facilities managers to manage and track access, increasing visibility and accountability. Due to Master Lock Vault Enterprise's robust security and convenient monitoring capabilities, some of its best applications include securing expensive assets such as technology access points or data centers.
Relying on a single type of lock ignores the complexity of each organization's operations and can undermine both the facility's security and its efficiency. The most effective solutions require a balance of both security and convenience, meaning the appropriate lock options will vary depending on operational needs, team size and preference, budget and other factors.
Recognizing that keyed, combination and electronic locks may be similar means to achieve access control but suit a unique set of applications and scenarios can help empower facilities managers to fully assess their specific needs and successfully identify the most appropriate solution for their facility. It's far more critical to operations that the right mix of security solution is implemented, rather than assuming the "one and only" option will do the job. With each locks' varying levels of simplicity, convenience and personalization capabilities, Master Lock offers a variety of commercial products and resources for facilities managers to ensure the right solution is chosen.
For more information, please visit www.masterlock.com/business-use.