FacilitiesNet eNewsletter
Best Information Tool For Busy FMs
We will keep you updated with trends, education, strategies, insights & benchmarks to help drive your career & project success.
SPONSORED
Aquatherm - Branded Feature
Polypropylene piping offers decades of benefits for building operations personnel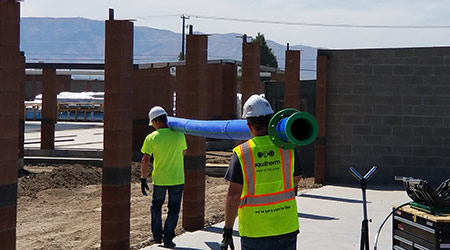 Pricing uncertainty caused by steel tariff another reason PP is a better choice than ever
Building operations professionals and facility maintenance specialists know that the importance of a good piping system in their buildings cannot be overstated. Few things can wreak as much havoc on a building than an unsound, leaking piping system. Besides the damage the leaks themselves cause in a building, they also inconvenience tenants or residents, and may require significant system downtime to repair.
Unlike metal pipe, which can arrive brand new on the jobsite with corrosion already beginning and which ultimately corrodes and leaks, Aquatherm pipe is made from tough, durable polypropylene (PP). Aquatherm pipe is hydrophobic, meaning it will never corrode or scale, and has an anticipated life span of approximately 60 years – about three times longer than steel pipe. Aquatherm pipe is joined using heat fusion, and a properly executed heat-fusion joint creates a virtually leak-free system by eliminating leak paths. With no sparks or open flame, heat fusion also eliminates the risks to a building that can be caused by welding while eliminating the need for hot work permits and flame watches.
Available in sizes from 1/2 -in, to 24-in., Aquatherm pipe can handle any size commercial building project, from PHVAC to industrial. It can handle fluids at up to 180F at pressures of 100 psi.
Aquatherm has been proven for more than 50 years in Europe, and has been gaining market share and winning converts in North America since its arrival in 2005. Contractors and engineers who have worked with it appreciate its durability and versatility, the crews that install it appreciate its light weight and reduced risk of injuries compared to welding steel. Building operations and maintenance personnel appreciate its leak-free operation, ease of maintenance and expansion, and long life. As a hydrophobic material, Aquatherm pipe also requires dramatically less corrosion-inhibiting chemicals in water systems.
All of these factors make Aquatherm pipe a great choice for commercial buildings, but there is another reason to consider Aquatherm pipe instead of steel for new building construction or retrofits: the tariff on imported steel. Uncertainty and volatility are rarely positives in business. However, uncertainty and volatility are what building owners and operators face when steel pipe is selected for use in commercial HVAC and plumbing systems. There has always been volatility in the steel markets, but that volatility has been "doubled down" by the tariffs on imports of steel and aluminum imposed in March 2018.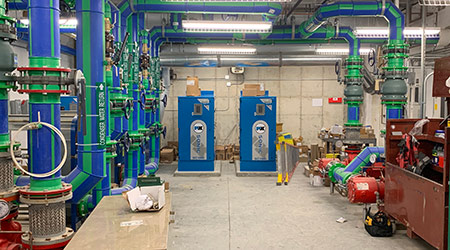 Inside The Steel Tariff
Steel is a global commodity, which means its price varies on a daily basis. Steel prices can be influenced by many factors, including:
Worldwide supply and demand.
Natural disasters.
The strength of the American dollar.
The general state of the world economy.
These factors are constantly changing, and the price of steel bid today may not be the price of steel delivered tomorrow. This has a real-world impact on contractors, engineers, and building maintenance personnel. In fact, a study published in 2017 in PM World Journal notes that the volatility of steel prices and international currency "considerably" affects actual commercial project costs.
The China Factor
As the world's leader in steel production, China has a strong influence on the steel industry.
General Steel Corp., in a recent steel building price forecast, noted that Chinese officials have stated that they will decrease steel production by more than 20 percent (165 million tons) by 2020. This will cause demand to outweigh supply for the first time in more than a decade.
"This is expected to cause a sharp rise in steel prices during 2018 and lasting through at least 2020," the forecast stated.
In a recent Financial Times article, Seth Rosenfeld, an analyst at Jefferies, a global investment banking firm, added that as China's steel exports decline, Western countries can expect to experience "robust" steel prices.
Adding to all this uncertainty, steel prices can be affected by global events, and can even become political tools. For example, in 2018 the U.S. government imposed a 25 percent tariff on foreign steel and a 10 percent tariff on aluminum. Countries granted an exemption from the tariffs on steel and aluminum imports face an import quota and other restrictions.
The tariffs and quotas were implemented under Section 232 of the Trade Expansion Act of 1962. Section 232 investigations help to determine the effects of imports on America's national security, and give the president the ability to address any threats to national security by restricting imports through tariffs.
Although a Section 232 investigation is the official impetus behind the tariffs, they also are seen as a bargaining chip in attempts by the president to reduce the United States' trade deficit with China. In 2018, the U.S. goods trade deficit with China reached a new record of $419 billion, up from $375 billion in 2017. U.S. exports to China were $120 billion, while Chinese exports to the U.S. were $539 billion.
What are the Tariffs Designed To Do?
Tariffs are basically a tax imposed on imported products. They are designed to raise revenue for the government and also to protect domestic industries from foreign competition.
Tariffs are typically charged as a percentage of the transaction price that a buyer (in this case, an American buyer) pays a foreign seller. They are designed to increase the price of an imported product and thus (at least in theory) make a domestically produced product more competitive and attractive. They also can be used to "punish" foreign countries that may be committing unfair trade practices.
Increasing tariffs drives up the cost of imported materials, and in the process takes some competitive pricing pressure off of domestic manufacturers of those materials. However, those rising costs can hurt companies that rely on imported components to make their products. And, of course, when manufacturing costs rise, consumers always ultimately foot the bill in the form of higher prices. In the case of steel, some U.S. companies that buy imported steel say the tariffs mean their rivals in other countries can now buy steel more cheaply than they can.
In the case of steel piping, the tariffs add further volatility to an already unpredictable market.
Members of the World Steel Association (worldsteel) represent approximately 85 percent of the world's steel production, national and regional steel industry associations, and steel research institutes. Al Remeithi, Chairman of the worldsteel Economics Committee, said that although global steel demand is expected to grow in 2019 and 2020, "Uncertainty over the trade environment and volatility in the financial markets...could pose downside risks to this forecast." General Steel Corp. called its 2019 steel building price forecast "one of the most difficult projections in years, as trade tensions between the U.S. and China add a significant amount of uncertainty to the mix."
The outcome of the tariffs and quotas remain uncertain, but the move immediately raised concerns of an adverse effect on prices. The American Institute of Architects issued a statement saying, "The administration's announcement of new tariffs on steel and aluminum imports threatens to drastically increase the prices of many building materials specified by architects." The Associated General Contractors of America warned that the tariffs "could wreck the budgets for numerous infrastructure projects and private nonresidential investments."
'Unprecedented' Increases In Steel Pipe Prices
The American Supply Association's (ASA's) Industrial Piping Division noted that carbon steel pipe experienced "unprecedented" increases during the weeks following the initial announcement of a tariff on imported steel in March 2018. "[The announcement] caused an immediate increase of at least 25% on all imported steel pipe," the ASA reported. "Domestic product has seen increases ranging from 22 percent to 60 percent depending on size."
Supply House Times, the official publication of the ASA, quotes Central States Group President and CEO Todd Ford as saying the tariffs have many customers "scrambling," as most job quotes are now invalid.
Avoid Uncertainty With Polypropylene Pipe
Given the uncertainty and volatility of the steel pipe market, Aquatherm pipe stands as a better option than ever for large-diameter mechanical piping systems. The price of polypropylene pipe has remained remarkably stable and predictable over the years. Engineers planning mechanical systems, and contractors bidding on them, can be assured the price of PP pipe will not fluctuate based on any tariffs or other upheavals in the commodities market. That creates certainty and assurance for building owners as well as the building operations personnel and facility maintenance specialists who will be reaping the benefits of an Aquatherm piping system for decades to come.
Mark Bobrowski, senior mechanical engineer for preconstruction services at John E. Green Company in Highland Park, Michigan, said volatile steel prices may indeed provide an incentive for end-users to consider using alternative piping systems. John E. Green has used Aquatherm (which isn't subject to tariffs or drastic price changes) successfully in many projects over the last several years.
"We have customers coming to us asking to learn more about the alternatives that are available to them, and they're receptive to new products," he said. "There may be people on the fence thinking about switching over [from carbon steel], and as the price changes it should bring more attention to alternative products and make more people wonder what's out there other than traditional materials."
Jamie Hassett, president, Demand Mechanical, Nashville, Tennessee pointed out that cost is usually the number one concern for many building owners and managers, especially for mechanical work. The tariffs and pricing uncertainty with steel and copper may allow contractors to introduce even the most frugal building owners and managers to Aquatherm piping.
Fabrication and installation also are different with Aquatherm than with steel. Thanks to the lighter weight of PP pipe, Aquatherm is able to offer time- and labor-saving fabrication services at its North American headquarters in Lindon, Utah. Fabricated pipe assemblies can then be shipped directly to the jobsite, ready to hang. From a building operations standpoint, this speeds piping installations or changeouts and can dramatically reduce facility downtime.
Bob Harvey, owner, Harvey's Plumbing and Heating, Bozeman, Montana, says fabrication saves him a tremendous amount of time and labor.
"Everything is switching in the direction of pre-fabrication," said Harvey. "That's the direction I'm going: BIM it, fabricate it, build it. And Aquatherm is a product that can be fabricated in the shop, transported to the project and put into place with much more ease than steel."
Aquatherm has been installed in many high-profile projects across the U.S. and Canada, including retrofits from metal piping at the University of British Columbia, where it was selected in part because of its durability.
"The student buildings take a pounding, and [the university] wanted a building that's going to last, and that's going to stand up to the rigors of what its designed for," noted the Aquatherm representative at Hy-Line Sales Ltd.
During a renovation project at the prestigious Harvard Medical School, the leak-proof character of Aquatherm pipe led it to be selected to replace aging and corroding steel and copper pipe.
"There was a lot of external corrosion on the [existing metal] pipes and you don't want leaks. If it leaks, it's leaking on the dean of the medical school," said HMS facilities engineer, Rob Behrents.
At the Berry Global injection molding facility in Lawrence, KS, facility maintenance supervisor Jacob Francis needed to replace a large portion of pipe used to transport cooling water to more than 20 injection-mold and thermoforming machines in a facility than runs 24/7. He opted to transition the plant from carbon-steel pipe to Aquatherm pipe and the decision has paid off in many ways. Not only was the installation of more than 300 ft of pipe completed in one holiday weekend, the plant has seen improvements in system performance, both in terms of chiller usage and pump efficiency, has eliminated future downtime caused by pipe corrosion where the Aquatherm pipe was installed, and has all but eliminated the need for chemical treatment in its piping system.
"For a process project like this, Aquatherm was a no-brainer choice," Francis said.
A final important consideration for building operations and facility maintenance personnel is that properly installed and tested Aquatherm pipe systems carry a comprehensive 10-year warranty. This warranty not only covers the pipe and fittings, but also incidental damage caused by material failure from manufacturer defect. The policy even provides coverage for personal injury and for financial loss.
This coverage allows facilities professionals to rest assured that their Aquatherm pipe installation will provide trouble-free service for many years to come.
In an ever-changing business climate where metal piping system prices are uncertain and volatile, PP pipe stands as a better option than ever for large-diameter mechanical piping systems. And when considering PP pipe as a better alternative to steel, it's important to remember that not all PP pipe is created equal.
Savvy facilities professionals will turn to the industry leader: Aquatherm. Aquatherm introduced North America to PP pipe more than a decade ago and worked with regulatory bodies to secure the code approvals for its use in Canada and the U.S. Aquatherm has educated and trained the industry on PP pipe; it has always been and remains the standard of the industry. Aquatherm is consistently helping contractors, designers, building owners, building operations professionals, and facilities managers keep their competitive edge by offering a superior piping system backed by unparalleled supply, support, service, and training.
Resources