SPONSORED
ABM - Branded Feature
Facilities and the Pandemic: What to Do in 2021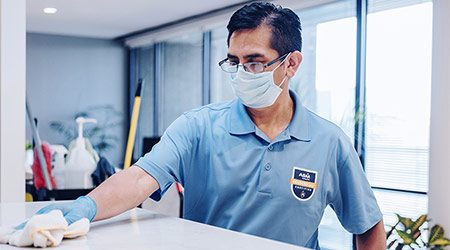 New research and insights on how facilities are planning for successful reoccupancy in 2021.
By Tom Gallo, SVP of ABM Strategy
As we hit the one-year mark for COVID-19, the "unprecedented" crisis of 2020 seems to be finally heading toward resolution later this year. In talking to clients around the country, several core tenets are emerging about pandemic response as seen by both facility leaders and the people who will be returning to your buildings throughout the year.
Reoccupany expected in July-September timeframe
Reoccupancy dates, which were consistently pushed back throughout 2020, now seem to be projecting July through September as the period when occupancy is expected to rise above 50%, according to a new independent poll sponsored by ABM.
The introduction of a third vaccine and the President's March 2 announcement that the United States will have enough supply of coronavirus vaccines to inoculate every adult in the nation by the end of May is a positive indicator. Corporations, however, remain cautious about setting specific reopening dates given a year's worth of false hopes.
COVID-19 may never go away
As more people are vaccinated, the population will get closer to herd immunity, but COVID-19 may linger like the flu or common cold. New strains add complexity. Annual shots may be common and "booster" doses of existing vaccines are being evaluated. Preventative measures to manage viral spread will become permanent additions to the scope for facilities services providers and help safeguard facility occupants.
People are cautious and nervous about returning to offices
As much as people long to get back to real life and work, that longing is tempered with worry. Federal standards and new OSHA regulations are now being implemented with masks required in federal buildings and on public transportation.
Research1 from the IFMA Foundation Pandemic Manual, George Mason University and other sources paints a picture of a cautious workforce.
Only 21.6% of American workers feel positive about returning to the office
85% report that they feel worried or anxious about catching the virus
75.6% are unclear about what actions they should take to manage the risk, indicating the need for workplaces to communicate the actions that are being taken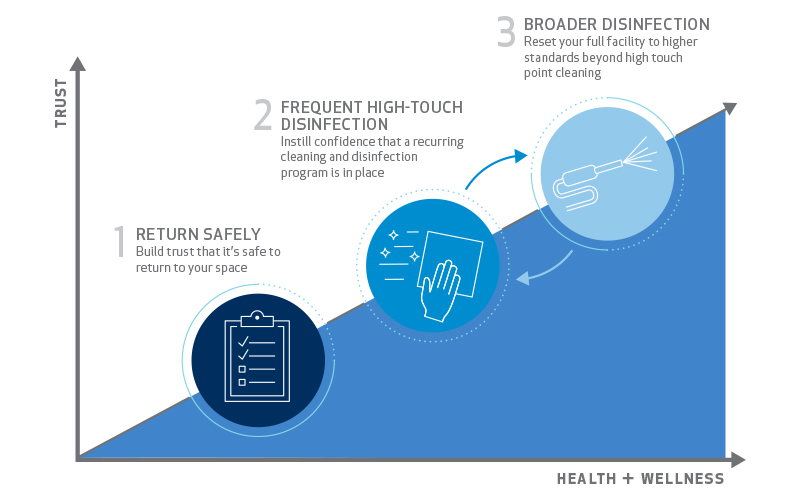 Facility leaders plan to maintain enhanced disinfection protocols
According to the January ABM survey, the overwhelming majority of facility leaders plan to maintain or increase surface disinfection and HVAC protocols when building occupancy starts to rise above 50%.
Surfaces: 94% of respondents plan to maintain or increase surface disinfection protocols.
Indoor air quality: 77% plan to continue or add to HVAC solutions to fight COVID in the workplace.
Multiple enhanced measures in place
Facilities leaders are taking an integrated approach to manage viral spread, deploying solutions ranging from sanitizing products to building communications, daily disinfection of high-frequency touch points, temperature monitoring and changes to HVAC systems. Here are some of the multiple protocols survey respondents reported using. There is growing interest in evidence-based testing and indoor air quality data to understand both the risks and priorities to help keep people safe.
Stay the course and fill critical gaps
In speaking with our clients, we understand that decision-makers are taking a phased approach to occupant re-entry and are planning to maintain or expand their protocols in 2021 and 2022. Many plan to consistently evaluate their response and are working with outside advisors to assess and pressure test their plans.
Monitor your supply chain
In a recent webinar, ABM Chief Procurement Officer Chris Murawski noted that while supply and demand for disinfection products has moderated, there are "pockets of volatility" to watch. "As reoccupancy occurs, demand will increase again. We're going to see chemical products and PPE in high demand like we did in 2020," he explained.
Here are some watch-outs and recommendations.
Nitrile glove market will be stressed in 2021: Prices on single-use gloves are currently at all-time highs, 3 to 4 times above normal. Locking in your supply chain is recommended.
30%-140% increase in disinfectant demand: Monitor your inventory and be ready to expand it to meet higher levels of demand in 2021.
400% increase in hand sanitizer demand: Check with your distributors about product quality. Be aware of ineffective and unsafe products.
Touchless dispensers are in high demand. It is recommended that you order and install now.
Experts from the ABM EnhancedClean™ team are advising facility leaders to plan now to ensure that their supply chains are in place with products in inventory, under control, or earmarked from reputable suppliers.
Enhanced cleaning in 2021 and beyond
ABM has been working with an independent Expert Advisory Council since the pandemic began to develop the EnhancedClean program that continues to bring hospital-grade levels of cleaning, disinfection, training and building communications to facilities in all industries. High-volume national distribution centers, manufacturers, airports and other operations that did not shut down were early adopters and continue with the rigor of these advanced protocols.
Take stock with a people-first mindset
As much as people want to be free from Zoom and working from home, they are more nervous and cautious about returning to work. Every survey we read plays back the same concerns. People expect to know, and see, that their employers and facilities are taking visible steps to help keep them safe from viral spread. That means having protocols in place for high-touch surfaces, public spaces, restrooms, elevators, escalators, railings, conference rooms, offices, desks and more. It also means communicating to facility occupants about the less visible improvements made to keep people safe – like indoor air quality solutions.
Facility teams that did not put these protocols in place or want to reassess their current approach should act now. As occupancy starts to increase, there is potential for shortages of critical products which could create trust gaps with people who are on high alert and are considering returning to work.
ABM has summarized the latest insights, survey findings and best practices from its operations and facility experts in a new eBook, 2021 Plan for Safer Facilities. Download here.
Tom Gallo, SVP of Strategy, Head of EnhancedClean™, ABM
1 IFMA Foundation Pandemic Manual, Wellbeing Lab & George Mason University's Center for the Advancement of Wellbeing (June 2020); IATA (July 2020); Burbio School Opening Tracker (Aug 2020)