SPONSORED
Shell Energy - Branded Feature
Distributed Energy Resources vs. Demand Response: What's The Difference?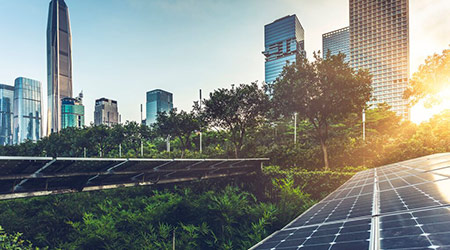 Commercial and industrial (C&I) facilities looking to modernize their energy strategies must navigate a sea of potential solutions and terminologies. Since these solutions are continually evolving, and each one's scope can vary depending on the use case and provider, it can be difficult for businesses and their facility managers to investigate potential paths forward.
Distributed energy resources (DERs) and demand response (DR) programs are two examples. Both terms broadly describe behind-the-meter mechanisms through which facilities may reduce energy consumption from the grid. But while DERs and DR can represent similar goals, and in some cases the terms are used interchangeably, they technically align with different strategies and intentions. Here are practical explanations for facility managers considering their options.
(For a broad overview of energy products that help large facilities increase sustainability, manage physical and financial risk, and develop energy resiliency, see Shell Energy's C&I Solutions Guide.)
What are Distributed Energy Resources?
"Distributed energy" is a broader term than "demand response." DERs, or DER portfolios, are frequently used as umbrella terms covering several solutions and products, and there is some inconsistency in how the scope of DERs is defined1.
The North American Electric Reliability Corporation (NERC) defines a fairly narrow working definition for DERs: "Any resource on the distribution system that produces electricity and is not otherwise included… in the bulk electric system." This NERC definition restricts the scope of DERs to onsite power generation and associated infrastructure and storage assets. When DERs are discussed from the point of view of grid reliability or utility companies, this narrow definition is typically central to the conversation.
However, DERs are often defined more broadly in practice, especially when more diverse audiences such as C&I end users are concerned. For example, the Smart Electric Power Alliance (SEPA) expands the definition of DERs to include technologies for direct load control, behavioral load shaping, and energy efficiency, in addition to behind-the-meter power generation and storage assets. SEPA acknowledges that DERs may be "used individually or in aggregate value to the grid, individual customers, or both. 2"
The broader SEPA definition likely resonates more with C&I facilities looking out for their own interests. In particular, energy efficiency and load management efforts are common first steps toward reducing energy costs and long-term sustainability goals.
The Takeaway: DERs could refer to various products and energy solutions, all centered on reducing reliance on the centralized grid. When navigating the energy market, it is helpful to know that solutions providers may be operating under different DER definitions. Load management and energy efficiency services, both viable ways for C&I facilities to take their first steps toward a modern energy strategy, are sometimes but not always organized under the banner of DERs.
Facility energy management simplified: Shell Energy Inside is a subscription service that grants facilities access to customized behind-the-meter energy solutions without the need for upfront investment. This program can help deliver reduced energy costs, upgraded infrastructure, increased efficiency, onsite energy generation and storage, all with outsourced professional maintenance and guaranteed performance. Learn more.
What is Demand Response?
The Federal Energy Regulatory Commission has defined demand response as "a reduction in the consumption of electric energy by customers from their expected consumption in response to an increase in the price of electric energy or to incentive payments designed to induce lower consumption of electric energy."
This definition bears a plain language explanation. Electricity costs more during periods of high demand, so DR prioritizes "peak shaving" – using less electricity during peak events – as a means of lowering costs. During these peak events, electricity demand can outpace supply and result in outages. DR is seen as mutually beneficial for electricity users and grid operators, as it helps facilities save money and avoid operational disruptions while reducing strain on the grid.
A facility participating in DR receives notice of peak events or other triggers (referred to collectively here as DR events) from the DR program operator or governing authority in advance so it can reduce its energy consumption accordingly. Actions taken might include adjusting thermostats, turning off lights, and minimizing or rescheduling noncritical operations.
Additional infrastructure isn't technically required, but it may enhance a facility's ability to take action. For example, smart lighting, HVAC systems, and other equipment can be automated or remotely controlled for quick response. Back-up generators or solar-powered batteries can provide alternative sources of energy during DR events.
Demand response participation may financially benefit energy customers through several mechanisms, depending on the contract, regulatory environment, and other factors. Customers can avoid paying higher prices during peak demand, they may receive capacity payments for responding to reliability triggers (a type of DR event), or they may "sell back" excess energy to the energy retailer or ISO and receive statement credits or checks as compensation.
The takeaway: Since demand response and DERs utilize similar technology and infrastructure, the distinction between the two can become muddled. For facility managers, the functional difference hinges on taking action – cutting usage or turning on generation – in response to DR events.
Demand response expertise: MP2 Energy, a wholly owned subsidiary of Shell Energy, provides comprehensive demand response solutions anywhere within PJM and ERCOT (eight states plus the District of Columbia), with 600 MWs of dispatchable load under contract. These solutions can integrate with DERs and retail supply for complete end-to-end solutions. Learn more.
Considerations for Pursuing DERs vs. Demand Response
Once the distinctions between the two are understood, energy users considering DERs and DR programs may still have questions regarding which strategies and energy products could drive the most value. The following questions and observations can help inform these decisions.
What regional considerations and regulatory requirements are in effect? Capacity value, transmission costs, the frequency and severity of energy price spikes, and the ability to export power back to the grid all factor into the potential value of demand response. Environmental regulations and available subsidies may inform DER investments.
Are integrated solutions available? Many energy efficiency, DER, and DR goals are more easily achieved by a portfolio of solutions rather than a single technology or service. An energy partner that offers flexible, comprehensive options can help C&I customers save resources during the procurement and implementation processes.
What upfront investment is required? Some DER solutions, such as Shell Energy Inside, follow a subscription model that allows energy users to benefit from DERs without the need for upfront expenses.
What space is available for onsite generation and energy storage? Small facility footprints can preclude large-scale onsite generation and storage, which may invite a greater focus on efforts like manual peak shaving and enhanced energy efficiency.
Of course, these considerations only brush the surface of a facility's unique situation. For more information, seek out DER and demand response professionals that understand your region, operations, and regulatory environment.
Shell Energy is well positioned to help C&I facilities modernize their energy strategies to save money, satisfy regulatory requirements, and meet sustainability goals. Consistently ranked among the top-3 gas and power marketers in North America, with a distinctive portfolio of distributed energy and demand response solutions, the scope and scale of our expertise can move your business forward. Download our C&I solutions guide to learn about the full spectrum of our energy products, or contact us to start the conversation.
1 https://www.nerc.com/comm/Other/essntlrlbltysrvcstskfrcDL/Distributed_Energy_Resources_Report.pdf

2 https://sepapower.org/resource/distributed-energy-resources-capabilities-guide/