The Facilities Manager's Guide to Disruption
Understanding how disruptors work is the first step to combatting their potential negative consequences for facility security.
OTHER PARTS OF THIS ARTICLE
Pt. 1:
8 Threats That Could Disrupt Building Security
Pt. 2:
Looking Ahead to Future Security Scenarios
Pt. 3: This Page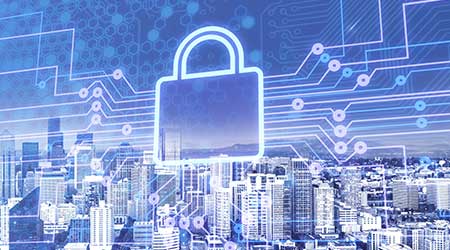 Disruptors modify environmental factors that permit broader and radical changes to the way we experience our environments. Once introduced, disruptors have far reaching effects. They are also progressive in nature — consider the ripple effect of the mobile phone as it gained interconnectivity via Bluetooth, near field communication, Wi-Fi, global positioning systems (GPS), indoor positioning systems, enhanced cellular frequencies, and the like. Software applications that run on mobile phones offer convenience and speed and are used for activities ranging from shopping, debit, identification validation and serving as tickets to sporting events or to ride on airplanes.
Mobile phones are a macro disruptor, affecting people all over the globe. Micro disruptors affect a smaller group of people or marketplace. Take security operations centers, which previously used mammoth monitors, large metal enclosures that held heavy tube/rear-project, digital light projection monitors. The advent of plasma/LCD/OLED monitors indirectly changed the need for large monolithic metal structures, which subsequently were replaced by the sit-stand desks that we use today and in turn changed the amount of space required within the room. This disruption may continue with the integration and adaptation of augmented reality (a type of virtual reality) in lieu of physical monitors that are ever present now. Augmented reality introduces a virtual environment into a physical workplace, so that you could manipulate a virtual panel on a desk in your office. Augmented reality also overcomes the nausea factor, which has limited the use of virtual reality headsets.
Disruptors can also be elements to deter, delay, or detect an aggressor. These elements are known as security controls. A positive macro disruptive control is one that is widely adopted and significantly reduces ongoing security spending or is very effective in delaying or detecting an attacker.
On the flip side, disruptors can create or exploit vulnerabilities to allow a threat to occur. A macro negative disruptor is something that can be used to disarm controls simply, quickly, and with little knowledge or expense to cause a significant number of injuries or fatalities, or economic or image damage.
Sean A. Ahrens (sahrens@aeieng.com), CPP, FSyl, CSC, is a resiliency leader, security consultant, and board member for the International Association of Professional Consultants (IAPSC). He is security market group leader with Affiliated Engineers Inc., a multi-disciplinary engineering firm that provides security consulting, assessment, and security design solutions for all manner of building types.
Continue Reading:

Security

8 Threats That Could Disrupt Building Security

Looking Ahead to Future Security Scenarios

The Facilities Manager's Guide to Disruption
---
---
---
Related Topics:
Comments