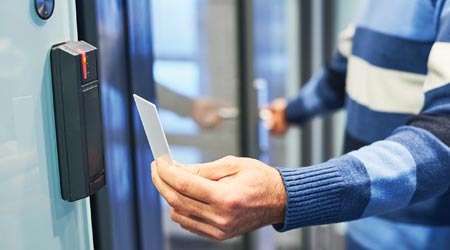 Is It Time to Replace or Revamp Your Access Control System?
Build your team, evaluate possible integration with current systems, and select the right product for your building: These are the steps to follow if your existing access control system needs to be updated.
There are many compelling reasons for replacing or upgrading an access control system. Perhaps the system has reached end of life, no longer meets the need, or there is a desire to move to the cloud. In any case, it's important to give careful consideration to the selection of a new system so that it will be a long-term security asset.
Building the team
Once the decision is made to replace the access control system, a multi-disciplinary team should be formed to select the system that best meets the needs of the building or campus. The team should identify the facilities that will get the system and determine use, functionality, important features, card reader types, credential usage, alarm monitoring, and alarm response. Important add-on systems to consider include intercoms, alarms, door-release buttons, visitor management systems, and use of advanced credentials such as pin pads, smart phones, biometrics, or facial recognition. All of these add-on systems should interface with and be supported by the new access control system.
Selecting the right system
There are many access control systems on the market today and all have strengths and weakness. When evaluating manufacturers, consider: company reputation, video management integration, access control system features, mobile capabilities, system demonstration, multi-site product architecture, certified integrators, references, reporting, and favorable pricing.
A very important consideration is integration with your existing or new video management system and visitor management system. Most systems today can integrate, so alarm events will automatically pull up video showing what caused the alarm. Having the ability to track visitors using the access control system can also be valuable. Some sophisticated visitor management systems today can integrate with access control systems so all door transactions will be managed and recorded in one system.
Once a preferred access control system has been identified, try to arrange a visit with similar organizations that have the same system. Critical stakeholders, including IT, security, and operations, should ideally see the system in operation during these visits.
Upgrading your system
Upgrading your access control system is far less complex and less expensive than replacing it; nevertheless, having a detailed upgrade plan is very important.
Ideally, the upgrade should be performed in a virtual test environment. The system should be tested until all team members are comfortable the upgrade won't break critical operations.
Upgrading the system in the live environment should be done off hours, typically starting around 8:00 p.m. It should be done on a weekday so that if issues occur, team members will be readily available and able to respond rapidly.
Once the upgrade is completed, card readers, visitor management, alarm integration, camera integration, and other systems should be tested. Not all tests are perfect, and issues may pop up when employees and visitors start to arrive at work. Therefore, a dedicated team of support personnel should be available and actively monitoring the systems as employees start arriving for work.
It is good practice to stay one or two minor upgrades behind and let the manufacturer sort out issues experienced by bleeding-edge adopters. It is also good practice to stay up to date with major upgrades. For example, if the latest version of the software is 5.4, you should be on 5.2, and you should definitely not be on 3.4.
Daniel O'Neill (doneill@adrm-llc.com) is the founder and CEO of Advanced Data Risk Management (ADRM), a risk management and security engineering company.
---
---
---
Related Topics: