Door Hardware and Occupant Safety
Upgrades of key components and systems can prevent or delay attacks and maximize security
OTHER PARTS OF THIS ARTICLE
Pt. 1: This Page
Pt. 2:
Key Door Hardware Components for Safety and Security
Pt. 3:
Door Hardware and Security Resources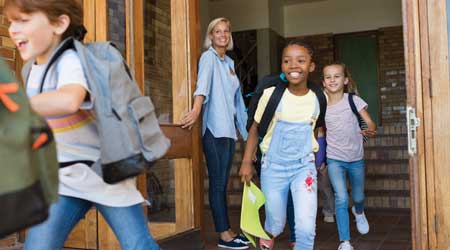 Few situations in recent years have prompted maintenance and engineering managers to carry out upgrades and retrofits in greater numbers of institutional and commercial buildings than the growing threat of mass shootings. Many managers have been deeply involved in planning and carrying out successful upgrades of door hardware at the perimeters and within their facilities to protect occupants, and many more are likely to in the coming years.
To ensure the success of these projects designed to better protect building occupants and visitors, managers and their teams need to effectively address key steps in the process — identifying threats and weaknesses related to door hardware and security, understanding door hardware options and opportunities, and performing door hardware upgrades that deliver greater safety and security.
Identifying threats
External security threats to facilities and reviews of emergency preparedness now need to address possible active shooter events. Managers must be open-minded in preparing and can use a three-step approach:
• Is the facility a target? Schools, churches, businesses, shopping centers, concerts, bars, transportation, and public areas all must rethink security. No facility is exempt. Whenever the active shooter decides to show up is the amount of warning the facility gets.
• What weapons must the facility prepare for? Cars, trucks, explosives, guns, knives?
• Have attacks on the facility occurred before? Hindsight is 20/20. Research past shooter events elsewhere. Gather data about them. How were previous events most successfully met without casualties? Develop a plan, including communications with first responders.
One effective approach is to view the property as if it is made up of three concentric rings. The outer ring includes such elements as landscaping, parking areas and power transformer substations. The middle ring is the immediate area around the building. The inner is the highest security ring – the building itself. Keeping a threat away from the building is the first line of defense.
Upgrades include: clearing landscaping for better lines of sight; installing motion sensors and closed circuit television (CCTV); locking service building doors; and locking switch boxes in the outer ring. Hardened the middle ring includes: providing locked cyclone fences, bollards to prevent vehicle approach, bulletproof glass, and better lighting; and upgrading from mechanical to commercial-grade electro-mechanical mortise locks.
Innermost ring upgrades include: computer-controlled door hardware that limits access at each entry point to only those approved; tracking activity at each entry point; installing tamper alarms and motion sensors; implementing time-of-day restrictions; and the ability to change locks frequently by simply altering the software and key cards with key or cylinder changes required. Other options include hardening the hardware with door guards around the lock and installing bulletproof steel doors and glass. Delaying entry even five-ten minutes can mean occupants' life or death.
Among the weaknesses and internal vulnerabilities that can occur in the inner ring include: poorly maintained peripheral or inside doors, windows and hardware; and propped open doors or chained exit crash bars. Managers need to look for safety weaknesses, such as flaws in fire alarm systems, burned out exit lights, dead batteries, expired elevator inspection certificates, and non-standard or out-of-date door hardware.
Continue Reading:

Security

Door Hardware and Occupant Safety

Key Door Hardware Components for Safety and Security

Door Hardware and Security Resources
---
---
---
Related Topics:
Comments