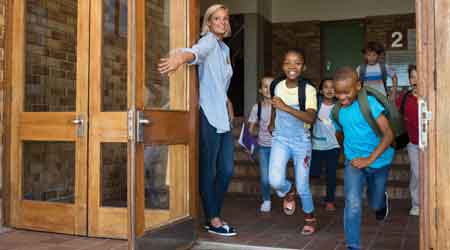 Door Hardware Spotlight: Safety, Security and Reliability
Inspection, testing and maintenance considerations for maximizing performance and protecting occupants and facilities
The threat posed by mass shootings is becoming all too real for institutional and commercial facilities, especially K-12 schools. As a result, security and access control have become high priorities for many maintenance and engineering managers, who are taking a closer look at all systems and components that play a role in protecting occupants and visitors, including door hardware.

By paying closer attention to the maintenance and performance of such components as doors, hinges, closers, and fire-exit hardware, managers can help improve the safety and security of their facilities.
Component check
Technicians should inspect doors and hinges regularly for loose screws, proper latching and closing speed. Following the order of "hang the door, secure the door, control the door, and protect the door," they need to review the entire opening, beginning with hinges, moving on to door closers, checking the lockset and exit device, and finishing the inspection with kickplates and the frame.

Hinges should not bind or prevent the door from opening or closing properly. The strike plate should always be securely attached to the frame, ensuring that the lock's deadlatch is not falling into the keeper, which can allow someone to open the door using a credit card, a coat hanger, or a similar device.

Fire exit hardware often has been installed incompletely or incorrectly. Technicians should inspect everything from standard components — such as factory fasteners, fire-rated exit devices, and magnetic hold-opens — to crucial elements such as both parts of a fire strike assembly. Careful inspections sometimes can uncover elements that are missing after installation. Regular or semi-annual surveys with assistance or tips from the manufacturer's representative or the local fire department are recommended.
Closer time
Doors should close safely and latch every time, regardless of positive or negative air pressure, resistance from weather-stripping, thresholds or the elements. Technicians should adjust door closers so they take no longer than five seconds to close from 90 degrees to 12 degrees, according to accessibility guidelines under the Americans with Disabilities Act. Users should not notice the transition between the sweep and latch speeds, which would bring the closer's total operational time to seven seconds.

Technicians can always set this adjustment for a slower operation, though not faster. It is not advisable for the latch speed to cause the door to slam in order to latch properly. This can cause harm or even the loss of fingertips to someone running to catch the door instead of the lever. Interior, non-fire- rated doors should open with 5 pounds of force or less.

In education facilities, staff members such as teachers and custodians should at least be able to identify that a door is not closing or latching correctly so they can report it to the facility's maintenance staff. If staff is aware that an adjustment or repair is in order, the technician would be able to rectify the problem as soon as possible, possibly preventing harm or a security breach.

While door closers can easily be retrofitted with hold-open type arms, technicians should remove wood wedges and other door stops so users cannot prop open a door. Habits form, and soon the doors are being held open regularly, regardless of whether or not a room is in use.

Doors for areas that are not in use — classrooms, auditoriums, green rooms, backstage areas, catwalk, lighting booths, concession areas, faculty bathrooms, maintenance and janitorial closets, and electrical and information technology rooms — should be closed and locked at all times.
Continue Reading:

Door Hardware

Door Hardware Spotlight: Safety, Security and Reliability

Key Control and Door Hardware: Security Considerations

Security Spotlight: Card Readers and Door Hardware
---
---
---
Related Topics: